The spookiest day of the year is finally approaching us which means it's time for everyone to start thinking about this year's Halloween costumes. Below we have several different outfits that will be perfect for a variety of people be it adult Halloween costumes or Halloween costumes for kids. Whether you're looking for an outfit for yourself or a matching group set that is perfect for your family, these suggestions are guaranteed to make your Halloween in 2019 memorable and super fun. 
Halloween Costumes for Men: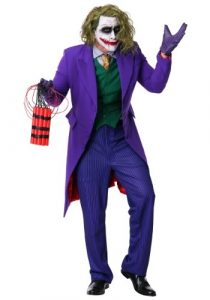 With the new Joker movie coming out this October, we can pay tribute to one of the most beloved villains of all time with this classic retro Joker outfit. It's hard to imagine a better character that embodies the spirit of Halloween than this diabolical clown.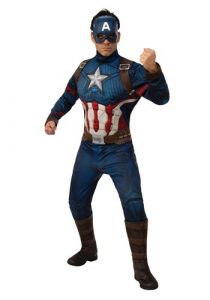 It's hard to find someone who didn't watch this year's Endgame movie so why not have an outfit that shows your love for the biggest movie of 2019? Dressing up as one of the most iconic heroes in pop culture is a guaranteed way to have a great Halloween evening.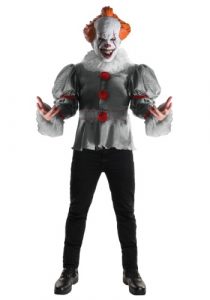 Some people are super scared of clowns and there's no clown that is as scary as Pennywise himself. With the It: Chapter 2 film release of this year, this is the perfect outfit to scare anyone who is still having nightmares from this infamous clown.
Halloween Costumes for Women: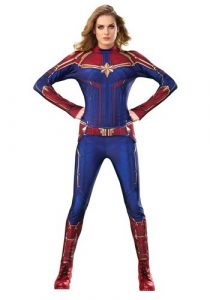 Captain Marvel wowed millions of people earlier this year with her extremely successful first film in the Marvel Cinematic Universe. This Halloween outfit is a fantastic choice to get in the spirit of one of 2019's most beloved and talked about characters.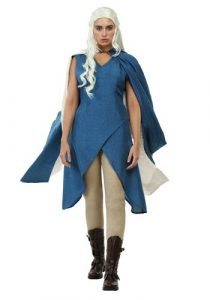 This is an excellent choice for any lady that is a fan of the hit show Game of Thrones. This outfit will instantly transform anyone into the easily recognizable Queen of Dragons.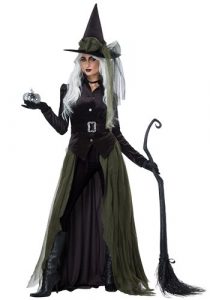 Halloween would feel incomplete without a few witches running amok. This outfit is a redesign of a classic costume that looks and feels a little more updated for the current year.
Halloween Costumes for Boys: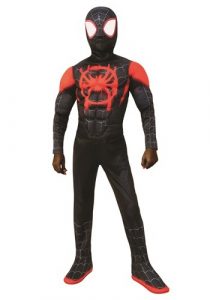 Last year's Into The Spider-Verse was a fantastic film for both kids and adults to the point that boys can't stop talking about it even to this day. The movie came out just after Halloween so now is the perfect time for your son to show his love for this film.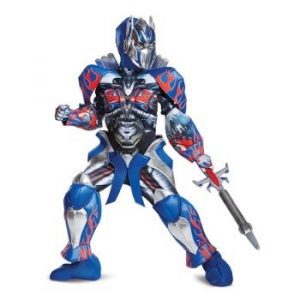 This impressive Optimus Prime costume really shows off a lot of detail and accuracy to the real thing. Any young lad would get excited just taking a look at this action-packed outfit.-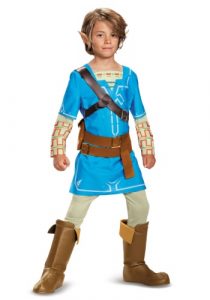 If you have any boys that love The Legend of Zelda, consider getting them this outfit. This is based off of the new outfit design for the beloved character Link and will look especially great with a sword and shield accessory.
Halloween Costumes for Girls: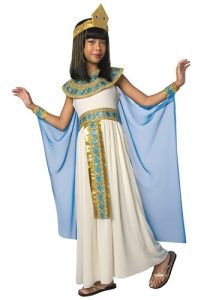 Complete with a glamorous cape and crown, this popular Halloween outfit for girls will make them feel like the regal Queen of the Nile.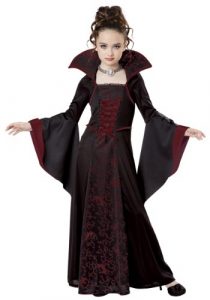 With a combination of black and burgundy, this vampire outfit emits both a sense of class and classic, gothic horror. This will make neighbors feel like they've been transported to Transylvania.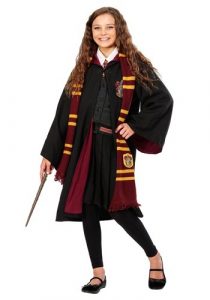 Dressing up as Hermione is a very suitable choice for Halloween – she's associated with wizardry and magic as well as the famous House of Gryffindor. It'll be a big hit with Harry Potter fans. 
Toddler Halloween Costumes: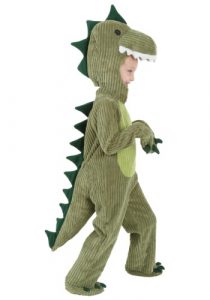 Not all dinosaurs have to be ferocious. This is a cute little jumpsuit that looks like an adorable stuffed animal that will work great for both young boys and girls.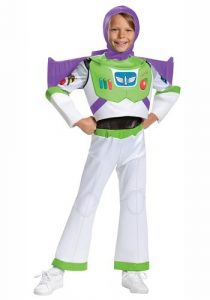 Arguably the coolest character from the Toy Story series, Buzz represents both friendship and adventure, a perfect combination for the energetic tykes of the world.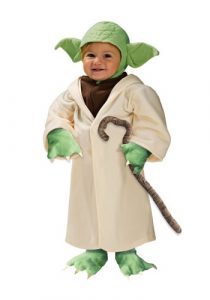 Yoda is already adorable, but wouldn't he seem even cuddlier if a three year old was dressed up as him? Yeah, we knew you would agree with us on that.
Family Halloween Costumes:
The Teenage Mutant Ninja Turtles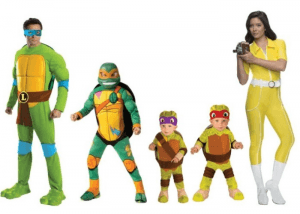 Here's a perfect family set for a party of five. With Dad as Leonardo, Mom as April O'Neil and the kids as Donatello, Michelangelo and Raphael the iconic TMNT group is complete. All you'll need then is a few delicious pepperoni pizzas.
Nintendo-Themed Family Set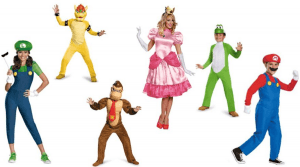 If your family are all video gamers then consider becoming some Nintendo's most beloved characters this Halloween season. Mario, Luigi, Princess Peach and Bowser are a classic entourage but feel free to add others such as Yoshi or Donkey Kong for larger family groups.
Star Wars Theme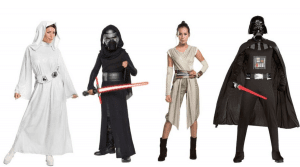 Everyone knows and loves Star Wars so you just can't go wrong with these outfits. There are so many characters to pick from but we think that Darth Vader, Princess Leia, Rey and Kylo Ren do a great job of capturing both the old and the new faces.
If you're planning to go out a trick or treat, you must check out these knock knock jokes so you can try a few while you're out getting candies.
Happy Halloween!