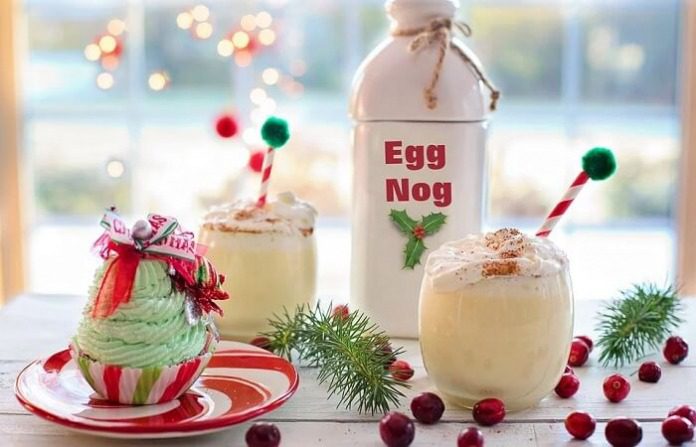 We hope you love the products we recommend! Just so you know, Men with Kids may collect a share of sales or other compensation from the links on this page.
With the holidays rolling around faster than ever, there's nothing more rewarding than settling down with a nostalgic glass of eggnog. This festive drink first got its start in medieval Britain and served as a symbol of wealth and prosperity. Nowadays, everyone is able to take part in the eggnog tradition, and you won't believe how easy it is to make this holiday classic from scratch!
5 Best Homemade Eggnog Recipes
For some people, eggnog is a hit or a miss. Use these recipes to help someone make it their favorite Christmas beverage ever! Without further ado, here are 5 of our favorite homemade eggnog recipes.
Make sure you have delicious eats to pair with your eggnog recipes! If you aren't in the mood for cooking up holiday delights yourself, it's always a good idea to support your favorite local restaurants through a take-out service like Grubhub! With a service like Grubhub, you can order all of your favorite types of foods from all of your favorite local restaurants, and it can be delivered straight to your door! So don't drink your delicious eggnogs without some food to complement it!
1. Classic Eggnog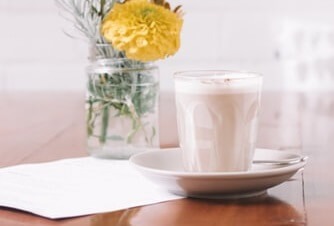 This eggnog recipe is a crowd-pleaser for sure and utilizes the stovetop to ensure for a smooth, creamy texture. 
Ingredients:
6 Large Egg Yolks, Preferably Organic

1 Cup of Heavy Cream

½ Cup of Granulated Sugar

2 Cups of Milk

½ tsp. of Vanilla Extract

½ tsp. of Ground Cinnamon

Whipped Cream (Optional) 
Need to get a few ingredients for this recipe? Have them shipped to your door with Instacart!
How to Make It:
In a small saucepan or shallow pot, combine the cinnamon, nutmeg, milk, and vanilla and bring the mixture to a light simmer.

In a separate large bowl whisk together egg yolks and sugar until yolks are pale and the sugar granules are less apparent. Slowly fold in the heated spice/milk mixture a little at a time, until the two are mixed well together.

Pour the combined mixture into a saucepan and put it on medium heat. Continue to cook until the mixture is thick enough to cover the back of a spoon, but be careful not to boil. 

Remove the mixture from heat and allow it to cool for 15 minutes before transferring to the fridge.

Serve eggnog when fully chilled with an optional garnish of whipped cream and a pinch of ground cinnamon. 
2. Spiked Quick and Easy Eggnog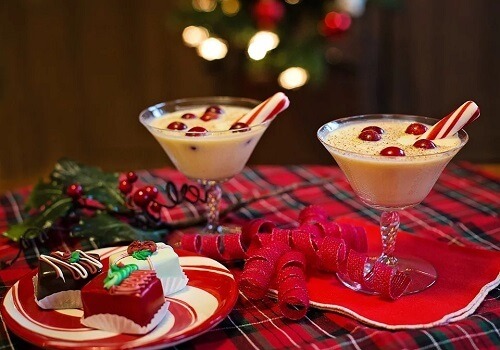 This spiked eggnog can be whipped up easily in a blender of your choice. Even with all of the hustle and bustle of the holiday season, you'll still be able to partake in this festive tradition in no time at all. 
Note that this recipe is made with whole eggs, so it is best if consumed fresh. The added alcohol to this recipe helps offset the raw nature of the ingredients, but this recipe should be consumed within 3 days. 
Ingredients:
1 Cup of Heavy Cream

1 ½ Cups of Milk

¾ Cup of Granulated Sugar

½ Tsp of Dried Nutmeg

¼ Tsp of Ground Cinnamon

4 Large Eggs

4 oz of Bourbon
2 oz of Cognac
How to Make It:
Crack eggs into a blender, our favorite is Vitamix, and blend on low-medium speed until the mixture is consistent, or about 20 seconds.

Add in the sugar, blend for about 30 seconds. 

Next, add in the nutmeg, cinnamon, heavy cream, milk, and alcohol and blend until thoroughly combined on a low setting or about 15 seconds. 

Transfer to the refrigerator and be sure to give the mixture a proper shake before serving. Feel free to adjust alcohol and spice ratios to taste. 
3. Family-friendly Eggnog
This homemade eggnog is super simple to make and is great for any holiday gathering. Your kids are sure to love this sweet drink.
Ingredients:
3 Large Eggs

2 Additional Large Egg Yolks

¾ Cup of Granulated Sugar

3 ½ Cup of Milk

1 Tsp of Vanilla Extract

1 ½ Cups of Heavy Cream 

¼ Tsp of Ground Nutmeg

Pinch of Salt

Whipped Cream (Optional) 
How to Make It: 
In a large mixing bowl, combine the whole eggs, egg yolks, sugar, and salt until well mixed.

Heat the milk and half of the heavy cream in a saucepan over low heat until the liquid begins to steam, then remove the mixture from the heat.

Whisk the hot milk mixture into the egg mixture and stir. Return the combined mixture to the saucepan over medium heat and cook until the eggnog begins to thicken. 

Remove from heat and stir in the nutmeg and vanilla. 

Let the mixture cool for an hour before refrigerating it.

Serve cold with a dollop of whipped cream.
4. Rum-Infused Eggnog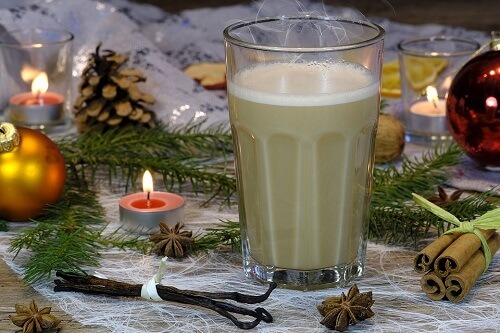 This eggnog is a great addition to festive cocktail parties and is sure to be a holiday hit. This recipe has a particularly large yield, so it's perfect for gatherings. It also doesn't include heavy cream like most other recipes, making it a great pick if you're trying to have your eggnog on the lighter side.
Ingredients:
12 Large Egg Yolks

4 Cups of Milk

1 ½ Cups of Sugar

4 Cups of Light Cream

5 Whole Cloves

1 Tsp of Ground Cinnamon

½ Tsp of Ground Nutmeg

2 Tsp of Vanilla Extract

2 ½ Cups of Light Rum
How to Make It:
In a saucepan, combine spices, vanilla, and milk over low heat for 5 minutes stirring regularly. 

In a separate bowl, mix egg yolks and sugar until the mixture is more or less consistent. Slowly pour the egg mixture into the milk mixture over low heat, stirring constantly for 3 minutes, being careful not to let the mixture boil.

Strain out the cloves and stir in the rum and vanilla. Refrigerate the eggnog overnight. 
5. Festive Easy Virgin Eggnog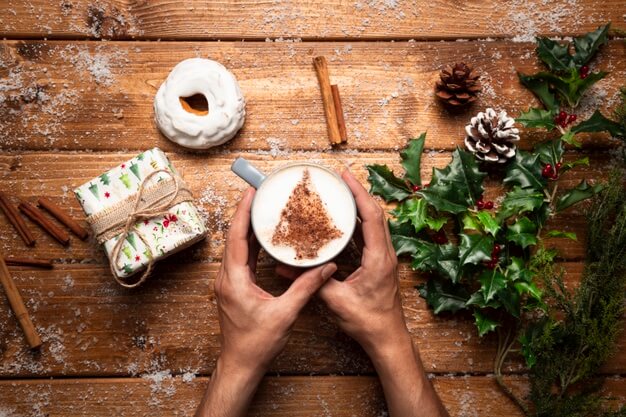 This eggnog doesn't have too many extra ingredients, so you'll be able to whip it up without a whole lot of hassle. 
Ingredients:
6 Large Whole Eggs

1 ½ Cup of Milk

1 ½ Cup of Heavy Whipping Cream 

A pinch of Salt

A pinch of Nutmeg

1 Cup of Granulated Sugar
How to Make It: 
Separate the yolks and whites of the eggs and set each aside.

In a mixing bowl, combine the egg yolks and sugar until the texture is consistent.

Pour in heavy whipping cream and milk, and whisk until combined. 

Whip egg whites in a

standing mixer

for about 5-8 minutes until they form stiff peaks.

Slowly fold egg whites into the milk mixture and refrigerate for at least an hour before serving. 
Make Eggnog a Part of Your Holiday Celebration
And there you have it! 5 easy ways to make this ultra-festive drink, for adults and kids alike. Have fun crafting a tradition you'll share with your family for this holiday season and many to come.
Don't forget to look for some amazing cookies to go with these eggnog recipes. Our favorite place to have cookies delivered from is Cheryl's Cookies! Check out delicious and festively decorated cookies that will complete any party or a cozy night in!