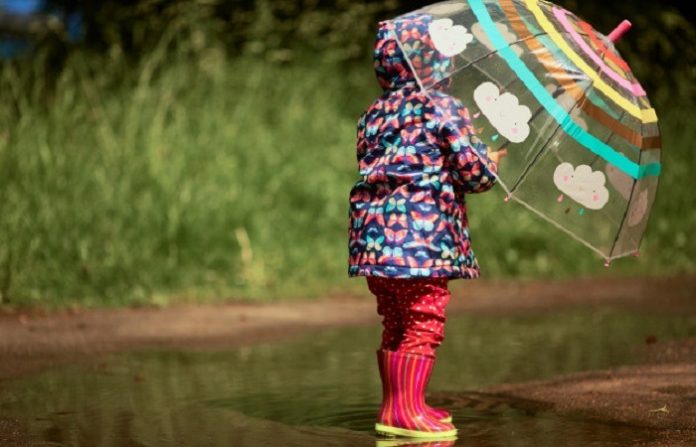 We hope you love the products we recommend! Just so you know, Men with Kids may collect a share of sales or other compensation from the links on this page.
It's raining yet again and the kids are starting to get restless having to stay indoors all day long. This is a common situation that every parent goes through. As soothing as a rainy or snowy day can be, it can also be challenging for you as a parent to continually have to think of new activities to keep your little ones entertained. Here, we have shared ten fun rainy day activities to cure that cabin fever.

1. If you Can't Beat Them, Join Them!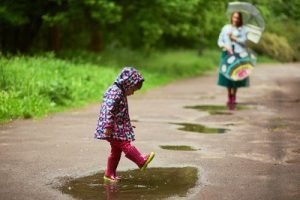 Sometimes instead of thinking of ways to beat the rain or snow, why not make it a fun family game? Dress your little ones in their favorite waterproof clothes and head out for some great outdoor mischief! If you are experiencing constant pouring rain, then let your children jump around in the puddles and make some splatters! If it's snowing, then there's no better time to make some snow angels or a family snowman to stand guard in your front yard.
2. Build Rainy Day Forts
Turn your living room or their bedroom into a fort. Every child loves to play and hide in forts so gather those pillows, some sheets, and make a beautiful yet fun fort! Picture the spatter of raindrops falling onto your roof, some hot chocolate, a good book, and your children cuddled up inside their fort.
To make the experience more fun, have your children help you with creating this small piece of heaven. You can keep the fort up for a few days and just let your young ones stay cooped up in their pajamas all day long.
3. Get Creative
Playdough enables your kids to get creative and learn while still having fun. Playdough is available in different sizes, colors, and textures. Your kids can squish, shape, mix colors, or make them all at once. 
The best part? This bright and squishy play dough can shape your child's imagination. Your child will have a field day trying to create something out of nothing.
4. Get Cooking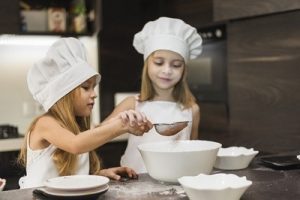 Kids love helping around the house. But sometimes it can get a bit frustrating to have them all over the kitchen while you are trying to prepare a meal for the family. Instead of shu-ing them away, pull out some expired or extra items from your pantry and let them create whatever they want.
The results might be disgusting, but the joy and pride on their little faces will make it worthwhile. Just make sure they don't eat the food while they play!
5. Let's Go Hunting!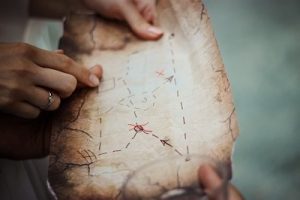 Who doesn't love the idea of treasure hunting? All you need is some creativity, patches of paper, a pen, and good hiding spots. If your kids are younger, pick one of their favorite cartoons and leave clues based on their beloved characters and the mischievous things they have gone through that month.
Leave the first clue on your kid's pillow and then scatter the other ones all over the house with the last clue leading to the present. If you wish to make it more educational, you can turn the quiz questions into mathematical equations, English lessons, etc.
6. Let's Paint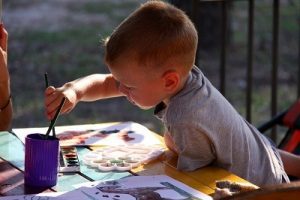 There's no better way to make your children get in touch with their creative senses than by allowing them to express themselves via art. Painting no matter how trivial it might seem to you can hold a hidden meaning.
As the saying goes; a picture holds a thousand meanings. Let your little ones have some fun rainy day activities by expressing themselves on a canvas. Be it finger painting, brush strokes, etc., the results might be worthy of putting up on your fridge.
Painting doesn't have to be expensive or cumbersome. Target has a great painting palette for kids that is easy to clean up and simple to store.
7. Watch a Movie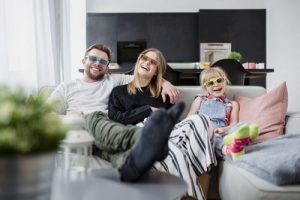 There's something very relaxing about watching a movie when it's snowing or raining outside. You don't have to watch grown-up movies. Let your inner child out, pop some popcorn in the microwave and watch a fun animation with your entire family. You can pop in a classic kid's movie such as Home Alone, Lion King, etc, and enjoy the thrill of having your children enjoy some of your favorite childhood memories.
At Sam's Club, you can find everything you need to create a cozy movie room. Sam's Club has everything from big-screen televisions to surround sound and more!

8. The Internet is Your Friend
In this new day and age, a hailstorm no longer means lights off; whether it's raining heavily or snowing, you can rest assured that your cable and lights will remain on. A simple way to keep your kids entertained is by downloading or purchasing some fun games off the internet.
These games are available in plenty. They range from 2+ years all the way to teenage years and more. Some great games to download from PlayStore include Spongebob SquarePants, Daniel Tiger, and much more.
9. Play Fun Games
Sometimes it's fun to take out a game that has some sentimental value to you and your significant other. And what better way to get your childhood back than with a game of Operations?
If you are a parent born between 1980-1998, then you are well acquainted with Operation. This game allows the players to perform surgery on their "patients." Additionally, the game allows every family member to participate in the adrenaline-driven need to save the "patient's" life!
You can also find a lot of fun video games at Best Buy that you can all play as a family together. Playing multiplayer games with each other can still be a bonding experience, and is a great alternative if everyone is feeling sluggish from the rainy weather!
10. Jenga for Kids
Jenga from Target is a straightforward game that can be played by 2+ family members and friends. The sole purpose of the game is to build a tall structure using the provided blocks. The game requires concentration and a steady hand. All you and your kids need to do is simply build a high-rise building without tipping the entire construction over. It's nerve-wracking and fun at the same time!
11. Read Books Together
Or heck, even read a good old book! If you find your kids enjoy learning and reading with you, then they surely will enjoy this activity. RedShelf has many books, and even e-books, for kids that are affordable and great for a family day in!
Enjoy the Rainy Day
Rain should not dampen your days with your kids. On the contrary; It should open up new ways for you and your family to have fun with each other. These simple rainy day activities will keep your kids engaged and excited for hours on end.
Rain or shine, there is always time for bonding with your kids.  So enjoy!