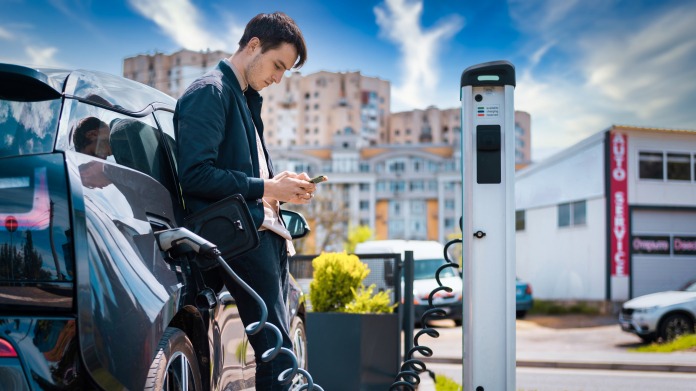 We hope you love the products we recommend! Just so you know, Men with Kids may collect a share of sales or other compensation from the links on this page.
If you're looking to make the switch from a gas-powered car to an EV, then it's essential to know all the pros and cons of electric cars. While you might be aware of the environmental effects of owning an electric car, the truth is, there are many other factors to consider before buying a new vehicle.
No matter if you do decide to go with an electric car, chances are you'll be on the search for your next car in the near future. We were surprised to find out that purchasing a car online got a lot easier. You can ditch the traditional shopping experience of a dealership and go with a new online car seller like Carvana. No waiting all day at the dealership, or driving around trying to find the best deal. All from your device, you can research, purchase, finance, and pick up or get your car delivered through Carvana, without ever having to go anywhere! They also give you 7 days to test the car to see if that really works for you, and if it doesn't, you can return it with no extra fees.
Pros and Cons of Electric Cars: Why Should I Get an Electric Car?
Pros of Electric Cars
Driving an electric car has plenty of advantages – especially on the environment and on your wallet.
Zero Emissions
When it comes to protecting the environment and reducing your carbon footprint, electric cars are the best option in terms of private vehicles. Because their power comes from a battery, they don't require any fuel, nor do they produce any tailpipe emissions. This is a huge advantage over gas-powered powered cars, which on average, produce 4.6 metric tons of carbon dioxide a year.
Looking to save even more on an electric car? Shop used electric cars on Carvana – the fastest growing used car dealer in the United States.
Low Maintenance
Compared to motorized cars, electric cars are incredibly low maintenance because they have fewer parts and components. Because they don't have motors or things like timing belts or cylinder head gaskets, basic upkeep is mostly on the tires, steering, and suspension. Therefore,  you'll spend less time in the shop and less money on yearly upkeep.

~Advertisement~
Long-Term Cost Savings
One of the biggest advantages of owning an electric car is the long-term cost savings. Not only are there lower maintenance fees, but the cost to charge an electric car is far cheaper than filling it up with gas. In some cases, you can save around $1,000 a year by switching from a gas-powered car to an electric vehicle! In addition, electric car owners can also take advantage of federal tax benefits for even more savings.
Smooth Operation
Without a motor or exhaust system, electric cars tend to be quieter and smoother to drive compared to traditional cars. Their batteries are also more reactive, which means you'll have more torque and control over the car.
Cons of Electric Cars
Although there are plenty of benefits to owning an electric car, here are a few negatives you should consider before making your purchase.
Purchase Price
Although the long-term cost of owning an electric car is appealing, the upfront purchase price is generally higher compared to traditional cars. On average, you can expect to pay at least $30,000 to $40,000 for a budget electric car.
Requires Charging Station
While gas stations are easy to find, electric charging stations aren't as common. That can make it challenging to charge your battery if you're traveling long distances or through rural areas.
If you need to park your car along the way, you can check Way.com to see if there are any parking spots in your area with an EV charging station. You can book hourly, daily, or monthly parking directly online in dozens of cities around the country.
Charing Requires Time
If you're on the road, stopping at a gas station to fuel up only takes a few minutes. However, charging an electric car takes more time. You should expect to spend around 30 to 45 minutes at the charging station, so make sure to plan ahead of time if you need to be somewhere at a certain time.
Driving Range
Long-distance drivers and road-trippers may have an issue with how far their electric cars can run on a single battery charge. Currently, the longest-range electric car is the Tesla Model S, which gets approximately 400 miles on a full charge. However, gas-powered cars can run anywhere from 400-600 miles on a tank of gas.
Battery Replacement
While you won't have to pay a lot of money on yearly maintenance costs, it's important to note that you'll likely need to replace your electric car's battery every ten years or so. A replacement battery can be a pricey expense, costing you on average $5,000 to $6,000.
More Car Buying Tips
Purchasing a new car is a big decision, but hopefully, you know have a better idea about the pros and cons of electric cars. When you're ready to make your purchase, check out Carvana.com to see available used electric cars for sale.
And make sure to read our articles, the 5 Biggest Mistakes You Can Make When Purchasing a Car, and the Top 10 Things to Consider When Buying a Car for more car shopping inspiration.