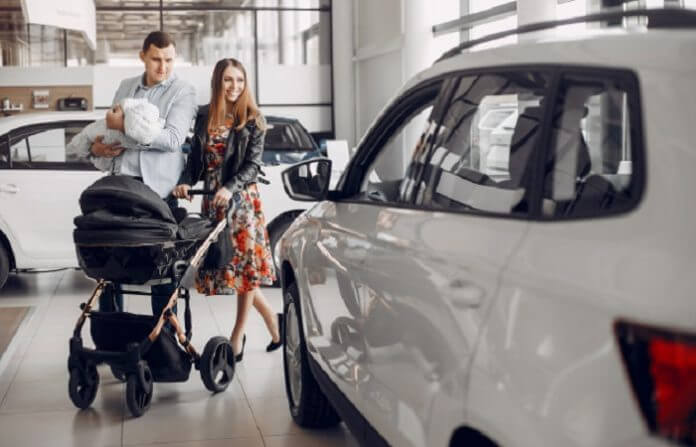 We hope you love the products we recommend! Just so you know, Men with Kids may collect a share of sales or other compensation from the links on this page.
A family car doesn't need to be a large minivan with enough space for five future kids, but it should definitely have certain features. The features that are priorities will obviously varycat from one family to the next though. You can start your search for the perfect family car by making a list of the features that are important to you and your family. Here are 10 things you might want to consider for your perfect family car.
Top 10 Things to Consider When Buying a Family Car
The most important thing to consider when buying a new family car is where you'll be making your purchase. There's never been a better time to shop for your car online than now. With companies like Carvana revolutionizing the industry, you can easily shop for and purchase your car all without ever having to go through the hassle of a dealership. Start shopping now with Carvana to find your next family car.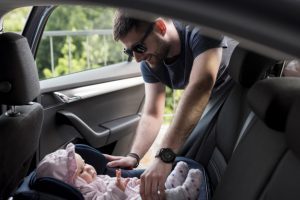 1. Easy to Install and Remove Child Seats
For fathers of small children, it's essential to be able to install child seats to keep your little ones safe and secure. The best family car will be easy to install rear facing child or infant seats into the rear of the vehicle. Also, make sure there are enough ISO anchor points if needed, and bring all your child seats to test fit once you narrowed down a few potential car models.
Looking to buy a used car for the family rather than new? Look no further! Carvana is our preferred platform of choice to browse used cars online. Find cars that fit your budget. Every Carvana vehicle goes through thorough inspection and come with a free CarFax report to give you peace of mind. Hassle-free and free delivery to your home, get the best online car shopping experience with Carvana.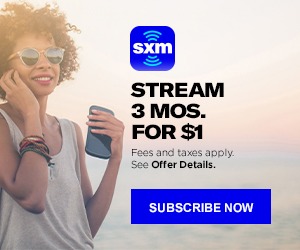 2. A Good Amount of Cup Holders
Your kids are not going to be careful about their drinks, so teaching them to keep their drinks in the cup holder will help keep your car clean.  Make sure the cup holders are accessible with the child seats installed but not inside the center armrest.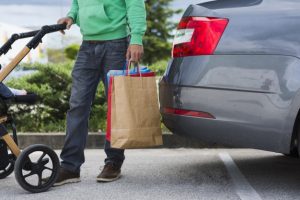 3. Stroller Storage Space
Just if you don't have a lot of stuff to carry with your firstborn (yet), you will soon find yourself needing to bring a lot of support items when you go out with your kid, which is not limited to strollers – it may also include diaper bags, toys, portable baby chair, and other items. Your ideal family car will need to be able to provide enough storage space for all of these items, so you don't have to leave anything behind (and risk the temper tantrums).  Make sure to bring your stroller to test fit the space while shopping.
4. Leg Room for Kids With and Without Child Seats
Once you have the child seats installed, it's important to know that your kids will have enough leg room. This keeps your kids from becoming cramped and miserable, especially on long car rides.  This will also help reduce fatigue and hip issues.  Make sure there is enough leg room for the front passengers aka parents while still leaving enough space for the safe installation of child seats.  For front facing toddlers and child seats, make sure there is enough leg room for them in order to reduce fatigue during long road trips.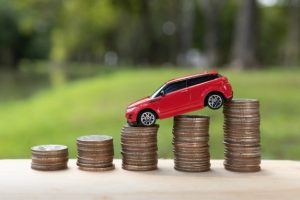 5. Cost of Ownership
Cost of ownership includes more than just the initial purchase price. It also includes all the expenses that add up over the lifetime of the car. Things like regular repair and maintenance, oil changes, tire rotations, and regular fill-ups at the gas station.

Choosing a hybrid or fuel-efficient model will help you save on gas, however, the initial costs may not be feasible if your commute is relatively short.  You can save a lot of time and money on repairs if you go for a more mainstream vehicle that doesn't need special parts to be ordered if/when it breaks down.  A brand new vehicle depreciation up to 30% of its value during the first year, so getting a certified pre-owned model usually makes more sense.  Also check with your insurance agent to make sure there are no surprises for insuring your potential new car, new feature like automatic braking can save you a lot of money in the long run.  Do you really need 4 wheel drive when you rarely drive in the snow?  As insurance are usually more expensive for a 4 wheel drive vehicle.
Looking for Low Car Insurance and Want to Shop Right? We have all the answers to your questions with Smart financial. Smart financial help you to how to shop for car insurance and can save you up to 40%. They only compare affordable insurance quotes from the best insurance companies. Get a free insurance rate quote today.
You may also want to check your credit score just before purchasing a car or making a big step in your life. You should always make sure you will be secure with the purchase and not overlooking anything.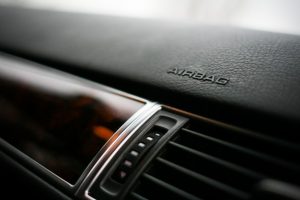 6. Safety Features
You'll want your kids to be safe when you're on the road, so a family car with the right safety features is a must. Side airbags and child-lock seats will protect your kids in the backseat, while lane-keeping assist, collision detection, and self-parking can help busy, distracted fathers drive safely. Some vehicles have more advanced features, like autopilot too, which will make that long road trip more enjoyable.  Most of the new vehicles are now mandated to have a rear view camera installed, but make sure the used car you have your eyes on included this important safety feature.
No parents want to deal with complaining kids during long car rides. Fortunately, there are features that can keep everyone comfortable. These range from extra cup holders to comfortable seats to air conditioning for the backseat, which will help everyone stay comfortable and happy during the long drive to grandma's house. 
You should definitely consider getting a rear seat entertainment system if your family do a lot of road trips. Vacations can be a great way to spend time with your family so plan ahead and get the right car for all types of trips!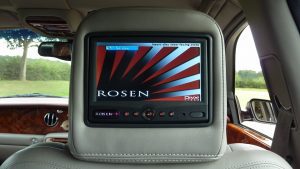 You don't want your kids getting bored, especially on longer trips, since this will make everyone miserable. Luckily for you, many vehicles now include entertainment systems, which can include touchscreens, speakers, and the ability to sync with phones and other devices. This keeps everyone sane when on the road. 
9. Automatic Doors
Automatic doors may not be essential for every family. However, they can become quite useful when you are strapping children into car seats or carrying large bags or strollers.  Some luxury cars offer soft close doors, they are great for not having to slam shut the doors and wake up the babies.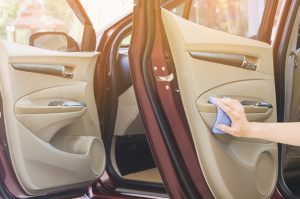 10. Easy to Clean
We all know that kids can be messy. There are spilled drinks, stains on seats and flooring, and other messes to contend with. Make it easy on yourself by purchasing a family car with easy-to-clean surfaces. Vehicles with built-in vacuums will also help make the job easier.
Make Sure You're Buying the Right Family Car
The last tip, while you are shopping for your family car, is don't just get one that is "just enough" for right now, only to need a better one down the road. Avoid the extra cost by deciding what is important for your family and what you will need in the future, or if you are considering having more kids in the future.  By making a list of the features you need, you will find the right vehicle for your family now and in the future.
If you're looking for other great tips before buying a new car, take a look at these mistakes you should not make.