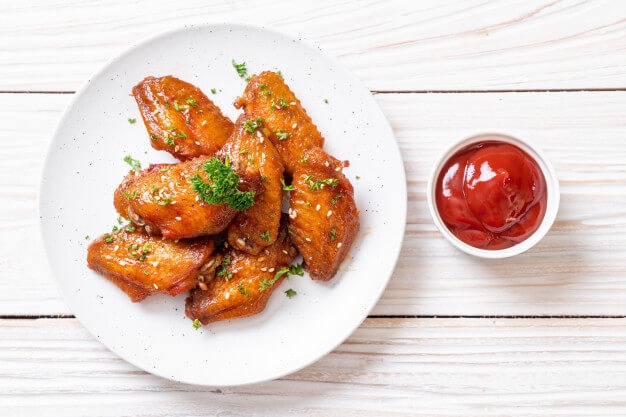 We hope you love the products we recommend! Just so you know, Men with Kids may collect a share of sales or other compensation from the links on this page.
Summer's on the way, and for many people, the goal of getting that body summer ready is becoming clear. With these air fryer chicken recipes, your goal can get there faster. Chicken is probably one of the best sources of protein. And it's healthy, particularly if you have an air fryer. To get the summer started on the right foot, the following is our guide to five of the best simple and healthy chicken air fryer recipes.
Tip: If you're looking for a new air fryer, we're loving our Ninja 4qt Air Fryer from Target. It fits plenty of food (2 lbs. fries), and the finishes on our favorite recipes are crispy, quick, and golden, just as if we truly fried them.
A few of these delicious meals will need olive oil (as does most cooking). Make sure you're starting your cooking off right with quality olive oil. Take a look at somewhere like California Olive Ranch for all types of unique and high-quality olive oils to spice up your cooking.
Crispy Air Fryer Garlic Wings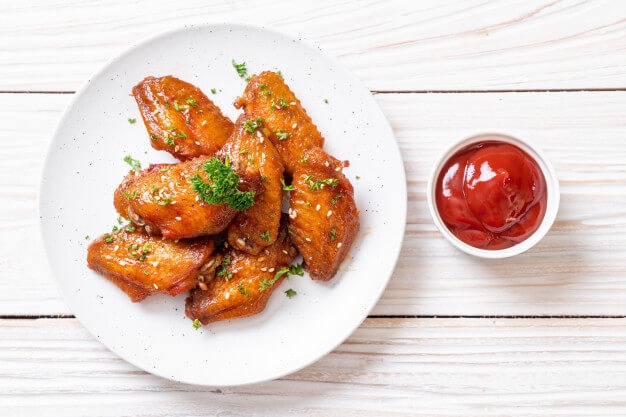 Whether it's game night or a lazy supper, chicken wings are always a solid choice. If you have an air fryer, these crispy air fryer garlic wings with hot honey are super quick (just 30 minutes, all in) and easy to make. What you'll need:
Ingredients
2 teaspoons of arrowroot powder
1 and 1/2 teaspoons of garlic powder
1 teaspoon of fine sea salt
½ teaspoon of freshly ground black pepper
3 pounds of chicken wings patted dry
Cooking spray
¼ cup of raw honey
1 teaspoon of hot sauce
A pinch of fine sea salt
Directions
Heat your air fryer to 400 degrees Fahrenheit.
Combine the arrowroot, salt, garlic powder, and pepper in a bowl and mix well.
Place your wings into a bowl and sprinkle with the above mixture, tossing them to make sure that they're all coated evenly.
Mist your air fryer with cooking spray and cook the wings in a single layer in batches until browned and crisp.
To make the sauce, combine the honey, hot sauce, and salt.
Serve the wings hot with the sauce on the side.

Fried Chicken Breast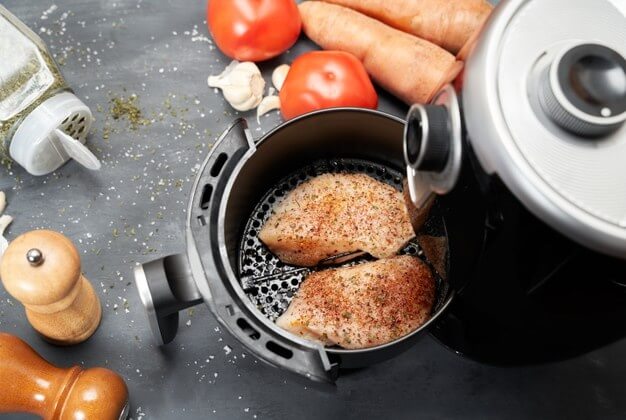 If wings aren't your thing, this fried chicken recipe uses organic Ninja 4qt Air Fryer and takes just 22 minutes to make. What you'll need:
Ingredients
1 and ½ lb chicken breast sliced thinly
¾ of a teaspoon of bagel seasoning
1 and ½ teaspoons of garlic powder
¼ of a teaspoon of turmeric
¼ of a teaspoon of black pepper
2 teaspoons of olive oil
Directions
Mix together all of your dried species and throw in the sliced chicken breast, making sure that each piece is coated properly.
Place the chicken into your air fryer drizzled with a teaspoon of olive oil and cook at 375 degrees for about 22 minutes or until crispy.
Chicken Salad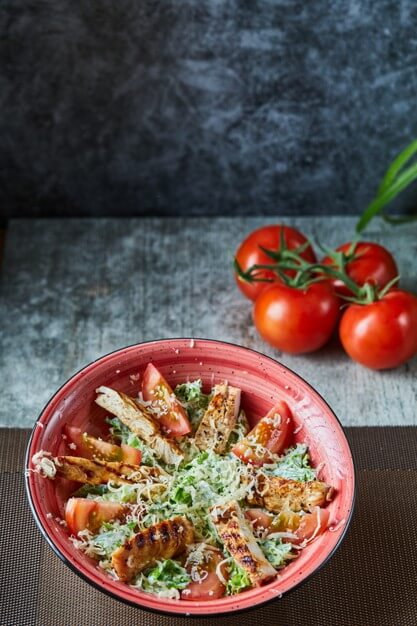 If you're looking for something a bit fancier for your fryer, this chicken parmesan recipe will be right up your alley. You'll need:
Ingredients
5 lbs of boneless chicken breast
2 eggs
½ a cup of shredded parmesan cheese
½ a cup of breadcrumbs
⅛ teaspoon each of salt and pepper
1 teaspoon of garlic powder
1/4 teaspoon of onion powder
⅛ teaspoon of smoked paprika
2 tomatoes
Lettuce

Directions
Whisk your eggs.
Combine all of the other ingredients, except the chicken and eggs, in a bowl.
Coat each chicken breast with egg and then dip into the breadcrumb mixture.
Preheat the fryer to 375 degrees Fahrenheit and spray with a little oil.
Fry the chicken for about six minutes on each side.
Serve the chicken with lettuce and tomatoes, and sprinkle parmesan cheese on top.
This summer, an air fryer is probably the best investment you can make for quick and tasty chicken dishes for family nights or when entertaining friends. Pick one up so you can prepare some of the delicious meals above without needing to fry anything the old-fashioned way.