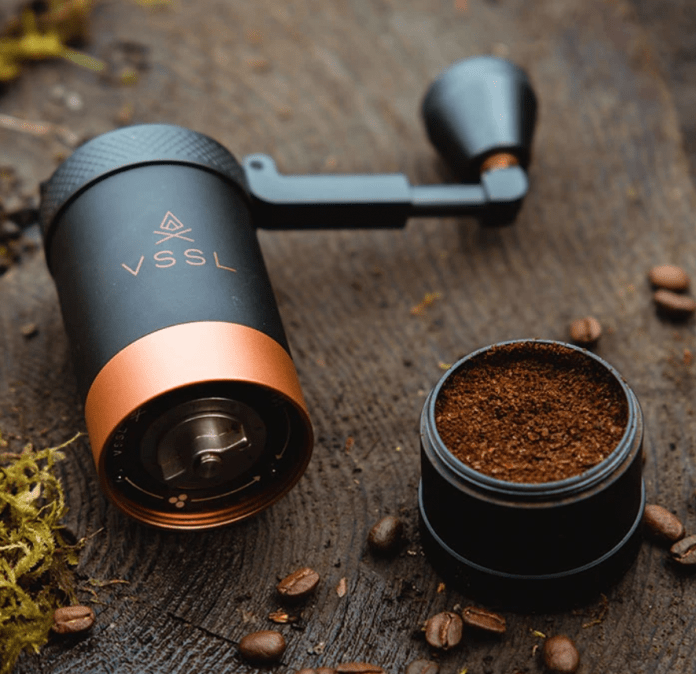 We hope you love the products we recommend! Just so you know, Men with Kids may collect a share of sales or other compensation from the links on this page.
The fall always brings with it the most serene landscapes and views of nature. Any outdoorsman knows that fall is truly the best season for exploring and basking in the outdoors. Especially after the longevity of being stuck at home during the pandemic, loads of nature newcomers are sure to be looking for every piece of gear to make their experience outdoors more enjoyable. Whether you're hiking, camping, fishing, or hunting, you want the best gear and equipment with you. That is why we wanted to do a VSSL review.
Who is VSSL, and what do they have to offer?
VSSL is an outdoor utility company with tools and gear for all segments of nature exploration. What sets them apart is the make and quality of VSSL products. VSSL tools are ultra-compact, light, and made to fit in a small container. VSSL, short for vessel, provides a variety of tools created with the purpose of being stored in small containers. This way you can easily lug around all your equipment while still being nimble and unfatigued.
VSSL products have been featured in TIME, National Geographic, Gizmodo, and more. But what makes their company and line of products stand out? What is it about their gear that makes the outdoors so much more enjoyable? We decided to take a look and see what they have to offer for nature enthusiasts.
How do VSSL products work?
As we mentioned above, VSSL focuses on compactness, with reliable gear and equipment to keep you prepared for the outdoors. There are a variety of offerings from VSSL, including camp supplies that come stored in a VSSL tube, supply packs, first aid, java/coffee, flask, and more. You have the option to buy pre-built packs and supplies or build your own for your specific needs.
What does VSSL have to offer?
VSSL has a variety of products that they offer for every outdoorsman's needs. They're all built to be compact and easily accessible for any time you might need. We'll list below some of our favorite products we found:
1. VSSL Java Coffee Grinder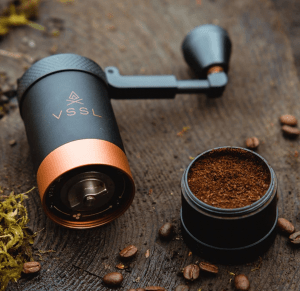 VSSL lists this item as "engineered for folks who give a damn about their coffee". Most outdoorsmen know how difficult it can be to still get a good cup of joe out in the wilderness. Carrying equipment can be cumbersome, and coffee supplies may not be worth the added weight and effort to keep on your person. VSSL set out to change this, by creating a coffee grinder that is small, efficient, and reliable.
The coffee grinder comes with a "Clip and Flip" lever. It's used as a carrying handle, while also acting as an extendable crank that produces smooth and easy rotations for grinding. The handle is also magnetic for easy carrying. Additionally, loading the beans is as simple as popping off the top with one button. The JAVA Coffee Grinder only takes 60 seconds to produce around 20 grams of ground coffee, which is perfect for a single cup.
The dimensions of the coffee grinder are:
6″ x 2″ diameter
396 grams (about 14oz.)
This thing is sturdy yet extremely compact, the way a coffee grinder should be.
2. VSSL First Aid Kit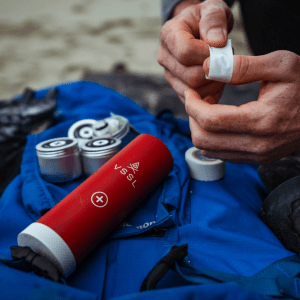 Every nature explorer needs to have a first aid kit on hand to keep themselves protected. This first aid kit from VSSL is again, compact, durable, and is also completely waterproof. Included in this first aid kit is:
Light
Compass
Tape
Bandages
Steri-Strips
Disposable Thermometers
Antiseptic Towelettes
Antibiotic and Burn Cream
Masks
Tweezers, Emergency Whistle, Safety Pins
Gauze Pad
They also offer a mini version for something even more compact to keep you safe.
3. VSSL Flask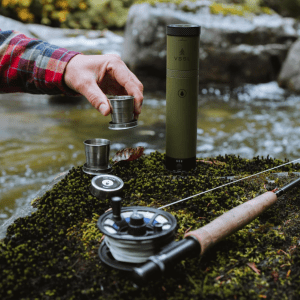 A successful day of adventure in the great outdoors is oftentimes only capped off with a nighttime drink of your choice. The VSSL flask is built to be compact, like all VSSL products, and comes with a built-in light, compass, 2 stainless steel shot glasses (1.5oz), bottle opener, and a 8oz container to hold your favorite spirit. This is an easy solution to carrying around your favorite beverage.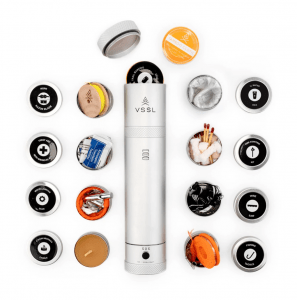 VSSL partnered with Suunto to bring the best mechanical compass to their all-in-one unit. The CAMP is stocked with over 70 pieces of essential outdoor gear and items. This item is everything you might possibly need for your outdoor adventures. Just a few items included are:
LED Light
Suunto Compass
Mini First Aid
Firestarter Kit
Rope + Razor Kit
Fishing Kit
Beeswax Candle
Wire Saw
Water Bag
Adventure Tape
Bamboo Cloth
More
Dimensions are as follows:
9.375″ x 2″ diameter
1.32 lbs.
The Best in Outdoor Gear
In conclusion, VSSL has brought a ton of incredible and innovative gear and outdoor items to the market. All of these items we've listed make any outdoor experience easier and more enjoyable. If you need lightweight, compact and durable outdoor gear, VSSL is definitely the best place to be looking.
We highly suggest you explore their site and build your own collection of VSSL outdoor gear!