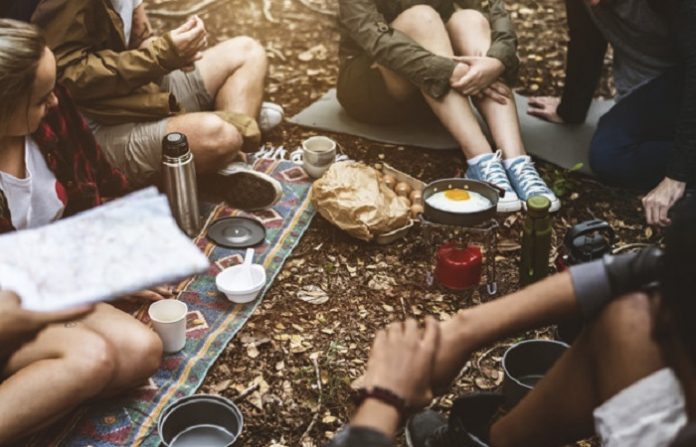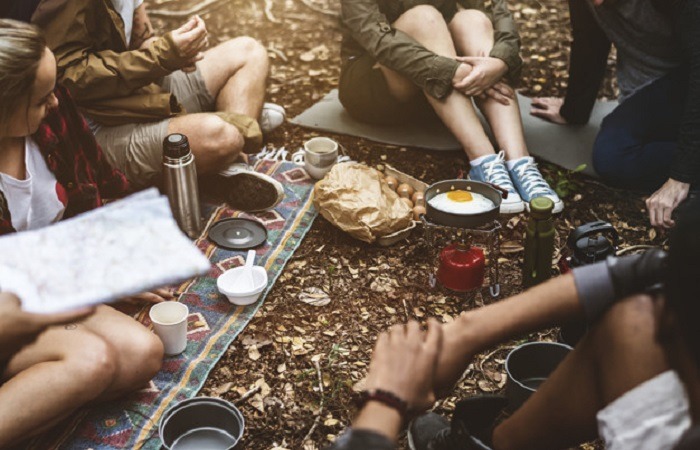 We hope you love the products we recommend! Just so you know, Men with Kids may collect a share of sales or other compensation from the links on this page.
Now that summer is in full swing, it's the perfect time to start enjoying the great outdoors. There's no better way to do that then to head out into the wild on a camping trip. Are you new to planning a camping adventure but don't know how to start? Don't worry! We've put together a list of essential items to help you get the most out of your camping trip.
Food Preparation
Since camping is all about enjoying the nature, cooking and enjoying a delicious meal in outdoor is especially good for your body and mind. Trail mix is a great source of protein and many other nutrients while you are hiking or cycling around the campsite. When it is time for a meal, set up a proper camp kitchen will make the experience much more efficient. A nice non-stick camping cook set such as the Flex by MSR will help you easily prepare a hot meal away from the your home kitchen.  The Coleman dual burner propane stove heats up easily and packs up small for easy transport and clean up.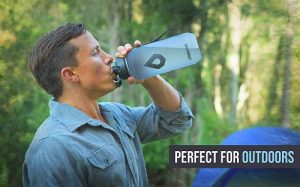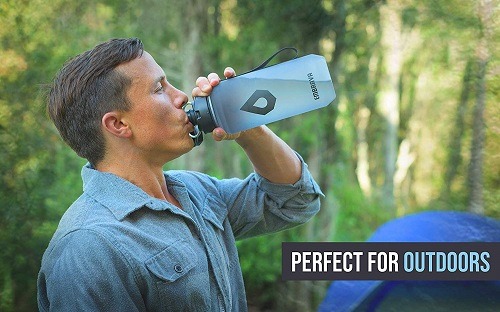 Be Mindful of Water
The only thing that's more essential to add to your camping gear list than food is water. Having a sufficient water supply isn't so much of a problem as being responsible with how you use it. Figure about 0.5 (half) gallon of water per person per day for drinking, and about 1 gallon of water for cooking and cleaning up per meal. Bring a large and reusable water bottle instead of little bottles of water to cut down on plastic waste. For large format water container the Reliance Aqua-tainer is a great option.  The Sawyer Products water filtration system is a small and portable "nature drinking straw" in case if you need to access natural water in case of emergency.
Arguably the best part about camping trips is having fun exploring the wilderness. Always bring along a compass and a flashlight while you are exploring to help you get back or get help if you ever get lost. Invest in a GPS tracking device if you find yourself exploring the hidden paths a lot.  Also a whistle is great to keep in your backpack to summon help if needed.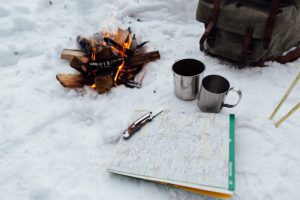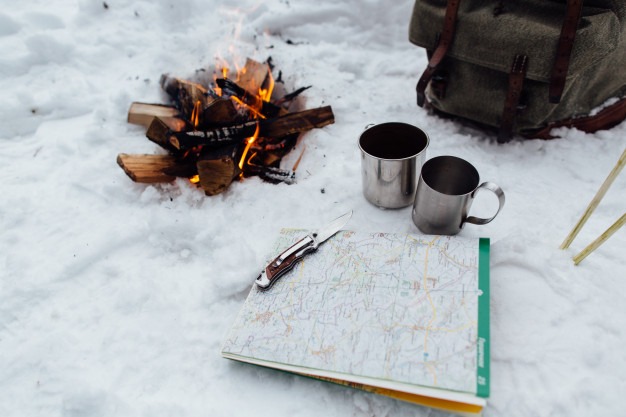 Survival and First Aid
A good knife for camping can come in handy in more ways than you can think. These are great multi-purpose tools that can be used in any situation from cooking to opening up food packages to getting crafty. Being creative with the tools at your disposal adds to the thrill of being in the outdoors. Use your knife to learn some bushcrafts before your trip like how to gather kindle to start a fire, or craft a walking stick for your trail.
A first aid kit is a must have in any outdoor or camping trip.  Carries a kit that contain the items big enough for the size of your party.  Also include personal comfort items like bug spray and sunscreen so you always have it when you are out and about.  Don't know where to start putting your kit together?  Check out the EVERLIT 250 Pieces Survival First Aid Kitas it includes most of the first aid and survival items you need in a nice self-contained package.
Camping Gear for Kids – Kits and Tools
If your camping trip is a family affair then it would be a great idea to have some camping gear for kids aswell. While getting your own tools is important for managing the trip, kids can get invested in the experience by having their own mini survival kit with binoculars or whistles. Or helping them put together their little first aid pouch with their own sized goodies. Walkie talkies are also a great idea for keeping an ear out for the kids while adding to the adventure excitement too.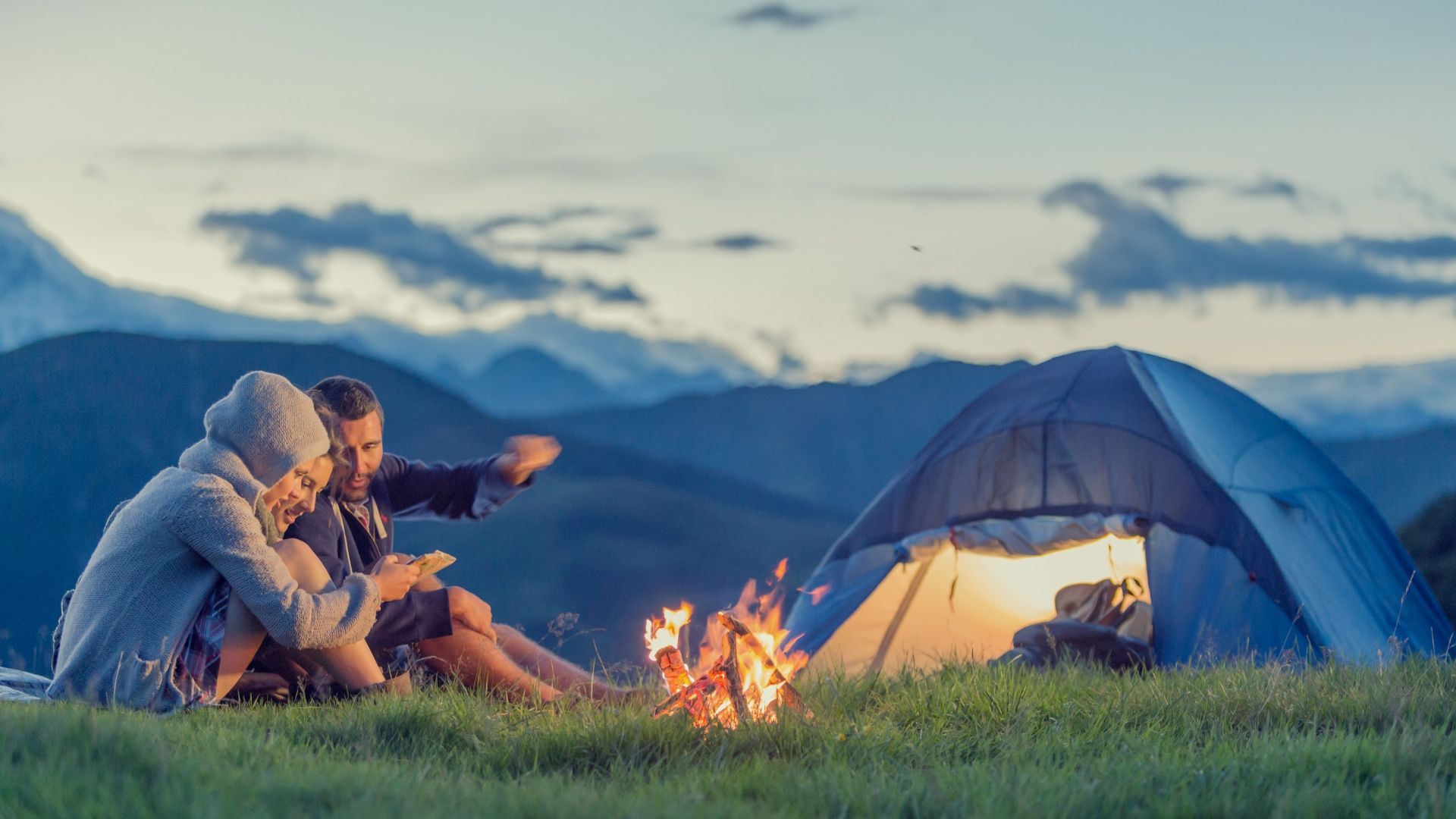 Camp Furniture
Camping trip will be much more enjoyable when you feel relaxed to enjoy what mother nature has to offer. Bring along sturdycamping chairs and a fold-able table to create the perfect gathering spot during the day and the camp fire at night.  
Creature Comfort
For creature comfort, the most important will undoubtedly be your tent and sleeping bag. Make sure the tent you choose is spacious enough for the number of people sleeping together.  A 4 persons tent is really only designed for 2 persons, unless if you want to be shoulder to shoulder with your pal while you sleep, while a 2 persons tent is most ideal for yourself and your significant other at most.  A 4-seasons tent, or sometimes called all-seasons tent, designed for year round use is sturdier than a 3-seasons, or sometimes called summer tent, but it won't be as warm, wind, or snow proof.  A 3-seasons tent will have more vestibules for ventilation excellent for the summer months.  There are hybrid 3/4-seasons tents which are convertible to accommodate different seasons but a bit more expensive.
The CORE 6 Person Instant Cabin Tentis a great tent for 3 seasons camping.  It offers spacious interior enough for 2 queen size air mattress, while only takes 60 seconds to setup.
Sleeping Bag – Camping Gear List Essential
For sleeping bag, make sure the temperature rating is at least "good enough" for the season you are traveling in.  If the night time temperature will be about 40 degrees, make sure your sleeping bag is rated at least 40 degrees or below.    The Abco Tech Sleeping Bag is a 4 seasons sleeping bag which is small, waterproof, and machine washable rated for 20 degrees.  It is wise to bring along a fleece blanket to cover over your sleeping bag just in case the night time temperature dips as it will help increase the warmth tremendously.  The fleece blanket will also be great during camp fire time.
To dramatically improve your sleeping comfort, you can choose either a self inflate sleeping pad, or go all out with a queen size air mattress.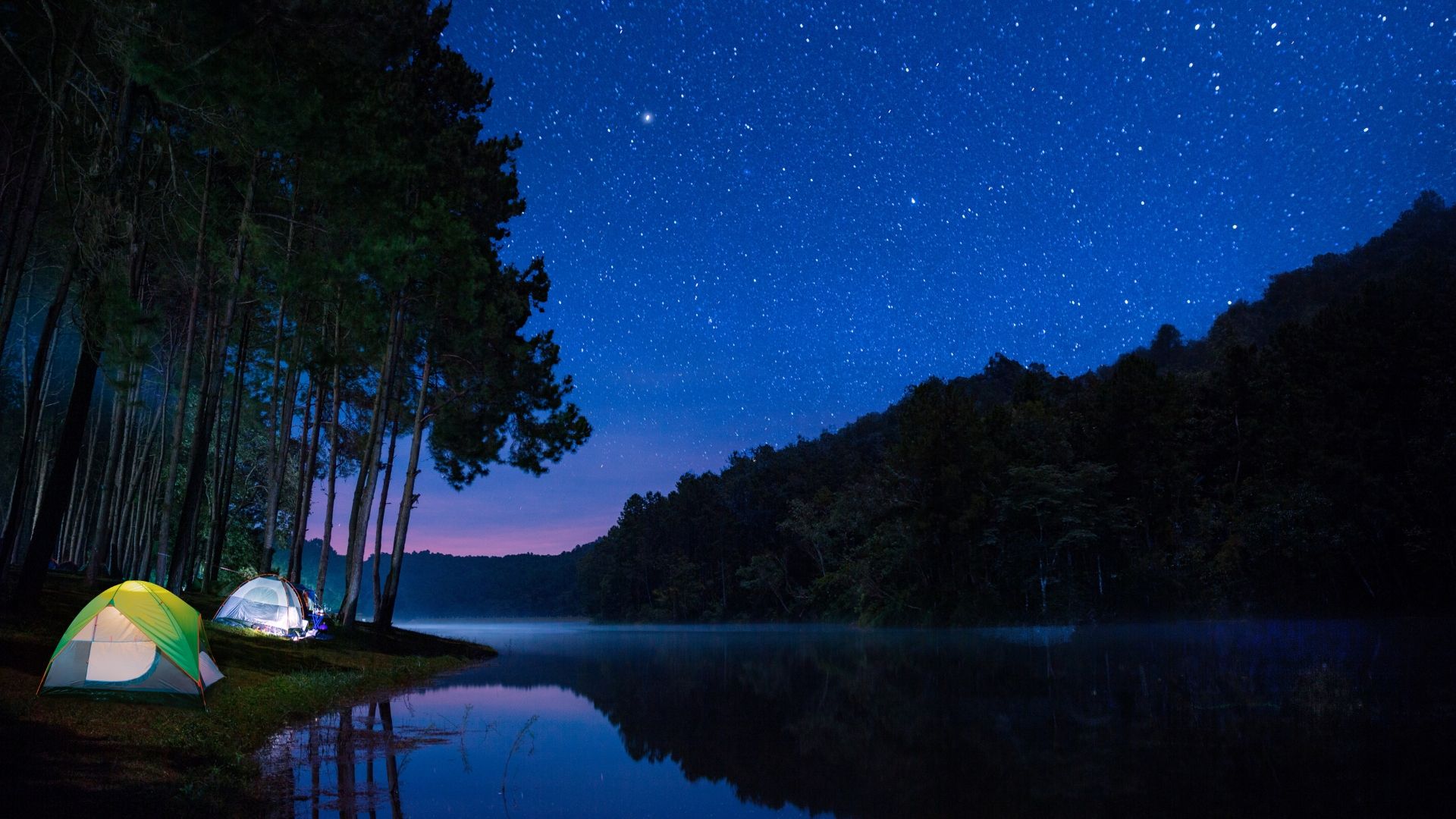 Power and Lighting
Yes, camping is about getting off the grid, not checking your phone, not connecting to the internet but spending time enjoying nature and spending quality time with your friends and family.  However in this day and age it is hard to be completely off the grid.  You still need electricity to run some lighting, or to call for help in case of emergency.  A rechargeable generator, either by AC or solar, will make your camping trip more safe and enjoyable.  While you are picking up your generator, don't forget to pickup some LED Luminoodlelights to create the perfect campsite.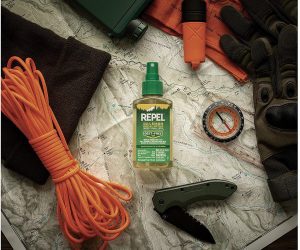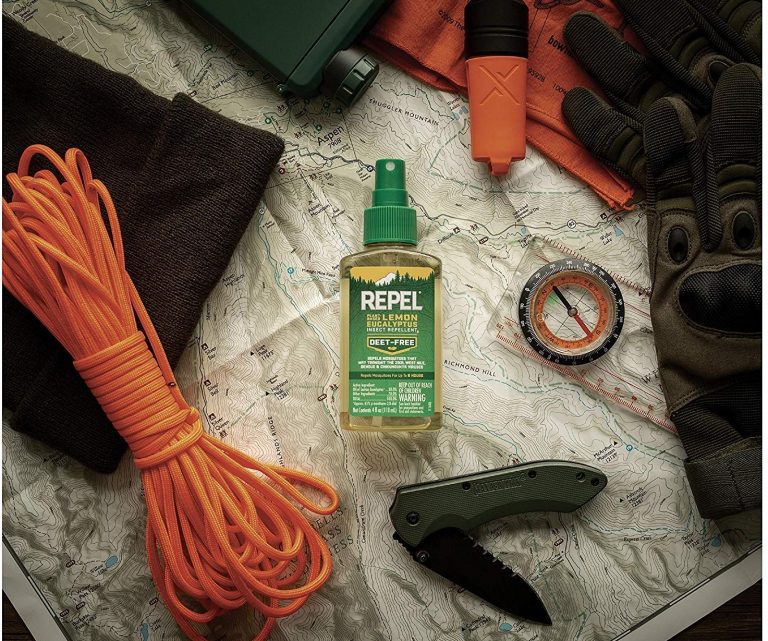 You Certainly Won't Regret Adding A Little Skin Protection to Your Camping Gear List
It's better to be safe than sorry, which means that you might as well come equipped with some lotions and sprays to safeguard yourself. Your skin is most susceptible to harm when going into the great unknown, so you ought to take extra measures to protect it. Whether you have sunscreen to shield off UV rays, bug spray to repel annoying mosquitoes or healing lotion for irritated skin, each one could prove themselves invaluable and help make your camping trip more enjoyable.
Kindling and Extra Wood a Must for Camping Gear List
Relying on the woods to provide enough dry, burnable wood for your entire stay doesn't always work out. Make sure you bring enough wood to cover your meals and a bit of nighttime story telling. Besides, having enough to keep the fire sizable is best. Kindling that's dipped or treated will help get the fire going fast. And lighting the fire will be easiest with utility lighters. Just be sure to put water on the coals before going to sleep.
With this camping gear list, you'll be well-prepared to tackle the wilderness with your family. Enjoy your summertime camping vacation!
Just can't get enough of our survival guides for camping? Here are a few more survival gadgets you can get for your trip!