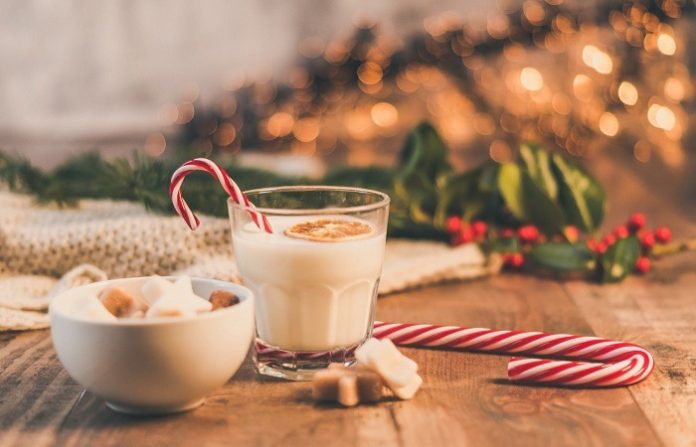 As the holiday are just around the corner, after all the shopping trips and hanging up the decorations, it's about time to enjoy the holiday spirit. What better way to savor the moment than to have a great drink and a conversation with your friends and family? To boost your status as the host with the most, we at MWK prepared a list of 10 best holiday cocktails. We included a bunch of non-alcoholic ones so even your kids will love.
1 – Mulled Apple Juice / Apple Cider (non-alcoholic)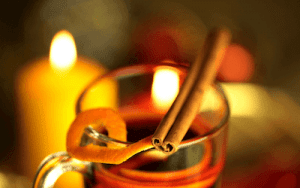 Ingredients:
1L (1qt) apple juice or apple cider
Strips of orange peel
3 cloves
Sugar or honey to taste
Simmer the apple juice / cider with the orange peel, cinnamon sticks, cloves for about 10 minutes in low heat. Pour into festive drinking mug and add sugar or honey to taste. Add in extra cinnamon stick for more intense taste.
2 – Pumpkin Hot Chocolate (non-alcoholic)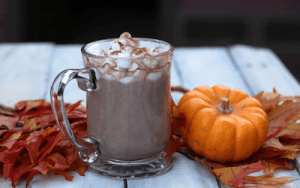 Ingredients:
Simmer milk over low heat in a pan. Adding in sugar, vanilla, cinnamon, and pumpkin extracts to slowly combine. Slowly mix in chocolate chips and stirring the whole time until smooth. Add whipped cream and marshmallows on top.
3 – Midori Martini (alcoholic)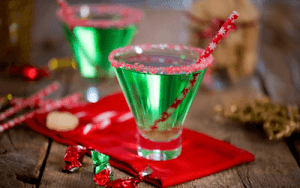 Ingredients:
Well, pretty straight forward martini. Fill shaker with ice, add vodka, Midori, and shake. Rim martini glass with lemon juice and strain martini into glass, enjoy!
4 – Old Fashioned (alcoholic)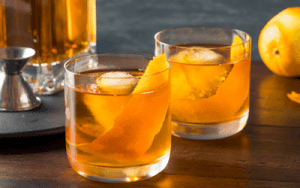 Ingredients:
1 sugar cube or ½ tsp. sugar
2 dashes Angostura bitters
2 oz. bourbon or rye
Garnish: lemon or orange twist
In a lowball glass, muddle together the sugar, bitter, and a dash of water. Add your favorite whiskey or rye and a large ice cube into the glass. Stir them together slowly to combine. Twist the lemon or orange peel garnish to release its flavor, then drop it into the glass and serve.
5 – Mulled wine (alcoholic)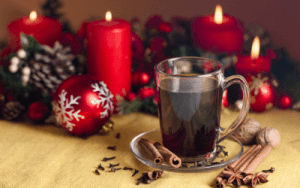 Ingredients:
1 bottle of red wine
1 orange, sliced round
6 whole cloves
¼ cup honey
½ cup brandy
Combine all ingredients and simmer in medium heat for about 10 minutes. Serves warm in a mug and garnish with more citrus slices or cinnamon sticks if needed.
6 – Christmas Colada (alcoholic)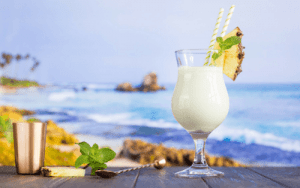 Ingredients:
1 ½ ounces Coconut Vodka
½ ounce cream of coconut cream
¼ ounce pineapple juice
1-ounce whole milk
1 egg white
2 dashes cinnamon
2 dashes nutmeg
2 dashes allspice
In a shaker filled with ice, combine the vodka, coconut cream, milk, egg, and 1 dash of each of the spices. Shake vigorously for at least half a minute to make sure the egg is mixed well. Strain into a chilled lowball glass and combine with the remaining spices.
7 – Cinnamon Collins (alcoholic)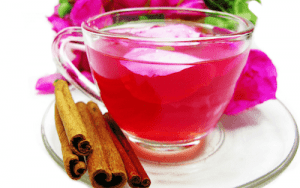 Ingredients:
1 ½ ounces vodka
1-ounce blood orange juice
½ ounce cinnamon simple syrup
3 ounces sparkling blood orange soda
Blood orange wheel and cinnamon stick for garnish
In a lowball filled with ice, add in all liquid (except the soda), stir and combine. Top the liquid with blood orange soda. Drop in cinnamon stick and blood orange wheel as garnish and serve.
8 – Irish Coffee (alcoholic)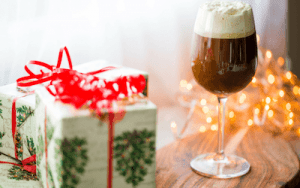 Ingredients:
4 ounces strong, rich hot coffee
1 ½ ounce ​Irish whiskey, Jameson is a good choice
2 teaspoons ​brown sugar
1 ounce lightly whipped ​heavy cream
Find an Irish Coffee Glass or lone heat proof glass and put the sugar in. Add hot coffee in and stir until sugar is dissolved. Add whiskey in and stir again, slowly. Float the whipped heavy cream on top of the drink and serve. Enjoy while warm and sip coffee through the cream without stirring.
9 – Hot Toddy (alcoholic)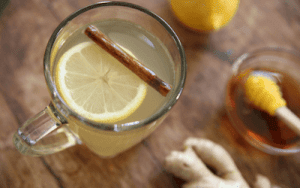 Ingredients:
1 ½ ounces Tanqueray London Dry Gin
¾ ounce lemon juice
2 ounces hot water for the drink, enough hot water to heat up the glassware
1 teaspoon sugar or honey
Cinnamon stick for garnish
Heat up the glassware by filling up with hot water, let it sit for a couple minutes, empty glass. Build the ingredients together, one by one, and stirring after adding each ingredient. Add cinnamon stick for garnish before serving.
10 – Cranberry Mojito (non-alcoholic)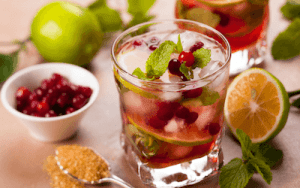 Ingredients:
10 fresh mint leaves
3 tablespoons lime juice
2 ounces cranberry simple syrup
4 ounces sparkling water or soda water
Fresh mint leaves, fresh cranberries, lime slices for garnish
In a tall glass, muddle together mint leaves and lime juice. Add cranberry simple syrup and stir. Put in ice cubes and sparkling water. Garnish with mint leaves, cranberries, and lime slices before serving.
And if you're looking for for some games to pair with your cocktails, check out our party games article!
Happy Holidays and A Happy New Year!