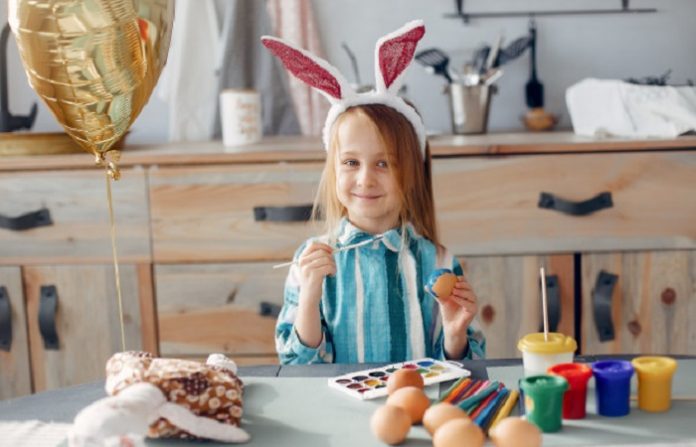 We hope you love the products we recommend! Just so you know, Men with Kids may collect a share of sales or other compensation from the links on this page.
Easter is almost here and along with it comes the obligatory family get together. With the holiday, you get a chance to see the uncle that you love, the cousin that drives you crazy, and your siblings to play some Easter games! The goal is to always put in at least a few hours before heading on home to spend the rest of the day relaxing. But keep in mind the entire time that you are there, it is all about the children having a good time.
It is a wise idea to have Easter games planned every half hour or so. This will keep the kids out of trouble and keep the day moving right along. Plus, a few fun activities will make the whole day more enjoyable for everyone. All the rivalries and petty feuds can be put on hold for a while so the family can act like a family once again. Listed below are a few Easter games that kids and adults will both enjoy!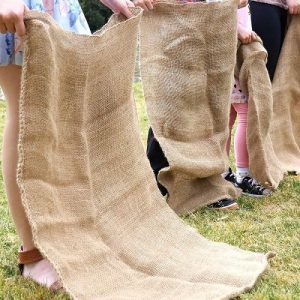 I remember as a kid watching a Brady Bunch episode where the whole family would race in potato sacks around the backyard. I always thought that looked to be so much fun. With these Easter potato sacks, the children can take their turn racing one another and then the adults can go last. It should have everyone laughing by the time it is all over. This could easily become a tradition on Easter every year.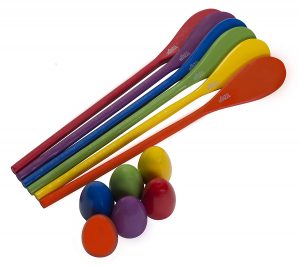 We used to try this in gym class back in the day and most of us never usually got too far before the egg dropped. Easter is the perfect time to whip out a few hardboiled eggs and play the egg and spoon race game with the entire family in the front yard. See who has the most steady hand and who should probably never think about becoming a surgeon!
There always has to be an Easter egg hunt on Easter Sunday! It is a tradition that will never die. Just like with many families, we switched out real eggs with the plastic ones. It allows you to stash some candy and other treats in them to make the game more exciting. These plastic Eggs also contain little glow sticks so if you want to have an Easter egg hunt at night or just have them glowing during the day, it will add a bit of newness to it all.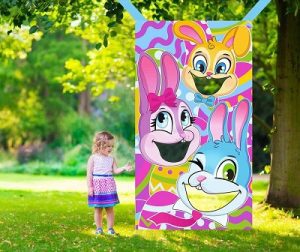 With all of the yard games around nowadays, this family toss game should go over well. It is appropriate for people of all ages. You may have an adult or two on every team and pair them up with the kids so everyone is involved. This Easter-themed game is definitely reusable year after year and should be pretty competitive.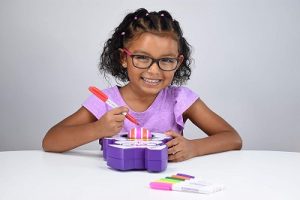 Instead of going with the normal way of decorating Easter eggs with messy dye and food coloring, this is a unique way that involves the eggs spinning and markers. Adults will get a kick out of it just as much as the kids. If you would like to make it a contest, have the kids choose the adult who created the best decorated Easter egg.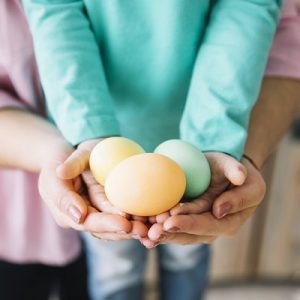 The Egg Toss
You might want to do this one at the end of the day as it can get a bit messy. Pair everyone up and have them toss a real egg to each other back and forth. If anyone drops the egg, their team is out. Slowly, have the team separate even further and then watch in anticipation for the egg to come smashing down and splattering a family member. If you would like, everyone can wear a poncho to protect their clothing.
3D Easter Holograms
While not technically a game, the kids will want to play with this. The whole family will come together to see these 3D holograms. The kids will be mystified by it and the adults will think it is pretty cool as well. You can just keep it on during the whole family dinner right there in the middle of the table and it will definitely be a conversation piece.
Planning to have a small get together and play some of the games mentioned above? Well don't forget about the food! Here are a few healthy snacks you can surprise your family with!