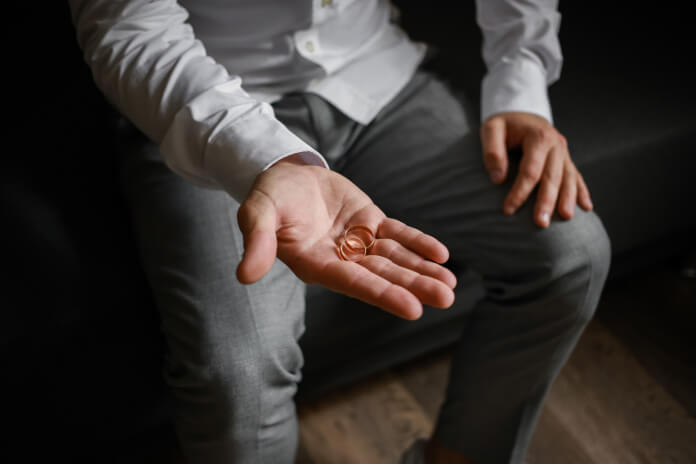 We hope you love the products we recommend! Just so you know, Men with Kids may collect a share of sales or other compensation from the links on this page.
Groom's wedding bands are often outshined by brides' sparkling engagement rings. Yet they're the single most important piece of jewelry you'll ever own. They symbolize the commitment to your spouse and an everlasting promise of love. Therefore, you owe it to yourself to explore all your options before committing to one.
Rose Gold Men's Wedding Bands for the Groom
1. Dual-toned Wedding Band
2. Classic Rose-Gold Wedding Band
3. Rose-Gold Textured Wedding Band
4. Diamond Rose-Gold Wedding Band
In fact, over the last years, rose gold men's wedding bands are becoming increasingly popular. That's why in this guide, we've rounded the top men's rose gold wedding rings to help you find the one that expresses your style and personality. So say goodbye to the traditional plain gold bands and take a look at wedding ring ideas that are trending in 2022 and beyond.
1. Dual-toned Wedding Band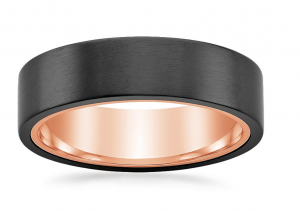 If you like contrasts, then you'll love this two-toned rose gold men's wedding band in black. The color combination creates a sophisticated look, both fashionable and romantic. With a black-as-night exterior and a soft rose-gold interior, it's the perfect combination of modern and traditional. 
Take a look at this multi-metal Arlo Wedding Ring by Brilliant Earth. Bold and striking, with a matte-brushed outer shell of titanium and a smooth 14K rose gold interior, it'll go well with both traditional and western outfits. In addition, the scratch-resistant titanium exterior will make for a great everyday ring that will stand the test of time.
Or, if you're feeling a bit edgier, you can always go with the Rose Gold Tungsten Ring. The Tungsten carbide is 10 times harder than 18K gold and is one of the most popular choices for men's wedding rings. Moreover, its rose gold wraps around the center and inner edge make it a unique option that'll stand out. Plus, it's hypoallergenic.
2. Classic Rose-Gold Wedding Band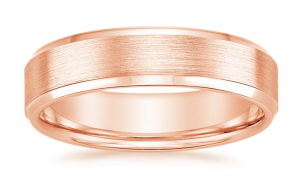 Wedding bands are all about romance, and there's no better way to display it other than with a rose gold ring. The sunset vibe it evokes creates a warm feeling compared to the cooler tones of white gold. If you're up for a more classic style, then this next piece will fit the bill for you.
This matte-finished beveled edge rose gold ring has polished and glimmering edges with a matte inlay. The brushed texture in the interior creates a striking contrast drawing all eyes to it. So, if you're looking for the perfect mixture of warm and cold temperatures, you found your match. 
Alternatively, if you're looking for rose gold without adding more colors to the mix, this Brushed Inlay Wedding Ring by Blue Nile is a beautiful yet masculine choice. With impeccable quality and a subtle enough look that's not too flashy, you'll never look back.
3. Rose-Gold Textured Wedding Band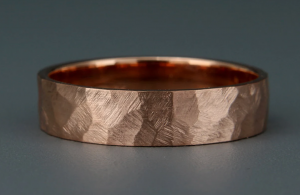 If you're on the hunt for a rose gold men's wedding band with low maintenance costs, then you'll love this next handmade 14K textured ring from Etsy. The brushed and hammered texture mixed with the beautiful rosey colors is to die for. Not only it's unique, but it's also comfy to wear daily since potential scratches won't be easily visible on the brushed surface.
You can add a bit more sparkle with this chocolate hammered wedding ring with a rose gold engraved strip. The etched edges give a more masculine energy than the traditional smoothly curved wedding ring, while the rose-gold strip creates a shiny contrast that draws eyeballs.
4. Diamond Rose-Gold Wedding Band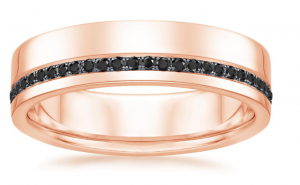 If you want to take the extra mile in men's rose gold wedding rings, our next suggestion is truly unlike anything else. Because what better way to highlight rose gold other than with diamonds? We're talking about the black diamond wedding band. A flat profile of black diamonds with smooth 14K rose-gold provides a contrasting wedding band.
Ideal for those looking for a more edgy look or who already share the love of jewelry, this wedding band is the perfect combination of pretty and durable. Overall, a good value for money, especially considering the cut in maintenance costs.
Finding the Perfect Rose Gold Men's Wedding Band
People spend hours upon hours obsessing over women's engagement rings, looking for the ideal choice for their future spouse. However, we firmly believe that guys deserve the luxury of finding their perfect wedding ring too! 
Even if you end up with a classic wedding band, it's important that you've chosen it among the available options. After all, you'll be wearing this single piece of jewelry for the rest of your life.
Today, there's an impressive variety of men's wedding rings to choose from, with men's rose gold wedding rings being amongst the popular options. Hopefully, after this article, you'll find your own rose gold men's wedding band that best suits your personality and style.