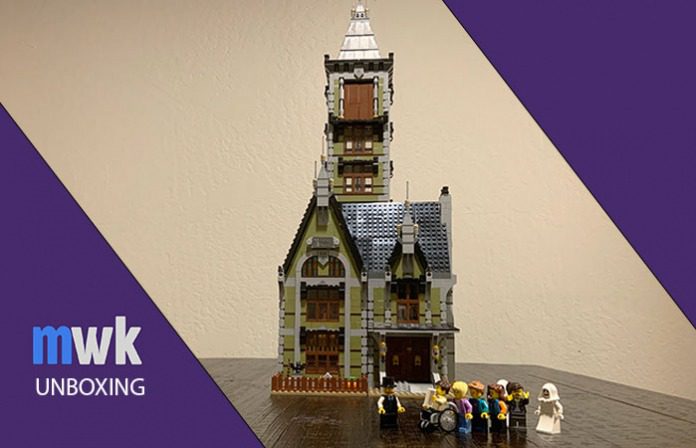 We hope you love the products we recommend! Just so you know, Men with Kids may collect a share of sales or other compensation from the links on this page.
If you're into mystery and LEGOs, you certainly can't miss the new LEGO Haunted House.
You're probably familiar with LEGO, and have had your own experiences and memories. LEGO is something that many of us remember from our childhood, or perhaps something you would buy for your kids where they would create something that semi resembled a multi-colored spaceship made out of blocks. While LEGO became familiar and recognized as toys for kids and fun activities for them, the company has evolved into something much more expansive for all ages today.
LEGO's Creator Expert line has been becoming increasingly popular over the past few years, due to its more complex nature that adults can enjoy. The Creator Expert line has bigger builds, more artistic and creative features and has more intricate and unique designs. It's no longer fair to say that the LEGO system is a kids game anymore, as LEGO has really entered the adult hobby sector with really challenging and rewarding models. We wanted to get a glimpse of just how enjoyable and stimulating building one of these can be.
We decided to do a LEGO unboxing and review of the Creator Expert series Haunted House, one of their bigger builds with numerous systems, structures and pieces to make this build one to truly remember.
LEGO Haunted House Review
Pieces: 3,231
Dimensions:
Minifigures: 10
Ages: 18+
Price: $249.99
Build time: 10+ hours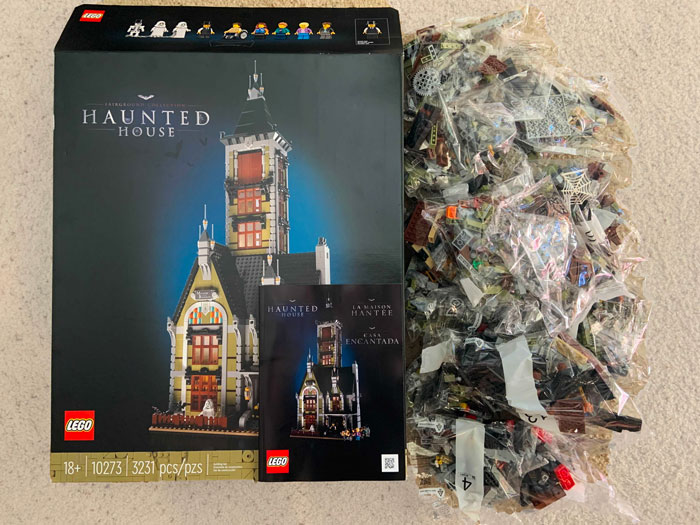 LEGO Haunted House Unboxing
When we received the box, it was quite heavy due to the large volume of pieces that come in the build. Within the main box, a separate box included about half the pieces needed, and a booklet with step by step instructions.
The pieces are separated into individual plastic bags that are paired with step by step processes in the booklet. Each section in the booklet has marked pages of which bag you will need, so being able to keep track of all the 3,000+ pieces is actually quite easy.
The booklet has about 300 pages of instructions and a model layout to show you what pieces you need and how the build should look at each individual step. Similar to putting furniture together from a box store, LEGO builds are very intuitive and it's pretty difficult to really mess up parts of the build.
What's the Story Behind the LEGO Haunted House?
The booklet reads that the haunted house is named "Manor von Barron", a spooky haunted house theme park ride. The owner, Samuel von Barron, was known as a great villain, and would travel around the world to steal artifacts to add to his collection. But after stealing the Re-Gou Ruby, Pharroah Hotep cursed his manor for 1000s of generations.
Along the build, additional notes about the story of von Barron and of the manor are played out next to some of the build instructions. While you may not be indulging in the LEGO haunted house set for the story, we think it's a neat idea and gives an added mystery and charm to what you're bringing to life.
What Was the Experience of Building the LEGO Haunted House?
I am not someone who has done many LEGO builds in their lifetime, and a lot of my background in LEGO came as a kid throwing together blocks to create things out of my imagination. So taking on a build of 3,000+ pieces was definitely something that felt a little intimidating.
My experience was actually very smooth, rewarding and quite relaxing. The process of building a LEGO set looks a little something like this:
Open up the booklet, and follow the instructions, grabbing the bag of pieces you need and building step by step as the instructions guide you.

Opening up the bag of pieces and sorting them on your work space, by whatever means works best for you.

Creating the structure, building little details and models to add to the scenery, and watching the build begin to come together.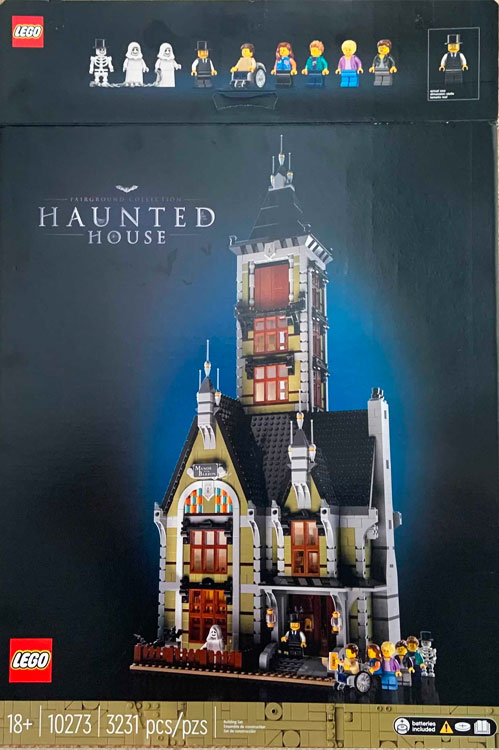 When you look at the build as one piece, it all seems quite straightforward. A haunted mansion with all of the eerie details and spooky scenery like you would see in a horror movie. But when you're building it piece by piece, you begin to take real notice of all of the intricacies of a build, and see all the neat details that make up this expansive model.
One step will have you creating walls, building pillars and all of the things you come to expect. Other steps will have you creating wheel systems to put together an elevator, building an organ step by step, or even creating neat artifacts that we assume were part of von Barron's cursed collection.
I really enjoyed my time putting this build together, and even though the 3,000+ pieces were a bit daunting, it really became second nature to building the model and was quite enjoyable. Pairing your build with listening to music or a podcast, or sharing the process with your kids or a spouse makes it that much more rewarding.
If you're looking to pick up a new hobby, or are someone who was just always interested in LEGO builds, the Creator Expert line is a great place to get started, as it's challenging, rewarding and can lead to countless hours of fun and relaxation.