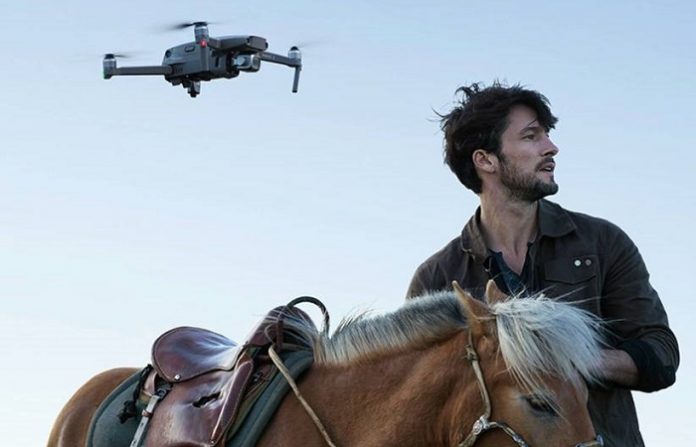 Now is the absolute best time of the year to get outdoors and start drone flying. Below we have compiled a list of the best drones that you can find on the market today. Each one of them is a very capable and fun machine.
There are many things to keep in mind when choosing a new drone, especially if you're new to this super cool technology. Price and durability obviously still matter, but drones these days come with a wide variety of accessories and features to get the most out of your new machine for what you need. Their upload speed, remote control range, battery life, GPS functionality, and picture quality are just some of the features you need to compare when shopping for a modern drone. 
So let's get down into the Top 5 drones for summer 2019.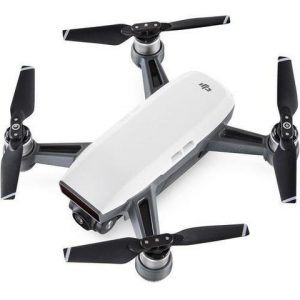 DJI is arguably the best drone manufacturer in the business. The Spark Drone is one of their best selling models thanks to offering a wide variety of features for a reasonable price. The DJI Spark Drone is a great choice for beginners and experts alike. It's a beast of a drone that you'll definitely have a lot of fun flying. 
Max Speed of 50 km/h or 31mph

Transmission Distance of 30m / 98ft

1/2.3-inch CMOS sensor and stabilized 1080p
16 min flight time

"ActiveTrack" system helps you stay on target

Responds to hand and arm gestures

Can perform a variety of tricks and aerobatic maneuvers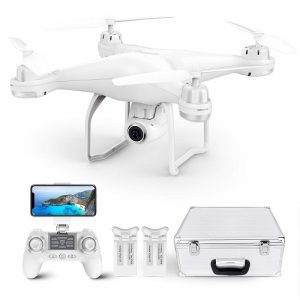 Here is a great budget drone that still manages to be crammed in with many great features. While most of the T25's functionality are related to the GPS and the camera lens, it still gives you a huge amount of control when flying this thing through the air.
High quality remote control

1080p HD camera lens with highly adjustable angles

Automatic "Follow Me" function 

Camera is stabilized during wind and high speeds thanks to 9-axis gyro

Create your own custom flight paths

Comes with a durable aluminum carrying case

Control from up to 1000 feet away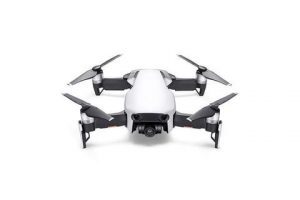 The Mavic Air Drone looks like a machine from the future. It's extremely sleek design and very high quality camera make it a fantastic option for anyone who wants to experience the power of drones on the upper end of things.
Foldable design for portability

Environmental sensing in 3 Directions

4K and HDR camera

21 min flight time

Lightweight design of only 0.98 pounds

Storage can be upgraded with micro SD Card

Take slow motion videos in 120 frames per second

Magnesium alloy casing for durability and optimal aerodynamics

Max speed of 68.4 km/h or 42mph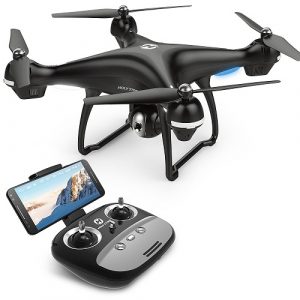 The HS100 makes our list as one of the best drones on the market for having some very awesome features at a lower price, such as 3D and VR compatibility. It also has one of the coolest looking and most comfortable to use remote controls we've ever seen included in a drone set.
120 degree FOV Wi-fi Camera

Automatic Return-to-home Function when battery is low

Can be used with 3D and Virtual Reality headsets

Max transmission distance of 500 meters

Orientation and flight path control are very intuitive and easy to learn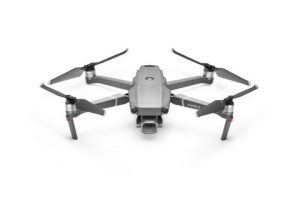 Once again we have to give credit to DJI on our list of the best drones out on the market today. The Mavic 2 Pro is an absolute behemoth of a drone with its excellent range, maneuverability, and great picture quality. You will be extremely hard pressed to find a more technologically impressive consumer drone than this one.
20 megapixel camera

4K and HDR compatible

8 km or 5 miles video transmission

Foldable and portable design

40 mbps download speed

31 min flight time

Very low input latency

72 km/h or 45mph max speed

Omnidirectional environmental sensing
Now that we've reached the end of our list of the top 5 drones out on the market, it's time to crown a winner. All of these drones are great at something, whether it be unique apps or a great price for its value. However, we undeniably have to say that the DJI Mavic 2 Pro totally overshadows the rest of the competition with its endless features and incredibly high quality camera. If you can afford it then you'll no doubt love using this marvel of modern tech.
Looking for more summer gear! Check these out, they will make your summer!