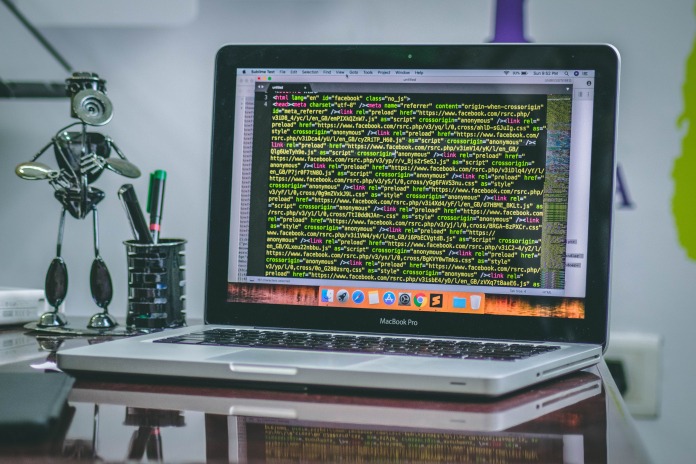 We hope you love the products we recommend! Just so you know, Men with Kids may collect a share of sales or other compensation from the links on this page.
When it comes to looking for entry-level computer science jobs, it's crucial that you use one of the following job sites to help you with your search. Navigating the job world is difficult on its own. Looking for roles in one of the most competitive fields doesn't make things any easier for recent grads!
Best Job Sites for Computer Science Majors
Are you interested in software development, information systems, or cyber security? The following job sites can help you land the perfect job!
1. AngelList
Whether you're a recent grad or an experienced developer, AngelList is one of the best sites to join if you're interested in working in the startup. Big-name tech companies like Twitch and Stripe have all used AngelList. to recruit new talent. This makes it one of the top job sites for engineers and computer science graduates.
As soon as you create your profile, you'll be able to apply to over 130,000 jobs at over 30,000 different startups listed on their site. Plus, you can filter positions by role, location, industry, and even remote opportunities.
2. ZipRecruiter
As one of the top job sites for employees, ZipRecruiter is a valuable tool that could help you land your dream job after college. Although they aren't targeting to college grads, they still have thousands of listings. Especially for programmers, analysts, developers, and engineers.
One of the best things about using ZipRecruiter is that they have intelligent AI-matching. This way you'll be notified as soon as a company posts a job that fits your skillset! That way, you won't have to waste hours looking at positions that aren't right for you.
3. CollegeGrad
One of the greatest difficulties college graduates face is finding an entry-level job. Especially one that doesn't require years of experience. If you're struggling to find a role that fits your skill set, consider browsing through CollegeGrad. As the #1 site for entry-level jobs, CollegeGrad has thousands of positions for students and recent graduates.
In addition to their job board, CollegeGrad also has resources to help you with your search. From interviewing tips to resume examples, you'll be able to gain knowledgeable advice to help you take that big leap down the right career path.
You may also be interested in reading our article on how to ace a job interview as well!
4. Indeed
When it comes to reputable job sites, Indeed easily tops the list as one of the best. Indeed is the most popular job board in the world with over 250 million monthly visitors. Indeed also has jobs from entry-level positions to executive roles. Their easy-to-use search system makes it easy to find positions that fit your skillset. You can simply type in keywords like "college grad" or "entry-level" to sort through thousands of open positions.
Indeed also has valuable resources and articles to help you with your job search. You can look at salaries for popular careers, view real-life company reviews, and even learn about how to write a killer resume and cover letter. It's really a one-stop-shop for everything job-related!
5. EngineerJobs
As its name implies, EngineerJobs is a great site for anyone looking to find work in tech or software. With over 300,000 jobs in the Us, UK, and Australia, they consider themselves the most visited engineering-focused job site online. If you're looking for a particular role, you can filter their job results by location, distance from home, and company. And you can even look specifically for internships or part-time work if you're not ready for full-time employment.
6. GradCracker
If you're located in the UK (or interested in potentially relocating there), then you might find your next job on GradCracker. This site is made specifically for college grads in the engineering workforce, with dozens of entry-level STEM jobs added daily. You can search by industry (aerospace, chemical, electric, science), job duration (summer, temporary, full-time), and even by salary.
GradCracker also hosts webinars every Thursday, where you can learn more about a certain industry or connect with professionals at different companies (Amazon, Mercedes, Siemens, and CGI are all scheduled for the end of 2021).
More Job Site Resources
Landing your first job can be intimidating, especially in such a competitive field as computer science and engineering.  However, there are certain job sites that can help you with your job search so that you can start your career on the right foot. As a job seeker, you might also find this article about recruitment sites for job seekers helpful in your search.