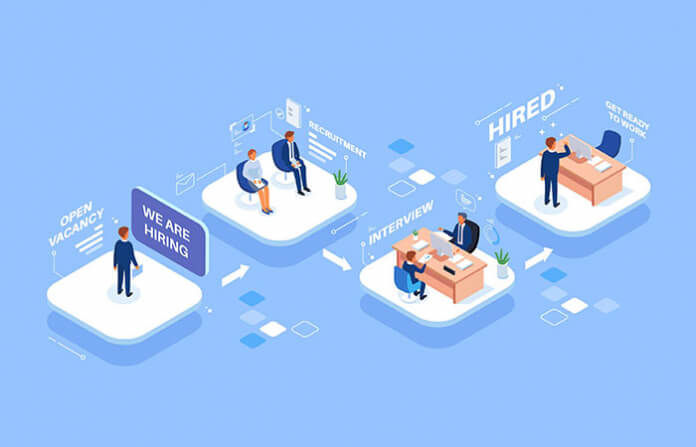 We hope you love the products we recommend! Just so you know, Men with Kids may collect a share of sales or other compensation from the links on this page.
Here are the 10 best recruitment sites for finding entry-level, hourly, or internship positions so you can start your career on the right foot!
Starting the job hunt for the first time in your career can be intimidating, but thankfully, the best recruitment sites can help make your search a whole lot easier. Not only are the following job posting sites easy to use (filter by location, salary, and industry), but they also allow you to sort through openings based on experience. So, whether you're looking for an entry-level role, an hourly position, or a paid internship, you'll have no problem finding a job that fits your skills. 
The 10 Best Recruitment Sites for Job Seekers
1. Glassdoor
When you're a new job seeker, it might be hard to know how much you should get paid. Thankfully, Glassdoor makes that easy, with millions of salaries, company reviews, and interview questions for practically every company in the world! They also show if the company is currently hiring, making this one of the best recruitment sites out there.
ZipRecruiter is a great tool for all types of job seekers. They have an easy-to-use platform that allows you to filter and search for the right roles that fit your exact requirements and skillset. You can also search by keyword, location, salary, and employment type (full-time, part-time, temporary, or contract).
3. Linkedin Jobs
If you're just starting out in your career, one of your first steps should be to create a Linkedin Profile. As the largest professional social networking site in the world, LinkedIn can help you connect with potential employers, other employees, or even like-minded people in your industry. Besides networking, you can also use their job search feature and apply for roles with just the click of a button.
4. Indeed
Ideal for new job seekers and experienced professionals, Indeed is considered by many to be the biggest and best recruitment site online. Besides having a fully filterable job board, they also have tons of great resources for those just starting out in their career. Take a look at their Career Advice page for information on going for interviews, asking for promotions, expanding your skillset, and thousands of more topics. 
5. Collegegrad
With the biggest catalog of entry-level jobs, CollegeGrad is a great resource for new job seekers. You can browse through a list of openings and filter by experience level, title, industry, and location. They also show openings for internships in case you're looking to get real-world experience while you're still in school.
6. SalesJobs
If you're looking for a sales-related position, then SalesJob should be the first site you visit. They have positions at nearly 50,000 different companies, from tech and banking to marketing and retail. Possible job openings include account manager, inside sales representatives, sales associate, or business development. If you love interacting with people and have an entrepreneurial spirit, then a sales job might be the right position for you. 
7. Hired
Calling all engineering and computer science majors! Hired is the best job board for startup and tech jobs. Although they only operate in a few selected tech-focused cities (San Francisco, Seattle, Denver, Austin, Boston, New York, etc.), they are the largest resource for software engineers, developer operations specialists, product managers, and information technologists.
8. AllRetailJobs
If an office job just isn't for you, then consider finding a role using AllRetailJobs. They specialize in hourly and retail work at big name companies like Amazon, Lowe's, FedEx, and Chewy. Besides looking for positions, AllRetailJobs has a great blog site with articles and information specifically on how to land the retail job of your dreams.
9. SnagaJob
Hourly work is one of the best types of employment for new job seekers. And SnagaJob can help you find a full or part-time role in retail, customer service, hospitality, and healthcare. You can also filter by teen jobs, summer jobs, and remote work too, which is great for those who aren't ready to commit to full-time work. 
10. AngelList
Working in a startup is one of the coolest and fasted growing industries in the US. If you want to dip your toe into the startup world, then look for a position with AngelList. You'll have access to nearly 130,000 tech and startup jobs at top companies like Uber, Twitch, Instacart, Slack, and Peloton. 
It can be hard to break into the job market but keep your head high, and we're sure that you'll land a great job to jumpstart your career. For more job seeking advice, check out these tips on how to write your resume and a more in depth look at the best job platforms.