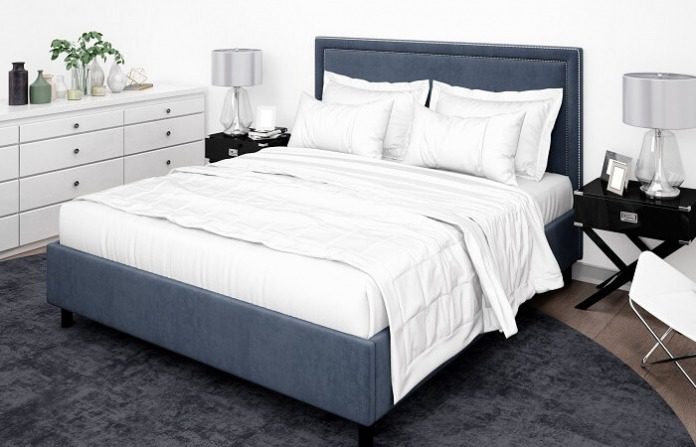 We hope you love the products we recommend! Just so you know, Men with Kids may collect a share of sales or other compensation from the links on this page.
Whatever the weather, many people prefer a cool – or even cold – bedroom when retiring for the night. In fact, studies show that sleeping in a cool atmosphere is actually good for us due to the fact that our body temperature drops naturally at night. A cooler room mimics this in order to aid better sleep and even combat insomnia. A good cooling sheet can really help you to chill out for a better night's sleep. In this guide, we'll take a look at some of the best cooling bed sheets to suit every requirement and budget. We will even include cooling sheets at Walmart and Target, which are super easy to buy online! 
For those of you who aren't sleeping because of a snoring partner rather than the temperature, take a look at Smart Nora. Smart Nora slowly moves your pillow when snoring begins, which activates your throat and almost immediately ends that obnoxious noise that keeps you awake. Because this isn't a cooling product, it doesn't make our official list, but click here to take a look.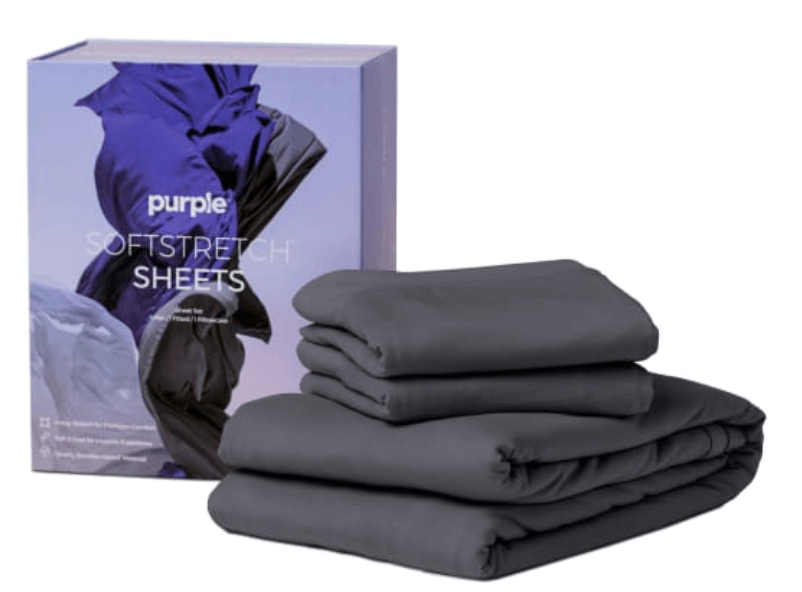 The Purple Sheets offer a patented combination of cozy comfort and breathable coolness due to the innovative use of bamboo derived viscose. The design of these high quality cooling bed sheets make for outstanding comfort and are available in a range of colors and sizes. Thinking about getting the Purple mattress also? Right now, they are having their Labor Day Sale, where you can save up to $350 on a mattress! Hurry, this offer will end 9/13!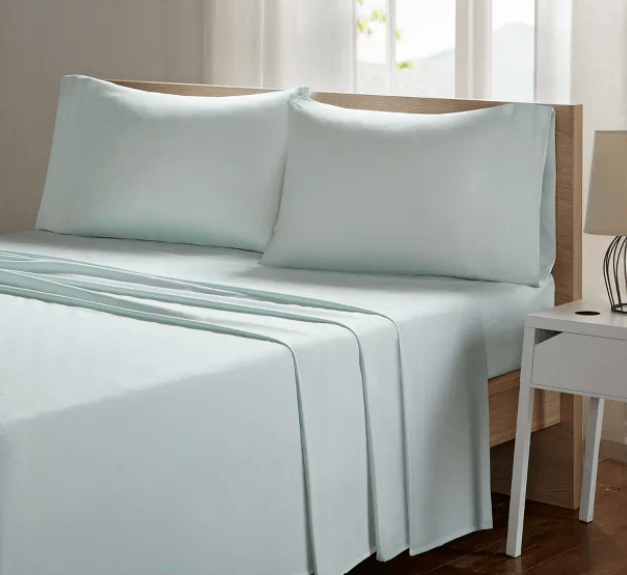 For great cooling sheets Target is always a go-to destination. The Smart Cool Microfiber Sheet Set is an incredibly affordable solution for those suffering from night sweats. The clever Coolmax proprietary fabric with polyester draws moisture from the skin and distributes it across the fabric for fast evaporation and superior cooling.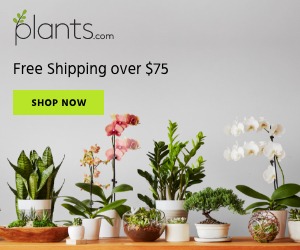 Sweet dreams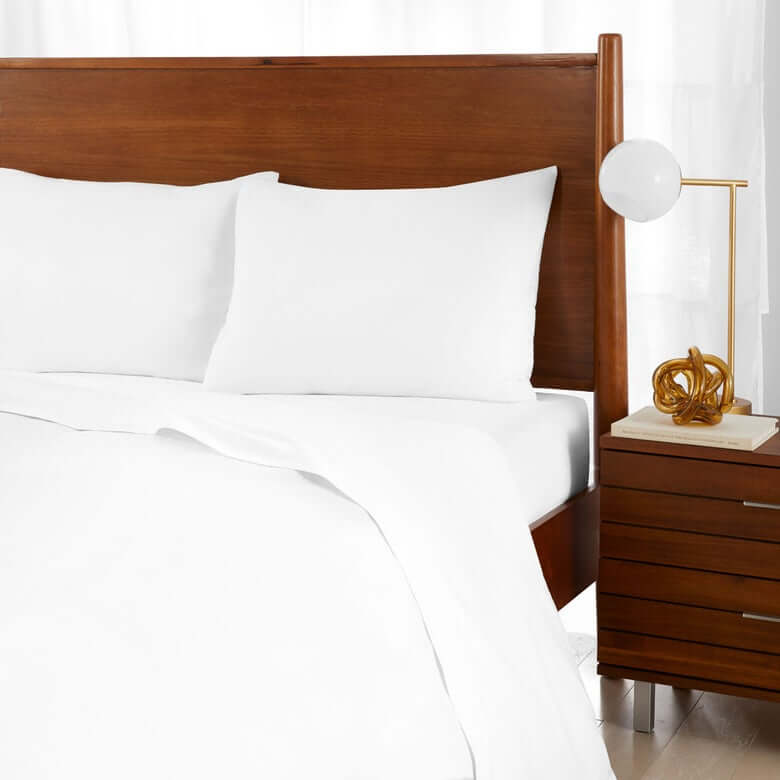 Dreamcloud Sleep's 100% cotton bed sheets feature a unique diagonal twill weave pattern which is specially designed to stay cool and stay soft, however often you wash them. Matching pillows are also available for the ultimate in cool sleeping comfort.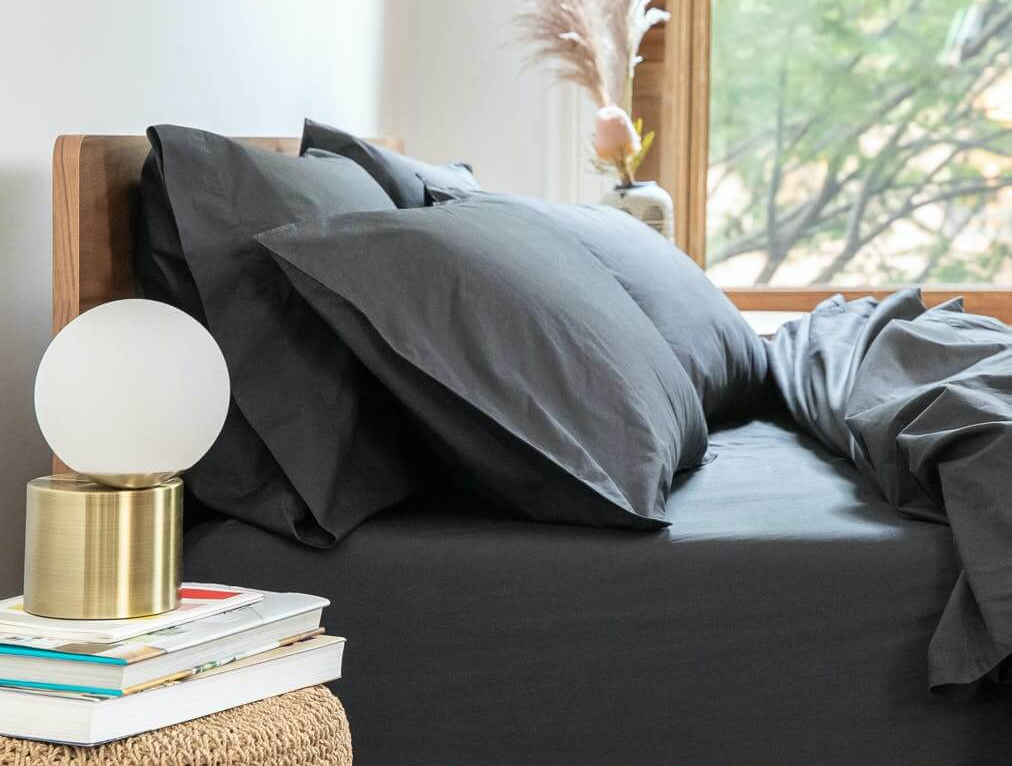 As cool and crisp as the perfect fall day, the Percale Sheet Set is made from 100% light breathable cotton and comes in a wide range of colors and sizes to help you find your perfect match. In addition to grabbing your new cooling sheets, it's probably worth investing in an organic mattress made from breathable fabric that can help you stay cool during the night. Or, check out Simmons Sleep, whose mattresses control airflows and isolates movements throughout the course of the night.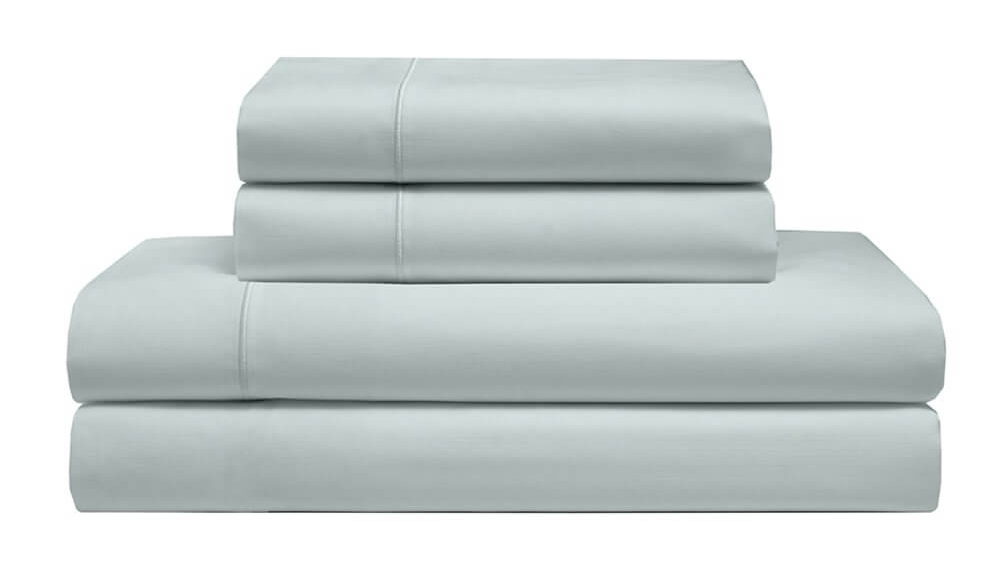 For the best cooling sheets at Walmart, check out the King Cooling Comfort Sheets. Crafted from pure cotton. These sheets are available in some equally cool colors including white and pale blue.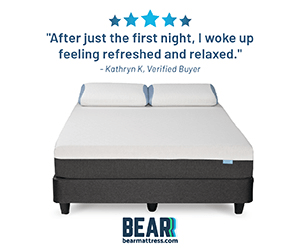 A sharper solution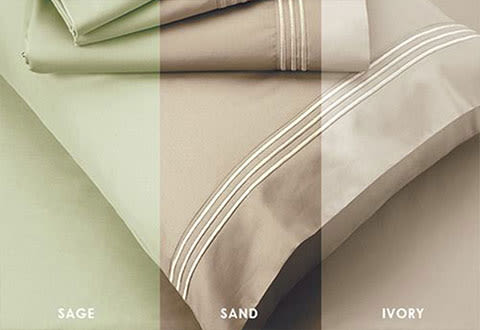 For the ultimate in bed sheet technology, the Energy Restoring Sheet Set from Sharper Image are a solid choice. This cooling bed sheet set uses revolutionary Celliant performance fibers, according to the manufacturer. To explain, the fibers harness and store the body's energy and then release it back into the skin. This works to increase blood flow, balance temperature and speed recovery. 
Smooth as silk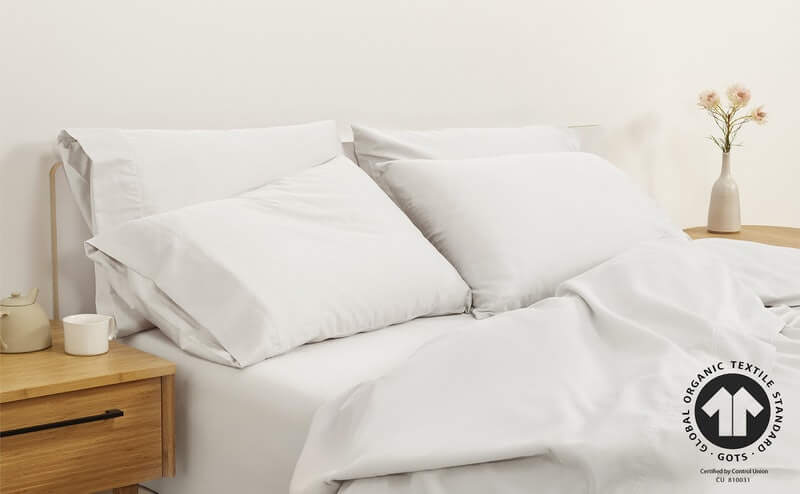 Casper's sateen bed sheets offer a touch of cool luxury to your bedding while helping to balance your body temperature. These stunning sheets are available in a large range of colors. You'll find the perfect sheets to match your room.
If you have been considering replacing your old mattress, check out Casper's wide variety of memory foam mattresses! Casper is known for awesome bed-in-a-box mattresses to fit your needs! Right now, they are having a special promotion where you can save up to 15% off mattresses and 10% off everything else with code SLEEP21 until 9/13. Hurry, you don't want to sleep on this offer!
Prints Charming to the rescue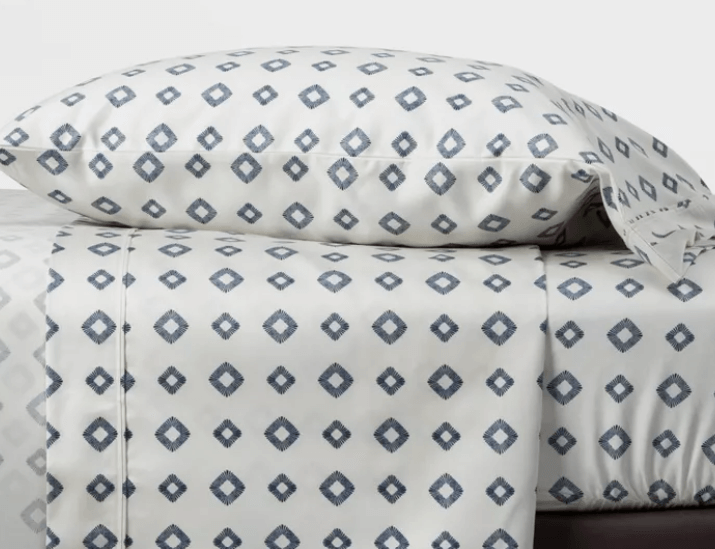 If you're looking for the best cooling sheets at Target for a cool price, you'll do no better than the 400 thread count Printed Performance Sheet. Not only are these sheets stylish and elegant, but they'll keep you cozy and cool for a great night's sleep.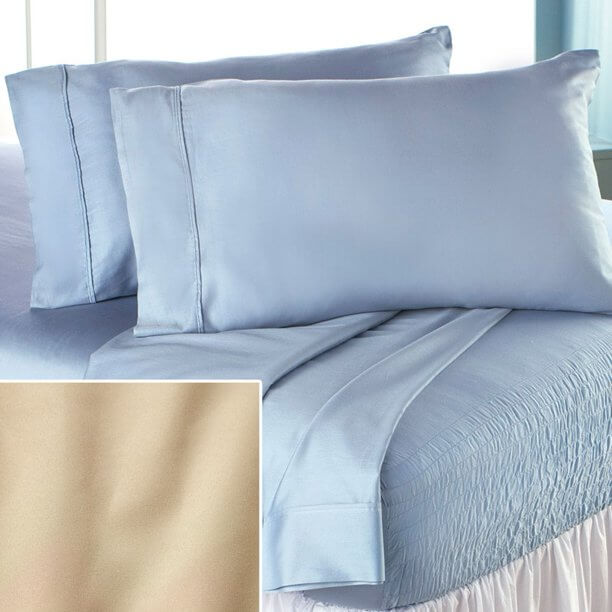 For the best cooling sheets at Walmart, our money is on the Queen Cooling DuPont Bed Tite Sure-to-Fit Sheet. This sheet features ruched ends and deep pockets for the perfect fit. It utilizes ComfortDry technology to keep you cool on even the warmest nights. 
Barking up the right tree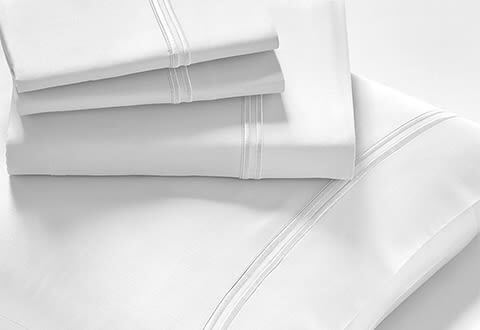 Created from raw wood pulp, the 100% Tencel Cooling Sheets are botanically crafted for a smooth finish that is cool to the touch. A sateen weave adds extra softness. Also, antimicrobial silver chloride helps to repel the bacteria that can cause deterioration, stains and odors. 
Getting a good night's sleep affects every aspect of our lives, from our work to our leisure time. Night sweats and overheating can cause insomnia which can have a significant impact on our physical and mental wellbeing. 
If insomnia is something you're trying to battle, you might like Foods That Can Help You Sleep Better or Drinks That Help You Fall Asleep. Additionally check out How to Treat Insomnia: Easy Tips and Tricks to Incorporate into Your Life and How to Tackle Excessive Sweating
A great quality cooling bed sheet can make a big difference. Especially between waking up feeling refreshed and waking up feeling that you've barely slept at all. Thankfully, when it comes to cooling sheets, there's a wide range of options. Better yet, lots of options come at a wide range of prices. It's nice too that you can easily find cooling sheets at Walmart and Target. We hope that this guide will help you to find something that improves your sleep, and in turn, your quality of life. Sweet dreams!