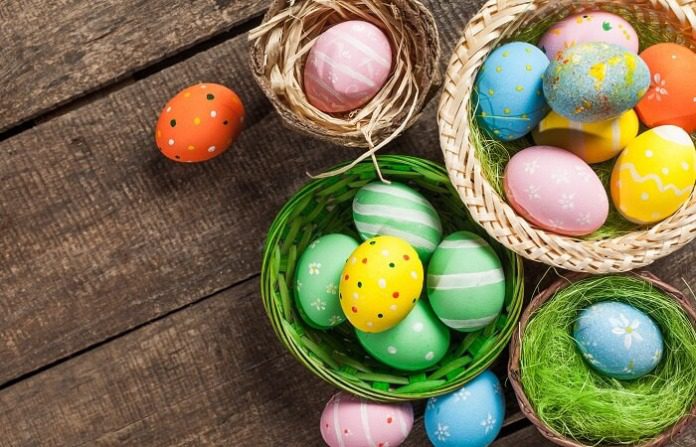 We hope you love the products we recommend! Just so you know, Men with Kids may collect a share of sales or other compensation from the links on this page.
Interested in learning how to dye Easter eggs? Dyeing your Easter eggs is such a fun spring tradition to spend time with your family—especially if you're creative and have an amazing attention to detail! We're taking it to the next level with our Easter egg dyeing methods, trust us, these go beyond your plain old boring Easter eggs.
We're delivering celestial marble and cool tie dyed effects, and more! If this sounds like it's way over your head, don't worry, our DIY Easter egg tutorials are kid friendly, beginner-friendly and you'll surely be in safe hands. Read on to find out how to dye Easter eggs at home with your kiddos!
3 Ways to Decorate and Make Your Own Easter Eggs
1. Shaving Cream Easter Eggs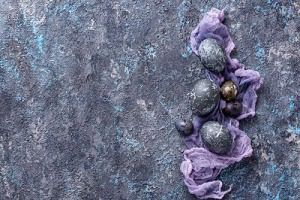 Using this ordinary product you'll most likely already have on hand, you can create beautiful marbleized Easter eggs. If you were looking for creative ways on how to dye Easter eggs at home, look no further!

Steps:
Prep your eggs by hard boiling them and letting them cool.
Fill a shallow glass baking dish with a thick layer of your chosen shaving cream. We recommend a plain shaving cream. Spray the shaving cream so that it covers the bottom of a pan with a rough 1-inch thick layer.
Next, generously place drops of food coloring on top of the shaving cream. You can use a one-color or two-color combination for the whole pan, or divide the pan of shaving cream into halves or quarters to create more color combinations.
When most of the surface is covered with food coloring, drag a bamboo skewer across the top of the shaving cream to swirl and marble the colors.
Now, the fun part! Time to roll your eggs in the shaving cream! You might want to put on a pair of gloves to protect your hands from the dye. Pick up a hard-boiled egg and place it gently on the surface of the shaving cream. Slowly, roll the egg over the surface, so that the colored shaving cream completely coats the egg's shell.
Then, place your egg on a paper towel and let dry for 20 minutes— making sure to not wipe off any of the shaving cream until the egg has completely dried. Repeat this process with as many eggs as you'd like to dye, reusing the colored shaving cream mixture.
To clean your dyed egg, carefully dip each egg into a bowl of water. The water will get rid of the remaining shaving cream whilst simultaneously leaving the colored design on the egg! Pat your egg dry with a paper towel, but be careful not to rub or wipe the egg, as you might smear or remove the dye from the shell.
You can now display your beautiful marbleized eggs!

2. Tie-Dyed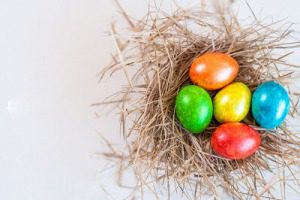 If you're looking at how to dye Easter eggs at home, then using a tie-dye method is a fun way to go!
Steps:
Prep your eggs by hard boiling them and then letting them cool.
To give your Easter eggs fun texture and color, slightly moisten a paper towel with white vinegar, then wrap it around your hard-boiled egg. Make sure that the paper towel layers aren't too thick.
Take your food coloring and then gently press the tips of food-coloring tubes onto the paper towel. Make sure you're not using more than three colors at a time.
Let the covered egg dry for a few minutes, then remove the paper towel to reveal your groovy masterpiece.
3. Instant Pot-Dyed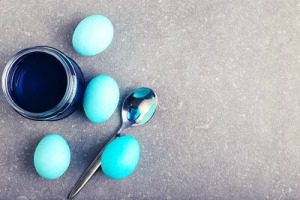 Possibly the easiest and quickest way to dye your eggs, as this method combines the cooking and the dyeing! If you're looking for the fastest way on how to dye Easter eggs at home, this is it!

You'll need several glass pint canning jars for this method, since we don't want to worry about staining our Instant Pot (or everything cooked in it after), so we place our pint jars directly inside the Instant Pot.
Steps:
Before you place the jars into your Instant Pot, fill each jar with the dye mixture, eggs, and water.
Add 2 tablespoons of white vinegar and at least 10-12 drops of liquid food coloring to each jar, then add your raw eggs to each jar (you should be able to fit 2–3 eggs into each jar).
Finish off each jar with enough water to cover the eggs.
Then, place a short rack in the bottom of your Instant Pot (to keep the jars from sitting directly on the pot's bottom surface) and add one cup of water.
Set your pint jars on the rack, close the lid, and set it to natural release. Cook on high pressure for 6 minutes, then let the steam naturally release for 6 minutes.
Be careful when removing the jars as they'll be very hot.
Once removed, dunk each egg in ice water to cool, then let dry. Voila! You're all done, display your bright and festive Easter eggs however you like!
If you are looking for places to purchase these supplies online or other Easter themed arts and crafts for your kiddos, Joann's is a great place! You can purchase everything online and get them shipped to you or you can pick it up inside their stores. The best part is that they always have coupons.
We hope you enjoyed our article on these different methods on how to dye Easter eggs yourself at home!
Looking for some tips to creating the best Easter egg hunt at home for your kids? Check out this article!
After some other Easter games to get your kids up and going? Click here!