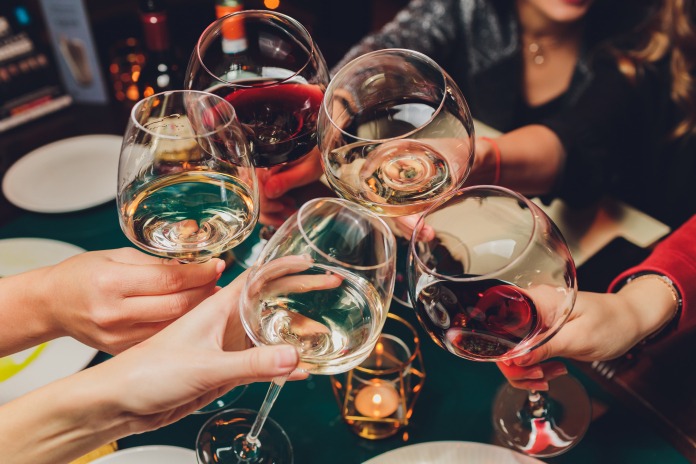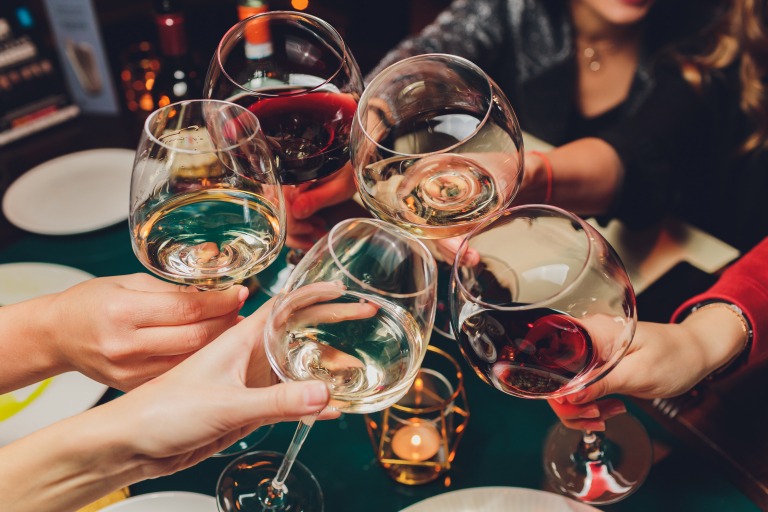 We hope you love the products we recommend! Just so you know, Men with Kids may collect a share of sales or other compensation from the links on this page.
Thanksgiving, too many, is a time for a feast for all of your favorite comfort foods and indulgences. Sharing cherished time with family, it's a time to be thankful for your life and those around you. But a challenge that faces a Thanksgiving party attendee every year is, what kind of wine to bring? Wine for Thanksgiving is like candy on Halloween or hot cocoa on Christmas! It accompanies all Thanksgiving food, and it's a great gesture as a guest.
QVC has got this Holiday Family Sleepwear Collection, I bet you don't want to miss that out!!
Before moving further – Check out Vosges Chocolat, it has got some amazing Holiday Chocolate Collection!!!
How to Pick Wine for Thanksgiving and the Holidays
So if you're stuck with the question every year of what Thanksgiving wine you should be bringing, you've come to the right place! Below, we have five of the best types of wine to round out Thanksgiving dinner.

A Riesling can take many forms and tastes, but pairs well as a Thanksgiving wine. Most white wines go with any dish that may be salty, sweet, or even spicy. Riesling's acidic taste and form are a match made in heaven for turkey, stuffing, casseroles, and sweet potatoes.
This specific Riesling is a 2017 Reichsrat von Buhl, and rates the best of any year. Many mention tree fruit notes, such as green apple. It is a perfect white wine for Thanksgiving.
Pinot can be found at almost any Thanksgiving table, and for good reason. these types of wines have an earthy undertone that accompanies the fruitiness, which creates a nice balance for most meals for the holiday. Turkey, stuffing, potatoes, and carbs pair very well with any Pinot.
The Dairyman Vineyard Pinot from Belle Glos is top of the line for Pinot, and is rated top 1% of wines in the world from Vivino.com. This Pinot has mentions of oaky notes and both red and black fruit notes.
A fuller-bodied red in comparison to a Pinot Noir, Zinfandel's pair very well with spicy and bitter profiles, but can also tie with a sweet flavor in specific instances. Bolder than a Pinot, a Zinfandel may not be a crowd-pleaser but can be an excellent option for a stronger pallet.
The Brown Estate Napa Valley Zinfandel 2018 is rated top 1% among the world, according to Vivino.com. Mentions of black fruit notes like plum and blackberry accompany hints of oaky notes, like chocolate and vanilla.

With a citrus base, Sauvignon Blancs are crisp and pair extremely well with Thanksgiving staples such as turkey and potatoes. Intended to be served chilled, this can be an excellent wine for Thanksgiving for those who enjoy a cold beverage to pair with their meals.
The Alma Libre Sauvignon Blanc has tasting notes of citrus, white peach, and white flowers. It pairs well with veggies, salads, and numerous Thanksgiving sides.
A dry Pinot Gris has the substance to pair nicely with dishes that are strong with herbs and fat. Perfect for carbs, turkey, and buttered dishes, a Pinot Grigio could be the perfect flavor for a table setting.
The Calvari Organic Pinot from Castellani S.p.A. is a delicious and organic dry Gris from the heart of Sicily. It contains notes of vibrant citrus and acidic fruits. Pairs well with turkey, soft cheeses, and creamy dishes.
More Thanksgiving Tips
All of these wines will bring a different type of enjoyment and experience for a Thanksgiving dinner. There's no going wrong with each of these wines, so take your pick and enjoy!
Still working on finalizing your Thanksgiving day agenda? Check out these holiday activities and games for the whole family!