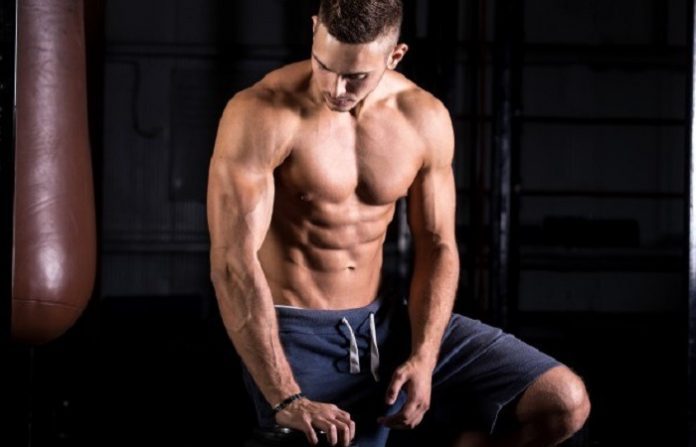 We hope you love the products we recommend! Just so you know, Men with Kids may collect a share of sales or other compensation from the links on this page.
Protein powders might be the biggest buzzwords in the world of fitness. Take some, and you'll become leaner and/or muscular. Take too much, and you will actually gain weight. Take the right amount, and you'll have the beach body of your dreams. The world of proteins might be a dizzying one, but we're here to straighten it out. Here's a primer on the protein powder market, and a few of my picks for your workout.
The Protein Myth
Protein Powder will NOT make you become Hulk nor Thor. There are many different types of protein and only YOU can get yourself jacked.
Think of Protein Powder as a supplement for your diet. It's all about matching the right type of protein with the perfect workout for your body type and your goals. Here we're going explain the different types of protein powder.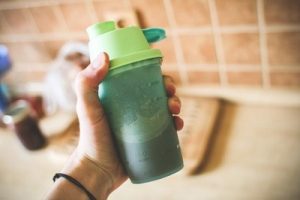 The Types:
There are four basic types of powders available on the market:
Whey Concentrate: the basic protein powder
Whey Isolate: filter, leaner version
Egg: Paleo version for Lactose Intolerant
Vegetable: Vegan version
We'll discuss some of their differences below, and offer some of the best in each category.
If you only know protein powder as "that powdery stuff they sell at the healthy store," then you're probably thinking of whey concentrate. This is your basic, general powder.
The "whey" in this case refers to the liquid material created as a byproduct of cheese production. The whey is then processed into powder form. Whey concentrate has about the same amount of proteins per serving as a chicken breast or eggs. Concentrate also provides a boost to your immune system, which makes it easier to recover from your intense workouts. If you're looking for an inexpensive way to sculpt your body and you're not too worried about your diet, then whey concentrate is the way to go. If you're lactose intolerant, then proceed with caution: whey is a cheese byproduct, so it's made from milk.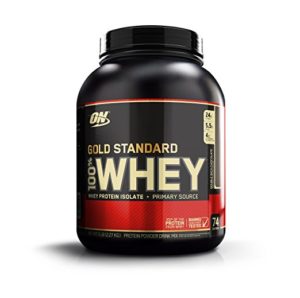 The very popular Gold Standard comes in over 20 different flavors and gives you the boost you need after a hard workout. Each serving contains 24 grams of protein, and each tub contains a massive 74 servings. BUY IT HERE
2. Whey Isolate
Next in the whey lineup is whey isolate. Whey isolate is a more filtered version of whey concentrate, meaning you'll get more protein and less of the fat, calories, and carbohydrate content compared to whey concentrate.
If you need to manage your weight and get toned, isolate is for you. Because it digests quicker in the body, isolate is best taken immediately after working out. Since isolate is a step up from concentrate, expect isolate to be at a much higher price point than other proteins on the market. If dairy isn't your thing, good news: there are lactose-free versions of whey isolate.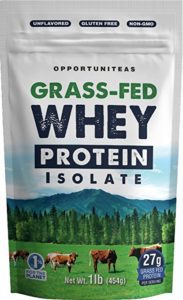 This all-natural isolate extracts whey from grass-fed cows and packs a punch with 27 grams of protein per serving. Opportuniteas is a GMO-free isolate and is unflavored. Perfect if you feel like powders have a "medicine-like" taste. Each bag contains 15 servings. FIND IT HERE
3. Egg Protein
These powders are made from egg whites. They're a good option for people who are lactose intolerant. Egg is low in fat and carbohydrates, which means you'll be getting almost 100 percent protein in each serving. However, egg protein doesn't taste as good as its whey counterparts. If you're concerned about flavor, you can incorporate egg protein into some of your cooking instead.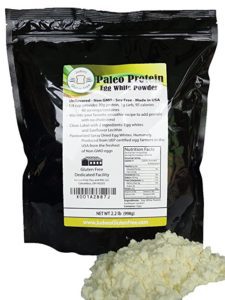 This one is made from cage-free eggs from certified farmers. Judee's packs 20 grams of protein per serving and is mixed with sunflower lecithin which allows the egg whites to dissolve fully in your shaker or your smoothie. CHECK IT HERE
4. Vegetable Protein
Rounding out the list is vegetable protein. The most common plants used are soy and hemp. This is great if you're on a vegan diet. Since soy and hemp are plant based, they contain other health benefits, such as antioxidants and amino acids, which keep your digestive system healthy.
A word of caution: Soy has a higher-than-normal estrogen content than other proteins, meaning it may interfere in building muscle more than the other proteins mentioned above.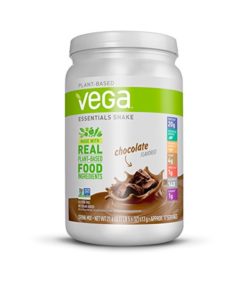 Vega's mix contains lots of fruits and veggies like algae, peas, and other leafy greens. There are 17-18 servings per tub with 20 grams of protein per serving. Gluten-free, certified vegan, and non-GMO project verified. CHECK IT HERE
Add any of these proteins to a blender bottle, shake and enjoy before or after a workout!
How Much Protein Should You Consume?
Protein consumption depends on your goals and dieting plan. To sustain your body weight or achieve a certain weight goal, you should consume the appropriate amount. But how do you know what is the apprpriate amount for you? Since protein is part of your macronutrient intake, you can calculate your macros to see how much you should consume. It will do that based on your age, gender, level of physical activity, and weight goal. Here are some FREE websites you can use to calculate your macros:
http://whataremymacros.com/macro-calculator/
https://healthyeater.com/flexible-dieting-calculator
https://www.katyhearnfit.com/macro-calculator
Is protein powder part of your regular diet? Or maybe not yet apart of your diet? Give it a shot now that you know all their is to know about protein powder and the different types!
Looking for other protein rich foods to incorporate into your daily routine? Check these out, #2 is our favorite! 
Stay happy, healthy and fit!