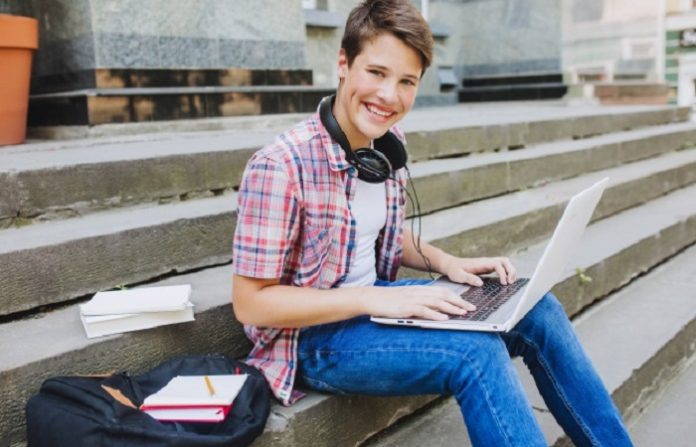 We hope you love the products we recommend! Just so you know, Men with Kids may collect a share of sales or other compensation from the links on this page.
School season is right around the corner. If you have a son or daughter who will be needing school supplies for high school then be sure not to leave out the most important one of all: a brand new student laptop.
Laptops are a fantastic addition to any high school student's repertoire as they provide countless benefits, such as faster note taking, creating power point presentations for class and scheduling tools to stay up to date with class events. But which portable computer will be the best fit for your soon to be high school student? Do they want something very compact and easy to tote around, or something in a fuller size for more comfortable usage?
Regardless of which laptop you choose, take a look at McAfee for top-of-the-line antivirus software that fits your particular needs. Another cool, cutting edge software to check out is VMware, which specializes in cloud computing and virtualization. Without further ado, our top picks for student laptops are below!

Just before we do, if you're looking for a great Internet provider, check out Xfinity Residential. They have super fast internet and WiFi coverage that lets you stay connected at all times! Okay now on to choosing the best laptop for your High School Student!
1. Acer 15.6in HD Performance Student Chromebook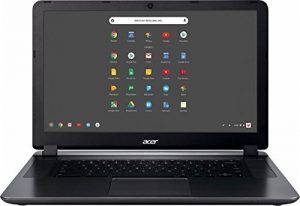 This medium sized Acer laptop comes with built-in Bluetooth and Wi-fi capabilities for cable-free convenience. It has a solid state drive instead of a standard hard disk storage, which allows for faster loading and a quicker boot up time. It has more than enough power and storage to meet the needs of any high school task. The computer even comes in a 2GB or 4 GB capacity option!
On a side note: If your teen plans to be watching TV on thier laptop or simply steaming something, check out xfinity's new Peacock streaming service your teen is sure to enjoy!


2. 2018 Acer 15.6" HD WLED Chromebook
This Acer model is similar to our previous entry but is fitted with double the RAM memory and uses a different flash drive. It will be a little longer on load times compared to the previous model, but it's a great choice for anyone who needs to have several applications open at once. It also has Intel HD Graphics, an LED Display and even a webcam if they need to get on a call with a professor or tutor. Get this laptop for students who love to multitask.
On a side note: If you have little ones looking to learn from home on a laptop as well, we recommend pair a new laptop with a Academy Adventure or ABCmouse package and your kids will be on their way to discovering knowledge through an online learning program! There is also no harm in testing it out! They currently have a free trail deal!
3. HP Pavilion 2019 15.6 HD LED Laptop Notebook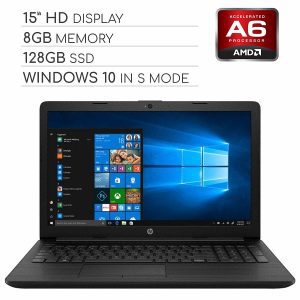 For students who like to have extra features jam packed into their laptop, this HP notebook model will surely get the job done. It includes a DVD drive, an SD card slot for extra storage, and has a little extra RAM and CPU processing power for more efficient usage, a BrightView glossy screen, and even 1366 x 768 HD resolution LED backlight Display. Also, the 128gb SSD storage gives students a little extra room to work with when it comes to saving data.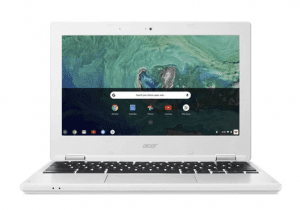 If portability is a priority then the Chromebook 11 inch Acer model is a fantastic choice. It has the Google chrome operating system and the screen is 11.6 inches, great for having multiple things up on the screen at any given time! Not only does the white color give it a unique look but its small size will fit inside just about any backpack. It only weighs 2.4 pounds and has an impressive battery life of roughly 10 hours. Its handy size and more than adequate specs make this a top pick for students who would like to have something less bulky.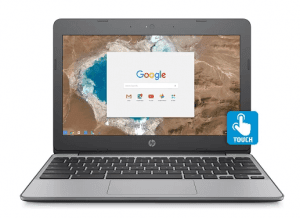 If you're looking for a sleek and nice design without having to pay big bucks, this one is the one for you! Not only will you be getting 11.5 hours of battery life with this chromebook but you'll also be getting a very slim machine that is easy to take anywhere. The touchscreen capability is sure to impress your son or daughter with its highly intuitive controls and accurate response. If you're child is into drawing or just simply writing notes, they can do that with just the touch of their finger. As far as compact options go, if having a heavy backpack is not an option (which we would agree its not) this laptop is a great light choice.
6. HP Flagship 15.6  HD Touchscreen Signature Laptop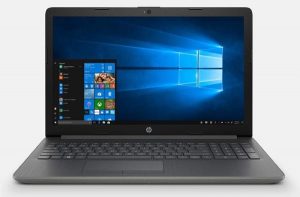 This computer comes with a 15.6 inch display, a DVD burner, HDMI plug in port, HD Webcam and even Bluetooth. Also, it comes with a whopping 1 terabyte HDD, this HP laptop truly is a flagship computer. With this much storage your son or daughter will be able to create enough files and data to last several high school lifetimes. It also has better audio and graphics output than your average school laptop, making it a great choice for someone taking classes that deal with media studies, art and film or computer science.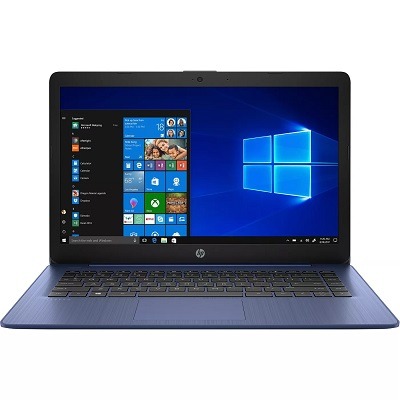 For a medium sized laptop, this HP stream 14 series is very good with energy conservation. It comes with a 14 inch display (bigger then any other on this list) and is also touchscreen! With nearly 12 hours of continuous usage and a quick recharge time, your soon to be high school student won't even have to worry about bringing their power adapter to school. Its thin, lightweight frame makes it highly portable and the touchscreen makes it easy to customize layouts in any fashion. And to top it all off, your son or daughter can get millions of apps from the Google PlayTM Store for anything that they need for school!
If you know exactly which laptop you will get your soon to be high school student, then go on over and check out a few summer gadgets, you can reward them with for being a good student last year!