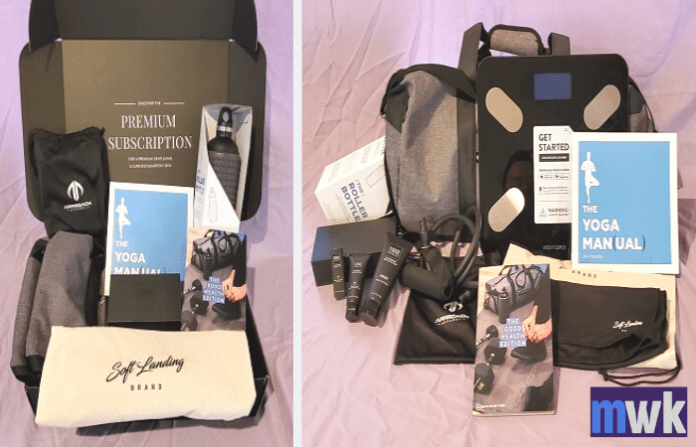 We hope you love the products we recommend! Just so you know, Men with Kids may collect a share of sales or other compensation from the links on this page.
Men's style is often seen as a dying art to the average man. As a result, the workplace attire has become synonymous with simplicity, and the same old boring slacks and button up shirt has killed creativity in the workplace. But, being a fashionable man doesn't need to be complicated and headache inducing. Especially, when you can rely on the people who know what it means to be a gentleman. Continue on to see our Gentleman's Box review.

Oh and best of all, we have a PROMO CODE for you! Use PROMO CODE: WINK20 at checkout and save $20 off your order!
Gentleman's Box is on a mission to help men dress for success, offering monthly, or quarterly subscription boxes containing awesome clothing and accessories for any occasion. From the smaller details like cuff links and socks, to the bold fashion statements like luxury watches and leather work bags, Gentleman's Box aims to make you look your finest.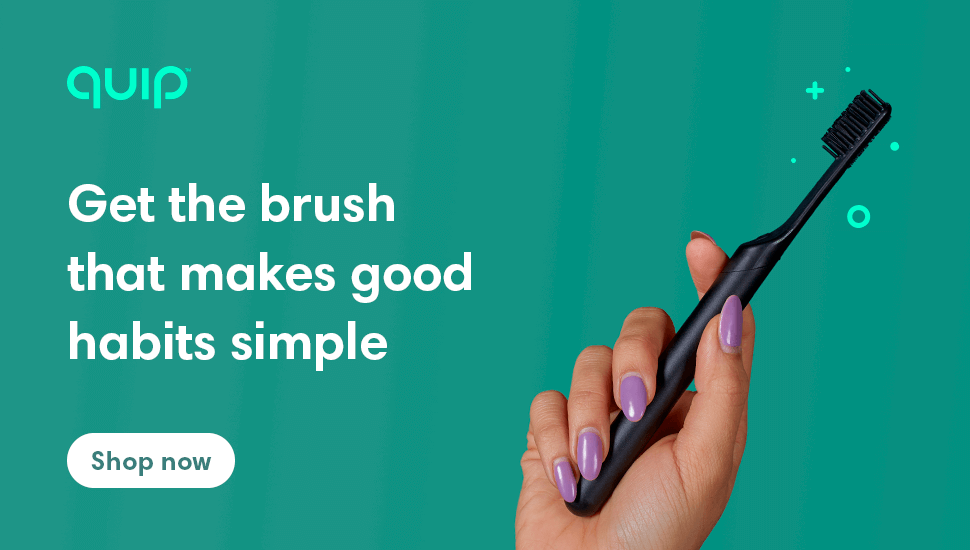 Gentlemen interested have the option of two plans: Classic or Premium. First, the Classic box is a modest $29/mo. and includes 4-6 fashion items and accessories, totaling in value of around $100. Second, the Premium box that comes quarterly. At a $100 price tag, you're looking at 4-5 items that value at about $300. For example, items such as leather goods, electronics and watches can be found in the Premium box.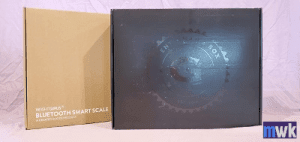 Moreover, this men's clothing subscription has no obligation, so you're always free to skip a box instead of having to cancel. Additionally, shopping with Gentleman's Box gives you hidden discounts to exclusive brands, members receive VIP boxes, and early release products.
So, we took a peek at the latest Classic and Premium boxes to let you in on what you might find in this men's clothing subscription. Alright, let's get to the Gentleman's box!
The Boxes
1. Classic Box: Chart-Topping Artist Box honoring Drake ($29/mo with $100 value)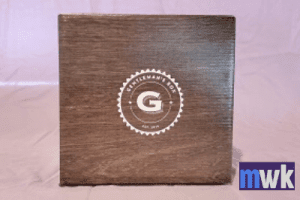 Aristo Ties:
First, this Australian men's fashion online retailer provides the purple skinny tie. Handmade with high quality textures, this skinny tie provides excellent value retailed at $30.
If you're up for some unique clothes or socks to match your tie, check out Happy Socks, you will sure be shocked to find how many different socks they have! It's truly impressive!

Trendz Co:
A Canadian online retailer specializing in men's and women's fashion accessories. These matching socks were specifically designed to complement the tie for this month's Gentleman's Box. These socks retail for $15.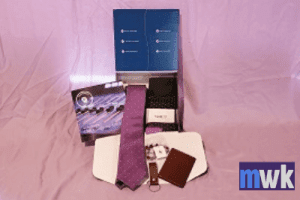 Veganwear:
Next, we have this matching wallet clip and keychain was made by Veganwear, an animal free production company. Both stylish and functional, the minimalist design is easy on the eyes and hard to differentiate from your classic leather! Both items in total retail for $35.
Ace of Spades:
Ace of Spades has a wide range of accessories and jewelry to complement any outfit. The Macrame Bracelet includes unique looking stone beads, tied in a purple string to help pop through the rest of your outfit. The bracelet retails for $30.
2. Premium Box: The Good Health Edition ($100/quarterly with $300 value)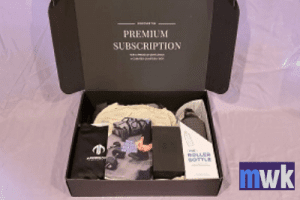 Greater Goods Bluetooth Scale:
This scale helps you keep track of your fitness progress with an easy to use companion app. In addition to weight, the scale also keeps track of your BMI, muscle mass, and water weight. With auto calibration it is easy to use and supports up to 400 pounds. Typically retails for $70.
W&P Design Yoga Manual:
Limber up and get flexible. This yoga book helps introduce any man to both basic and advanced yoga moves and techniques. The book retails for $19.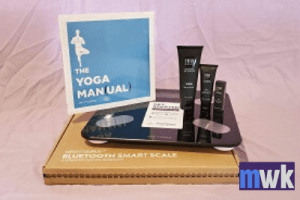 W&P Design Roller Bottle:
Hydration is key to obtaining any fitness goal you set for yourself, and you should always make sure to have the right bottle to do so. This bottle is perfect for your daily exercise, as it includes a removable roller foam sleeve with the bottle. This is the 1-2 punch you want for your workout routine. Retails for $25.
Approach Apparel Weight Resistance Rope:
This resistance rope from Approach Apparel is functional, lightweight, and comes with its own carrying bag, making it easy to take with you on the go. This rope is awesome for any resistance training or to use as a jump rope. It retails for $15.
Soft Landing Cooling Towel:
It's hard to get more refreshed than with a wet towel! Perfect for a workout, this towel is easy to clean and extremely lightweight. It retails for $15.
Looking to freshen up? Check out BURST Oral Care for your sonic toothbrush!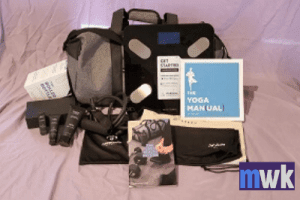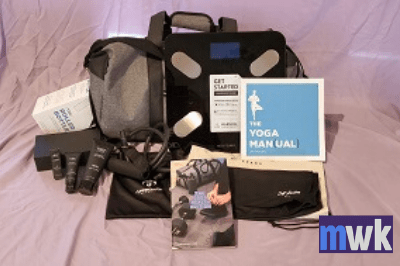 Having a legitimate skincare routine is important for your daily life. Undoubtedly, nobody wants acne or skin breakouts, so having a product you trust and can use confidently is necessary. This Tiege Hanley Skin Care set contains an SPF 20 face wash, facial moisturizer and a lip balm. The set creates a simple system that should help keep you honest with your skin. Typically retails for $30.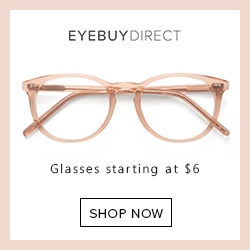 While we are on the topic of self-care, how about beard care? Check out Dollar Shave Club and join the shaving club that everyone has been talking about!
Iffley Road Duffle Bag:
You'll want something to carry all these awesome products. This stylish duffle bag measures at about 9"x9"x20", and has a shoulder strap to make it easy to carry. The large main compartment is great for storing your clothes and electronics, while the separated shoe bag in the front is ventilated to keep your main compartment clean. It also comes with two small external pockets to keep small items accessible and safe. It retails for $150.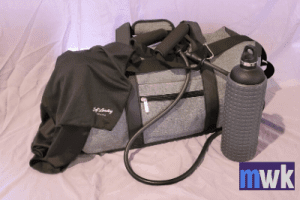 Conclusion
In conclusion, not only are the Classic and Premium boxes affordable and of great value, they also include products that are functional and useful for your daily life. Therefore, every item you receive in these boxes are of top quality, and you are sure to be happy with the items you get.
Gentleman's Box is striving to push forward men's fashion, and they're doing just that by offering top tier products and brands within their boxes. So, if you're bored with the accessories hanging in your closet, mix it up and let the experts make you into a gentleman.
Use PROMO CODE: WINK20 at checkout and save $20 off your order!
Lastly, we hope you enjoyed our Gentleman's Box review! If you are looking for another men's subscription box, be sure to check out BREO BOX.
Looking for some action in your life? Then, check out these action movie recommendations on Hulu and Netflix. Or, need some games in to play with your friends? Check out these multi player game recommendations.