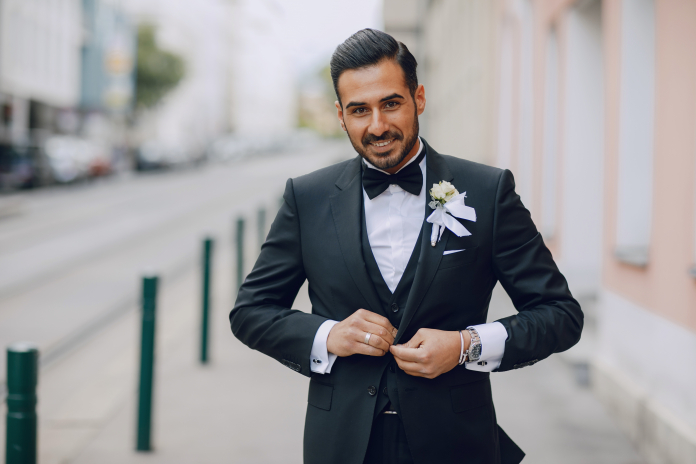 We hope you love the products we recommend! Just so you know, Men with Kids may collect a share of sales or other compensation from the links on this page.
It's no coincidence that summer is the most popular time of the year to tie the knot! And, although switching to fashionable summer outfits brings a breeze of fresh air with light t-shirts and casual flip flops, there's no room for bare arms and legs when it comes to summer suits for weddings (unless you like extremities – we're not here to judge!). 
The occasion demands a formal attire that suits the formality without being overbearing for the hottest season. So if you're attending or participating in a wedding, you definitely need something comfortable but also stylish that helps you shine. But, of course, the choice will depend on the wedding location and theme, as well as your personality and vibe. 
That's why in this guide, we've rounded top trends in summer suits for weddings in 2022 to have you looking and feeling fabulous. So let's get this rolling!
What's Trending in Summer Suits for Weddings?
They say that wedding suits that actually fit are always trendy. Although we couldn't agree more, there's more to a suit than fitting. That's because wedding suits impact the entire way of how you perceive and remember your special day. So you don't want to make that choice lightly. Here are some top summer wedding suits ideas for 2022:
1. The Grey Suit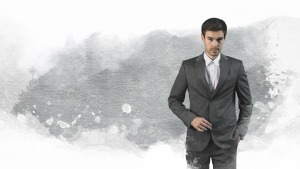 The perfect summer suit doesn't ex… Oh, wait, it does! Stone-colored suits, especially in linen, are the epitome of classic and timeless. That's because grey is not too flashy, and at first glance, it seems conservative. However, this leaves room for accessorizing with suspenders, a bowtie, or even undoing the tie and rolling up your sleeves for a more relaxed look. So, if you're looking for a more subtle summer look without seeming overbearing, go for it.
For example, check out this Lord & Taylor grey linen blazer, crafted with breathable linen in a modern slim-fit. A fresh choice for nailing the subtle summer aesthetic.
2. The Bold Rose Suit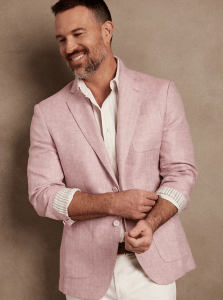 They say that fortune favors the bold, and so do camera lenses. So our next trend on summer suits for weddings is for the brave-hearted who wish to make a statement. Colorful suits are in fashion right now, and we dare say they're here to stay. However, if you choose to stand out, you have to do it with confidence. The pink suit vibe is something you could definitely rock as long as your vibe matches a more colorful aesthetic.
For instance, this rose suit from Nordstrom is perfect for quitting the traditional outdated grooms' outfits and going for something vibrant and memorable. Just make sure you match the wedding theme so that you won't look like a pink sheep. Going for something colorful but more subtle? Try this mood-evoking pink blazer from Banana Republic, made from luxurious linen.
3. The Light-Blue Suit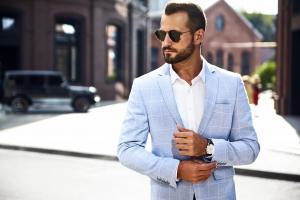 If you're looking to balance colorful and classic, our next suggestion for summer wedding suits ideas is the right one for you. In the past, a colorful suit would be groundbreaking. Luckily today, we're long past these rules, and we're able to celebrate these moments with the right touch of personalization. So, if you want something bright and fun that would not undermine the importance of the ceremony, we found your match.
As for the fabric, you can always go with linen, like this slim-fit stretch solid suit from Macy's, or opt for a more shiny look with this slim-fit cotton stretch solid suit.
4. The White Dinner Tuxedo
Choosing a more traditional look is always a safe option and a timeless pick. A white dinner tuxedo can be worn again and again with multiple accessories even after the wedding day. It's one of the classics that never ceases to inspire us. The light color will keep you cool even when the temps soar, and paired with black tuxedo pants will make you look shiny like a new penny. If you're a groomsman, perhaps you'd like to dress it down with a necktie instead of a bowtie.
We love this linen slim fit suit jacket from Bloomingdales is perfect for a summer wedding, and we're confident you'll love it too. The subtle and dignified details will make an exquisite appearance that the ladies will find dashing.
Choosing the Summer Suit of Your Dreams
Warm weather calls for wardrobe upgrades with light and fresh fabrics as well as stellar attire ideas to make you look sharp for your wedding day. Whether you're looking for a more traditional timeless style, or more fun, colorful statement, 2022 summer trends have something for everyone. Hopefully, our summer wedding suits ideas will inspire you to pick your favorite attire that suits the festive spirit of your special day.
Check out more of our website for men's fashion tips and advice, like these fashion trends that are a resounding "no" from many women!