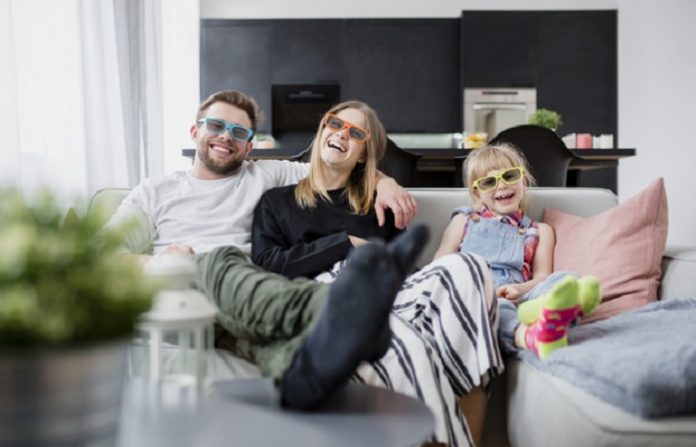 We hope you love the products we recommend! Just so you know, Men with Kids may collect a share of sales or other compensation from the links on this page.
"SMASH!" was the alarming sound I heard as two pairs of little feet scattered across the bedroom floor. I raced up the steps and to my surprise…no one was there. Just two big lumps under a blanket, each with a set of feet hanging out. I discovered that the lumps under the blanket were actually my children. Oh…and I also found our upstairs TV broken on the floor.
What happened? Well, it turns out my kids tried to throw their Spiderman action figure back home into the TV. Unfortunately, sometimes our children's life lessons cost a bit more than a quick lecture and a word of encouragement. My kids now know that "TV Land" is nonexistent and as for me, I now know everything there is to know about TV streaming devices.
While shopping for a new TV, it's no longer what TV you buy, but instead it's about which streaming device. As someone with a family who works full-time, I know just how precious time can be. So, to save you time, here is a review of the top 6 TV streaming devices on the market today. If you don't already have a streaming device, or do, but don't love it and needs a change, you have come to the right place. Let's pick the best TV streaming device for you right now.

Also, if you love movies and perhaps watching some classics at home, check out Disney+, for a limited time, Disney is offering a bundle with Hulu and ESPN+ for as low as $12.99 a month! If documentaries and historical films are more up your alley, consider adding Curiosity Stream to your list of subscriptions.
Just before we dive into it, if you're looking for a great Internet provider, check out Xfinity Residential. They have super fast internet and WiFi coverage that lets you stay connected at all times!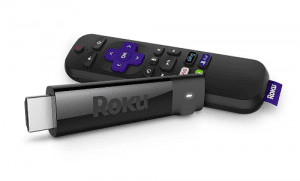 Roku makes streaming easy. Plug it in, walk through each step through the on screen instructions, and POOF… you're connected. No complicated directions or online forums required. And when it comes to the Roku Streaming Stick+, you receive everything you need to enjoy your very own TV streaming experience. A strong signal, crisp picture, and voice control for quick navigation are only a few of its many features. The voice remote is simple to use, and your kids will love it. No more changing channels for them, your kids can quickly learn how to find their favorite Disney and Nickelodeon shows via voice command.
Want some number?  Try 500,000+ movies and TV shows across more than 1,000 different channels. Whether it's Netflix, Prime, Showtime, ESPN, or HBO, if you can't find something to watch…then you aren't looking close enough. And lastly…it's available at an excellent price. It's the ultimate easy-to-use streaming stick for the entire family that doesn't require any special membership or industry know-how, and that's why it's my top pick.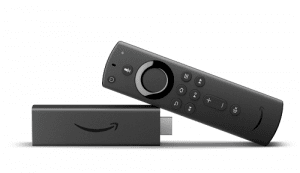 Unless you've been hiding under a rock for the past decade, then you've heard of Amazon. I think my youngest child's first word was "Moma," second "Dada," and third "Alexa." In all seriousness, chances are, you currently use Amazon's services or know someone who does.
Well, the Amazon Fire TV Stick 4k is one of the best-selling devices on the market. It's considered the most powerful 4k streaming media stick competing directly with the Roku Streaming Stick+. Yes, you receive many of the same channels like Netflix, Hulu, and HBO, but the big difference is your Prime membership. As a Prime member, you automatically have Prime Video providing you with free access to thousands of movies and TV shows.
A few other notable features are the millions of websites you can visit and the large storage capacity available for downloading videos and games. Plus, the remote uses Alexa voice control, so no more wasting time navigating with buttons. Overall, if you have Amazon Prime or are considering signing up, then check out the Amazon Fire TV Stick 4k.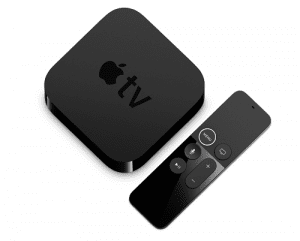 Chances are if you haven't made friends with Amazon's Alexa than it's because you're already loyal to Siri. So, Apple users, don't worry, there's a streaming device for you. It's called the Apple TV 4k, and it syncs with all your other Apple devices.
The Apple TV 4k is stacked with 4k high-resolution streaming picture quality, clean surround sound, and super-fast performance. It's like all Apple products: a unique mix of innovation and familiarity. I think it's safe to say that Apple users will not be disappointed. You'll find your favorite apps like Netflix and Hulu, but at the same time, have access to videos, songs, and pictures through iTunes. And well, if you can't make a decision on what TV streaming device to choose…just ask Siri.

Looking for something a bit more affordable? Don't want to budge on quality? Wikibuy can help you save on products like you need! With Wikibuy you can get better prices with real time help from other shoppers.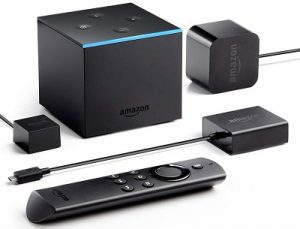 Amazon Fire TV Cube
If you have an Alexa, or plan on buying an Alexa, then you may want to consider the Amazon Fire TV Cube. This way, you won't ever need a remote again. Plus, Alexa can help you choose movies, navigate episodes, and adjust the volume as well. Here are a few command examples:
"Alexa, tell me about the movie (insert title here)"
"Alexa, fast forward [x] minutes"
"Alexa, pause."
And here is the ultimate plus: no more searching under couch cushions and beds for lost remotes! Fortunately, your kids can't hide a voice control from you. Mine are excellent hiders. One time, my son hid my wedding ring in the mouth of a nutcracker and couldn't find it for days! The point: ditch the remote and make friends with Alexa.
With the Amazon Fire TV Cube, not only can you stream your favorite channels with an excellent picture, but you can turn on and off your TV, dim your house lights, and check the weather. Also, similar to the fire stick, if you're an Amazon Prime member, then you have free access to Prime Video. Therefore, if you're ready to go hands-free and use Amazon for video streaming, then grab an Amazon Fire TV Cube today.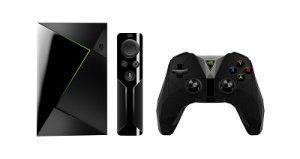 Nvidia Shield
Calling all gamers! The NVIDIA SHIELD streaming device is fast! Plus, it has so much functionality that you won't skip a beat switching between games, videos, and music. That's because it comes with a NVIDIA Tegra® X1 chip for faster speeds and connectivity. Plus, it continuously updates itself and is completely customizable.
Ready to turn your living room or basement into your own personal movie theatre? Well, NVIDIA SHEILD's sound quality is top notch though its 4K HDR home theater. And the games! Let's not forget about the games! The NVIDIA SHIELD supports hundreds of games with cross-play mode like the popular Fortnight. The NVIDA SHIELD is fun for the whole family and supported by Google Assistant.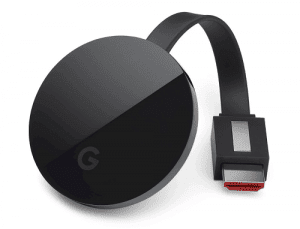 We can't discuss the best TV streaming devices without mentioning Google. Their device is called the Google Chromecast Ultra, and it works with Google Home. The Chromecast Ultra users love its Chrome desktop mirroring function. Your desktop screen literally appears on your TV. Whether you want to play YouTube for the kids, take an online yoga class, or put on a PowerPoint presentation, it's all controllable through your laptop. This simplifies your life a bit and may even save you money.
You can use Google Chromecast Ultra to stream your favorite apps like Hulu and Netflix, but also watch live TV.  I know, it's tough to get rid of things we are familiar with. However, if you are ready to cut the cord, and ditch the digital cable, then the Google Chromecast Ultra is a great transition. You'll soon realize that living without digital cable is not so scary after all. In fact, don't be surprised if you begin to prefer it.
Our Top Pick
So, after researching and sampling many streaming devices, what type did I go with? What was the winner?
The answer: Roku!
The Roku Streaming Stick+ keeps TV streaming simple. The set-up process is fast, and the price is affordable. So, if you are ready to jump into the world of TV streaming with ease, then click the link below and grab your own Roku Streaming Stick Plus right now.