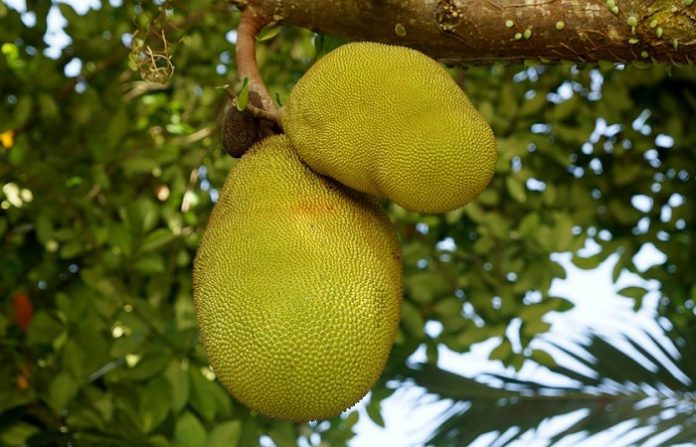 We hope you love the products we recommend! Just so you know, Men with Kids may collect a share of sales or other compensation from the links on this page.
Everyone knows that getting enough fruit is an essential part of a healthy diet, plus it's just delicious. This includes apples, bananas, oranges, and a variety of others, each of which contain a different set of vitamins and health benefits. But there's one fruit in particular that you may not have considered since it's not super common in some parts of the States even though it can offer a significant boost to your health. It's called jackfruit. Let's take a look at this unique fruit, the health benefits it offers, and how to include it in your diet.
Looking for some vegan food delivery options? Purple Carrot is the way to go! They have an amazing selection of meals weekly! Plus a few tasty treats to add to any box!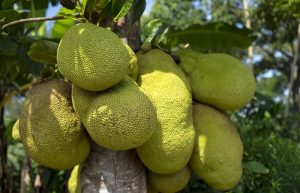 What is Jackfruit?
Jackfruit is a tropical fruit that is native to South India. Today, it's grown in many tropical regions outside India, which is a good thing because it is tasty and healthy. Even though it's not the most popular fruit in the grocery store, you should be able to find it somewhere in your city if not at the supermarket you usually go to. It's in season during the summer, which is when it ought to be available at farmer's markets if nowhere else. As a last resort, you should be able to find a canned version pretty easily.
It comes in a green or yellow color and features spikes on its outer skin. It is also pretty large, reaching up to 80 pounds for the absolute biggest ones.
Jackfruit tastes sweet and fruity, with a taste that can be compared to bananas, pineapples, and pears. It's sort of like a cross between all three. It is often considered a meat substitute by those on vegetarian and vegan diets, owing to its texture which resembles shredded meat.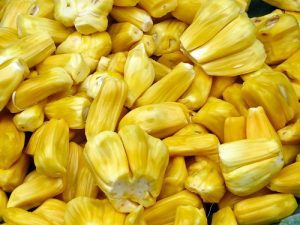 Jackfruit Benefits
Jackfruit offers plenty of calories – 155 calories in a one-cup serving. Around 92 percent of these calories come from carbs. The other eight percent is primarily protein – its three grams per cup outperforms the typical zero to one grams in apples and mangoes. There is also a small part of calories that comes from fat. These are the qualities, besides the texture of the flesh, that make it an excellent substitute for meat.
Jackfruit also contains nearly every vitamin and mineral that is recommended for healthy diets. It contains significant amounts of fiber, Vitamin A, Vitamin C, magnesium, potassium, riboflavin, and manganese. It offers lots of antioxidants as well.
The major health benefits of jackfruit include:
Boost in blood sugar control

Protection against heart disease and diabetes

Boost in immune health

Prevention of skin problems

How to Prepare and Eat Jackfruit
Jackfruit is very easy to prepare and eat. First, cut the fruit in half. Remove the fruit pods and seeds, separating them from the skin and core. There's a white section inside the fruit that is very sticky, so some people wear gloves while preparing it.
Once the flesh and seeds are removed, you can consume them either raw or cooked. Unripe flesh is best eaten when cooked into savory dishes, and ripe flesh is best cooked into sweet dishes, such as desserts. Both unripe and ripe flesh can be eaten raw though.

Jackfruit Recipes
Jackfruit doesn't have to be prepared from scratch. You can buy several varieties of jackfruit products, including barbecue jackfruit or Sriracha jackfruit (Thrive Market has our favorite!). However, if you're feeling adventurous, here are some simple jackfruit recipes to try:
Jackfruit Sloppy Joes:
This simple recipe for the classic messy sandwich uses…
1 can of Jackfruit (chopped)

1 cup Tomato sauce

1 Onion (finely chopped)

2 Carrots (pealed and finely grated)

2 Garlic cloves (finely minced or grated)

1 tsp Chili powder

Black pepper (to taste)

1/2 cup Vegetable broth

1 tbsp Worcestershire sauce (can do vegan or not vegan, based on your preferences)

1 tbsp liquid amino seasoning

2 tbsp Brown sugar

1 tbsp

Olive Oil
Check out Amazon Fresh for some great deals on all these items. Now back to the recipe:
Step 1: Start with cooking your veggies, (about 4 minutes) then add in all spices and liquids.
Step 2: Lastly, add in jackfruit, bring to a simmer.
Step 3: Then, simmer the full mixture for about 5 minutes.
Step 4: Lastly, stick that mixture between two buns and you're all set to go!
Jackfruit Nachos:
This recipe for vegetarian, yet hearty nachos uses…
All ingredients above (in the Jackfruit Sloppy Joes Recipe) to make yourself a delicious meat base out of jackfruit!
Tortilla chips (As much as your heart desires)
Cheese (preferably Mexican cheese)
1 can of Black beans (use as needed)
Onions (finely chopped)
Cilantro (finely chopped)
Jalapenos (finely chopped)
Sour cream
Check out Amazon Fresh for some great deals on all these items. Now back to the recipe:
Step 1: Start by making your meat base as instructed above.
Step 2: Then, finely chop your onion and cilantro, mix the two together to make a topping.
Step 3: After that, lay your chips out on your plate or platter, add your cheese on top. Then, toast your cheese and chips in the oven for about 5 minutes.
Step 4: While your chips are in the oven, grab your beans and heat them up in a small pan till hot.
Step 5: Once your cheese is melted perfectly on your chips, take it out of the oven, add your meat and beans. Followed by your chopped onion and cilantro mix. Then a dash of sour cream on top and lastly a sprinkle of finely chopped jalapeno to add some kick!
And there you have it! A hearty, healthy and quick meal!
Tip:
If you love guacamole like we do! We highly recommend adding some on top of your nachos! Oh and if you're feeling a bit lazy, you can always get the pre-seasoned jackfruit to put on your nachos. That works just as well!
This fruit is very healthy and is easy to include in any diet. It's incredibly versatile and offers a significant boost to your overall health. You can consume it raw or cook it into a variety of dishes, including desserts, breakfast dishes, curries, soups… The list goes on and on. You can prepare the fruit yourself or buy it pre-sliced and ready to cook. It's never been easier and more beneficial to include this tropical fruit in your daily meals, so by all means. Go for it!
But wait, there's more, how about some protein filled food, go on and check them out!