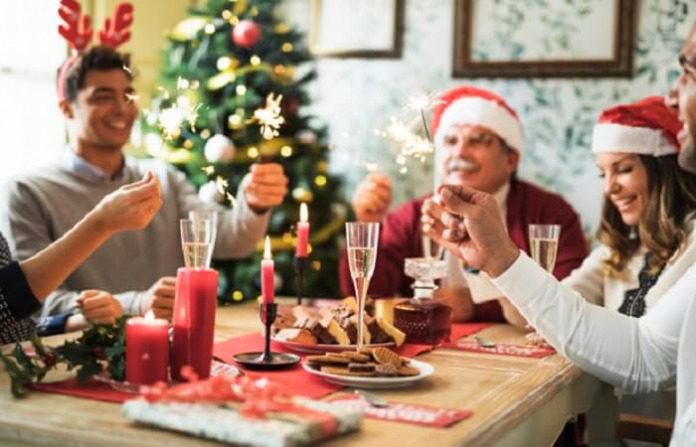 We hope you love the products we recommend! Just so you know, Men with Kids may collect a share of sales or other compensation from the links on this page.
Christmas is the time of year where family and friends gather together to celebrate the holidays, share quality time, and to enjoy special dishes that aren't usually prepared on other celebrations. That's why the Christmas menu is so important to have planned out, because you can plan ahead and cook the best nostalgic comfort food that is meaningful to you and your family. From recipes that you all grew up eating, to more modern dishes and meaty main dishes. Here is our collection of Christmas dinner ideas that we're sure will impress. Get your pens out…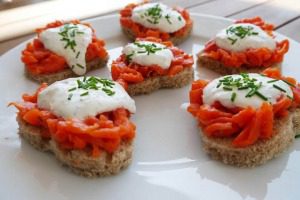 1. Smoked Salmon Crostini
Smoked salmon crostini is a delicious appetizer at Christmas celebrations! Use baguette, ricotta, herbs, and yummy smoked salmon to make these open-faced bites. Your guests will love them! They're also quick and easy to whip up, ready in 25 minutes. Tip: Use cream cheese if you can't find ricotta, or go for a less traditional mascarpone. You can decorate these with extra dill and serve with lemon wedges.

2. Cranberry Brie Bites
These bite-sized Brie and cranberry puffs are wonderful appetizers for your Christmas dinner parties and should definitely be on the Christmas dinner table for all your guests to gush over. You can use store-bought puff pastry, and allow yourself 1 hour of prep and baking. Use good quality Brie and cranberry sauce to fill puff pastry squares. It's that easy!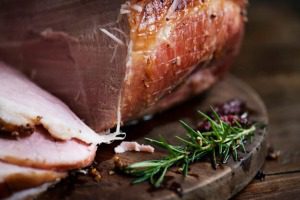 3. Honey-Glazed Ham For Your Christmas Dinner
If you want a delicious and stunning centerpiece for your Christmas dinner party, this classic honey-glazed ham is truly magnificent. If you use ham that's already cooked, you can make this masterpiece in just 1 hour and 30 minutes in the oven, allowing the ham to heat up and the honey-glaze to work its magic.
4. Roast Turkey With Bacon
Layering plenty of bacon over a simply seasoned whole turkey is a delicious way to help the meat keep its moisture as it cooks whilst infusing the roast with extra smoky, bacon-y flavor. Brb, our mouths are watering. Do plan ahead, as the turkey should sit in your fridge for 1 to 3 days, with plenty of salt on top, to help it retain its juices.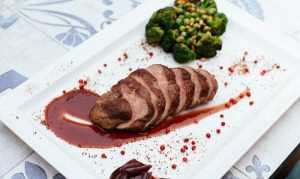 5. Pork Tenderloin With Cranberry-Orange Sauce
Tender roasted pork tenderloin makes a beautiful main dish if you're hosting Christmas dinner. Pork tenderloin is mild in flavor and has a low-fat content, so it tastes best when served with flavorful or heavy sauces. Like cranberry-orange sauce.  Rub the pork with garlic and herbs and roast for approximately 30 minutes or until your thermometer reads the lowest safe temperature for eating pork (145 F). With a tangy cranberry-orange sauce drizzled on top of the sliced tenderloin, you have yourself a perfect meat course. Ready in just 45 minutes.

6. Christmas Ham Wrapped in Puff Pastry
This take on a Christmas ham is absolutely terrific! Forget about the classic glazed ham covered with pineapple rings and cherries, this jaw-dropping main course offers flaky pastry and salty ham topped with sweet pineapple sauce in every slice.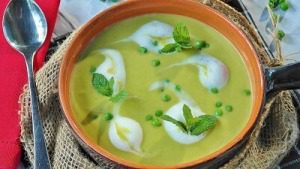 7. Easy Pea and Mint Soup For Your Christmas Dinner Appetizer
Whoever says they don't like pea and mint soup is seriously disturbed. Green pea soup with a hint of fresh mint is elegant and utterly simple to make. It is an excellent, light starter before a big holiday feast, but also makes a light lunch on the day of the big celebration.
8. Cheddar and Green Bean Casserole
You'll always find a green bean casserole somewhere on the dinner table at Christmas time. There are so many recipes for this dish it's insane. But trust us, this cheddar and green bean casserole will be the only one you'll see on the Christmas dinner table from now on. This take on the classic Campbell's recipe includes a homemade cheddar cheese sauce made with sour cream and mushrooms that coats cooked and crispy beans. Top with as much Parmesan cheese as your heart desires and French fried onions and bake.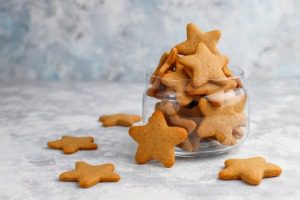 9. Vanilla Sugar Cookies For Your Christmas Dinner Dessert
These classic, buttery holiday cookies are kid favorites, and they're a great and easy dessert for your kids to be able to help out in the kitchen this Christmas holiday. Set a decoration station in your dining room with icing and sprinkles and let the kids make dessert. These cookies will take you back to your childhood, from watching your own kids bake them to eating them after a big Christmas meal with a glass of milk.

10. Honey-Glazed Baby Carrots
Don't forget about your carrots! Honey-glazed baby carrots are a quick and easy recipe that will make a nutritious and delicious side dish in just 30 minutes. Quickly cook your baby carrots but leave them still firm. In a pan, coat the drained carrots with cinnamon, butter, honey, olive oil, and raisins. That's it! It's such a simple and tasty side dish that'll be devoured at your Christmas celebration. These veggies are loved by kids, but surely all the adults will want a heaped serving.
We hope you enjoyed our article on these classic Christmas dishes that should definitely make an appearance on your Christmas dinner table this year!
Looking for other ideas or recipes? Check out our Slow Cooker & Crockpot Recipes, Thanksgiving Turkey Recipe, Thanksgiving Leftover Ideas, Thanksgiving Side Dishes, 4 Way to Cook Mac and Cheese, Spaghetti Squash and Butternut Squash Recipes and even a few Healthy Dessert Recipes!