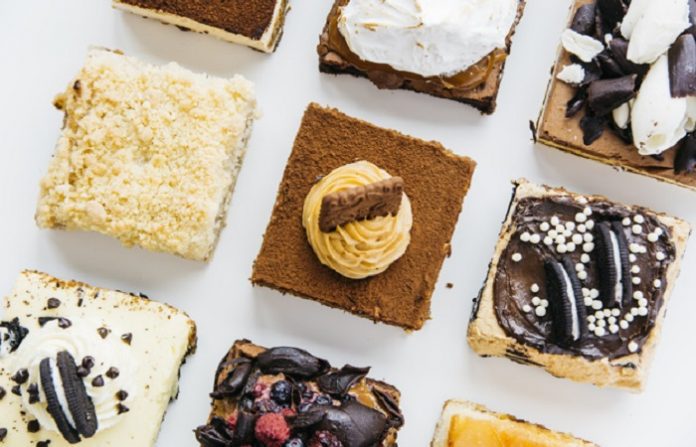 We hope you love the products we recommend! Just so you know, Men with Kids may collect a share of sales or other compensation from the links on this page.
If you've got a serious hankering for a sweet treat but don't want to let a big box of chocolate chip cookies ruin that healthy lifestyle you've been working so hard for, look no further. These dessert recipes are healthier than their traditional counterparts, and many of them are nutritionally boosted with superfoods like pineapple, dates, and much more. Keep on scrolling for DIY cheap and healthy dessert recipe ideas that you'll want to try ASAP! Trust us, the whole family will love them!
1. Baked Stuffed Apples With Maple Cream

What You'll Need:
What To Do:
Preheat your oven to 375 degrees.
Using a spoon, scoop out the apple cores and seeds. Then, place apples in a small roasting pan.
Toss together dates and pecans, and divide stuffing into apples. Press 1/2 tablespoon butter on top of each, followed by 1 tablespoon brown sugar each.
Pour apple cider into roasting pan. Roast apples for 45 minutes, using a spoon to drizzle some apple cider over apples every 15 minutes to keep them moist.
Five minutes before apples are done, whip together mascarpone and maple syrup. Remove apples from oven and place in individual bowls. Top with maple-mascarpone sauce. Serve warm.
2. Strawberry White Bean Blondies

What You'll Need:
What To Do:
Preheat oven to 375 degrees. Coat bottom and edges of 10-inch square baking dish with coconut oil.
In a food processor, combine all of your ingredients until well mixed and smooth. Pour mixture into a muffin tin. (If you're feeling really fancy, put 1 to 2 dollops of your mashed strawberries on top and drag a knife through to create a marbled look.)
Bake for 20 to 25 minutes, until top is firm and a toothpick inserted in the center comes out clean.
If you're up for it, you can also add some frosting and a fresh strawberry to top it off.
Serve warm and enjoy this healthy dessert recipe!
3. Grilled Pineapple With Greek Yogurt Sauce and Pistachios

What You'll Need:
What To Do:
Heat grill (or grill pan) to medium-high heat and grease grates with oil.
Place pineapple wedges on grill grates, and cook for 3-4 minutes on each side, or until nice grill marks appear.
While the pineapple is cooking, combine Greek yogurt, honey, and milk until it reaches the consistency you prefer.
To serve, set 2 pineapple wedges on a plate, and drizzle with the yogurt sauce. Sprinkle with chopped pistachios and enjoy this healthy dessert.
Note: Many supermarkets sell pineapples already cut into such wedges, if you wish to cut out a step!
4. Healthy(ish) S'more Brownies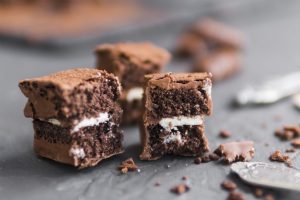 What You'll Need:
What To Do:
Preheat oven to 350 degrees. Spray an 8×8 inch pan with cooking spray
Combine flour, cocoa, sugar, and baking powder in a bowl.
Mix butter, egg whites, and vanilla in a separate bowl.
Add dry ingredients on top of the wet and combine until smooth.
Spread batter into the pan and bake for 25-30 minutes, or until firm and beginning to crack on the top.
Pull out pan and sprinkle marshmallows on the top. Add graham crackers and chocolate.
Put back in the oven for 1 to 2 minutes or until marshmallows are lightly browned and chocolate begins to melt.
Let cool and enjoy this semi healthy dessert recipe!
If you're looking for a healthier brownies recipes, check out our 4 ingredient protein brownie recipe!
We hope you enjoyed our article on DIY cheap and healthy dessert recipe ideas! Be sure to check out our other articles, such as Creative Ways of Cooking Mushrooms – with Delicious Mushroom Recipes and Creative Ways to Use Peanut Butter & Delicious Peanut Butter Recipes, for more healthy recipe ideas!