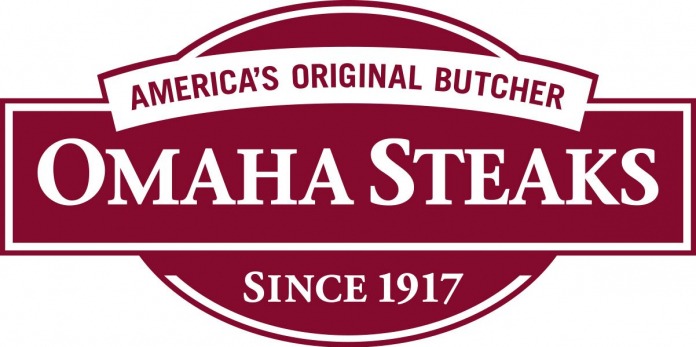 We hope you love the products we recommend! Just so you know, Men with Kids may collect a share of sales or other compensation from the links on this page.
Every year, people seem to struggle to decide on a good Christmas gift for dad. Dads seem to get a little more stubborn around the holidays and just swear they don't want/need anything. If you're not looking to take no as an answer for dear old dad, sometimes something simple and useful is the best gift to give to dad for Christmas. And what better way to bring a smile to dad's face than with delicious and tender meats. If your dad is a big fan of sitting by the grill, regardless of the month of the year, getting him a unique gift package of different kinds of meats is a great gift idea to let him splurge a little bit for dinner.
Christmas Gifts for Dad
It's no secret that Omaha Steaks has some of the best meats and unique cuts in the meat retail space. So if you're looking for a Christmas gift for dad, here are a few selections to consider from Omaha Steaks: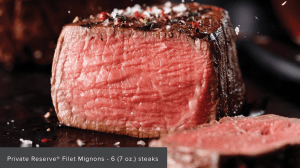 If you have a dad that loves steak but never likes to splurge on himself, getting top-of-the-line beef is a great Christmas gift for dad that goes a long way. This Private Reserve package includes 6 premium filet mignons and is extra-aged for maximum tenderness. Food is a gift to the soul, and any dad will be appreciative of these fine steaks.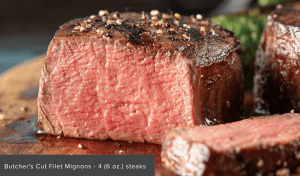 Take care of dad's dinners through and past the holiday season with this Butcher's Favorite Assortment package. A surf and turf collection, these options will triumph your average weekend grill-out any day of the year. Included in this package is:
4 (6 oz.) Butcher's Cut Filet Mignons
1 (1.5 lbs. pkg.) Jumbo Cooked Shrimp
2 (16 oz. pkgs.) Lobster Bisque
1 (15 oz. pkg.) Corn & Edamame Succotash
4 (5.5 oz.) Stuffed Baked Potatoes
4 (4.2 oz.) Chocolate Molten Lava Cakes
4 (3 oz.) Mini Baguettes with Garlic Butter
1 (3.1 oz. jar) Signature Seasoning
For Christmas gifts for dad, you can never go wrong with a surf and turf combo!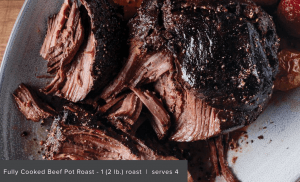 If home-style family comfort food is more of your dad's style over steak, this package is perfect for him. With an assortment of comfort style entrees, this package will take care of dad's cooking for many nights. Included in this package is:
1 (2 lbs.) Fully Cooked Beef Pot Roast
4 (3 oz.) Fully Cooked Oven Roasted Chicken Breasts
1 (3 lbs. pkg.) Italian Chicken Fingers
4 (4.5 oz.) Chicken Fried Steaks
1 (12 oz. pkg.) All-Beef Meatballs
1 (30 oz. pkg.) Beef Shepherd's Pie
1 (30 oz. pkg.) Meat Lover's Lasagna
1 (20 oz.) Homestyle Meatloaf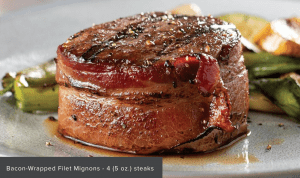 This one has it all! With 40 total items, this savory and sweet pack includes a variety of different meats for almost any occasion. There are also savory sides and rich desserts to round out your family meal! Included in this package is:
4 (5 oz.) Bacon-Wrapped Filet Mignons
8 Boneless Chicken Breasts (2 lbs. pkg.)
2 (1 lb. pkgs.) Premium Ground Beef
1 (1 lb. pkg.) Applewood Smoked Steak-Cut Bacon
8 (3 oz.) Gourmet Jumbo Franks
8 (2.88 oz.) Potatoes au Gratin
8 (4 oz.) Caramel Apple Tartlets
1 (3.1 oz. jar) Signature Seasoning
If a nice fillet of fish is more the route you want to go for Christmas gifts for dad, this Savory Seafood Sampler is exactly what you're looking for. Included in this seafood package is:
4 (6 oz.) Faroe Islands Salmon Fillets
4 (6 oz.) Marinated Salmon Fillets
1 (16 oz. pkg.) Wild Argentinian Red Shrimp
4 Split Lobster Tail Skewers (7 oz. pkg.)
4 (4.5 oz.) Stuffed Sole with Scallops and Crabmeat
1 (2.2 oz.) Signature Seafood Rub with Citrus & Herb
Give Them Omaha Steaks
Shopping for the perfect Christmas gifts for dad doesn't have to be so hard this year. With delicious meats and dinner ideas only a click of a button away, you have everything you need to make a perfect gift for your dad. Make sure to check out the rest of Omaha Steaks options as well if you don't see what you're looking for!