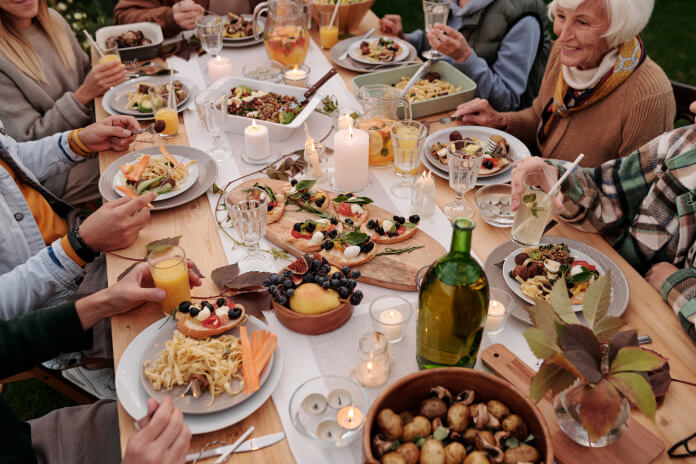 We hope you love the products we recommend! Just so you know, Men with Kids may collect a share of sales or other compensation from the links on this page.
Tradition keeps the world from falling apart. It gives a road map to follow, it keeps us close to our roots, and it can even help us keep our loved one's memories alive. Holiday traditions are some of the most sacred in people's hearts, especially Thanksgiving traditions.
That said, sometimes it makes sense to create your own holiday traditions or even decide on different ways to celebrate Thanksgiving every year.
Different Ways to Celebrate Thanksgiving
Are you trying to think of some ways to mix things up this holiday season? We have a list of some awesome Thanksgiving ideas that just might usher in a whole new Thanksgiving tradition for you and your family!
1. Have a Potluck Thanksgiving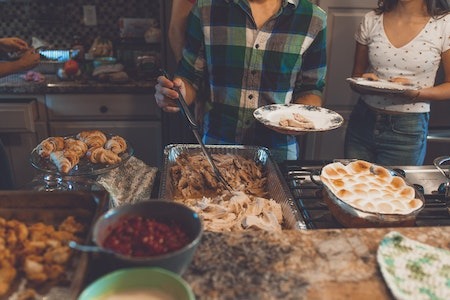 In most Thanksgiving traditions, all the food is cooked in one kitchen with one head cook calling the shots. While most of us enjoy the result of this kind of Thanksgiving, why not try something with a little more participation?
A good potluck dinner isn't about the food. It's about the community of people pooling their culinary energy into one cohesive experience. Sounds perfect for Thanksgiving! Don't limit the food to traditional Thanksgiving fare, and see what people come up with as their best, signature dishes for this potluck.
2. Take a Vacation 
This year, more than ever, people just want to get away. Why not plan a big family Thanksgiving vacation?
By pitching in money together you can rent a lodge, several community cabins, or even an Airbnb with plenty of space for everyone. Bring all the fixings for Thanksgiving dinner, but don't slave away. Instead, spend time outside or have family game time on the porch. Remember, it's a vacation, so have fun!
3. A Different Type of Dinner
Some people don't like traditional Thanksgiving food, at least not as much as others. Sweet potato casserole and cranberry sauce just aren't for them and that's okay! It doesn't mean they shouldn't get to enjoy Thanksgiving like the rest of us. After all, it's more than just about food.
If that's the case, create the Thanksgiving menu around a specific food theme. Many families like having a Mexican food theme instead of a turkey. Maybe some families could try a vegan menu or maybe French cuisine. The sky's the limit here, and you can easily find all of your Thanksgiving dinner needs at Target!
4. Have a Themed Thanksgiving  
Is your family fun and ready to make Thanksgiving even better? Why not do a themed Thanksgiving dinner? There are many themes you could try. For example, having a Friends-themed dinner could be like dressing or acting like your favorite character from Friends. Then, make iconic dishes from the show for dinner!
Other fun themes include Southwestern style, Hollywood glam, farmhouse style, and more. A great way to pull these themes together is by putting up decorations and even table centerpieces. By shopping at Etsy, you can find one-of-a-kind, handmade pieces while also supporting small businesses!
5. Give Back as a Family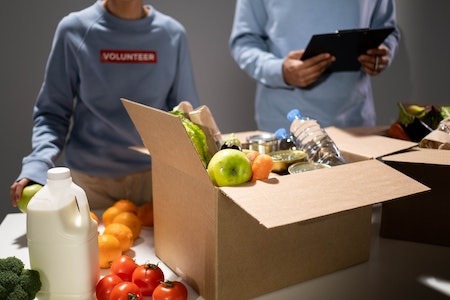 Finally, nothing reminds us to give back like the holidays. If you have everything you need for Thanksgiving dinner, it's humbling to remember that a lot of people don't. There's no shame in having abundance, but nothing embodies the true meaning of Thanksgiving like sharing what you have with others.
Gather your family and go to your local shelter, or even host your own food drive. The more hands the better. You'll feel happiest when you're all sharing with those who need it.
More Thanksgiving Ideas
The holiday season is perhaps the most anticipated time of the year, and this year people should cherish it even more. Make the most of the holidays this year and have fun planning different ways to celebrate Thanksgiving!
If you're doing the Thanksgiving cooking this year, don't dive in without taking a gadget inventory. These are some of the top kitchen gadgets you must have to make cooking Thanksgiving dinner easier!