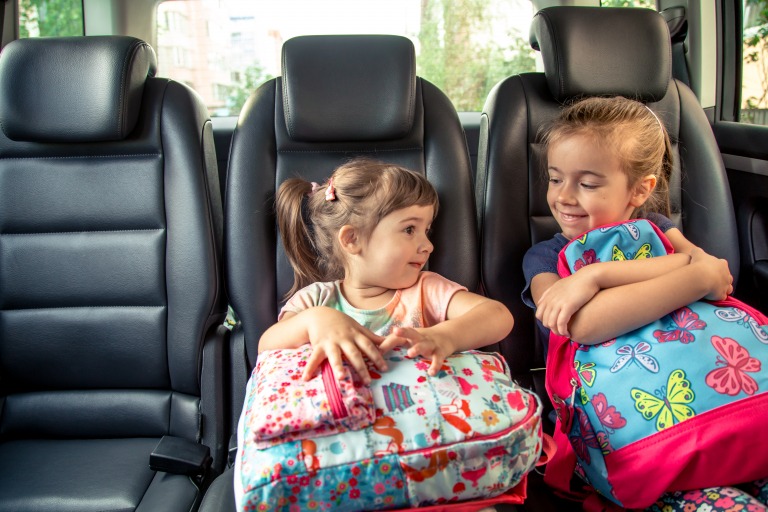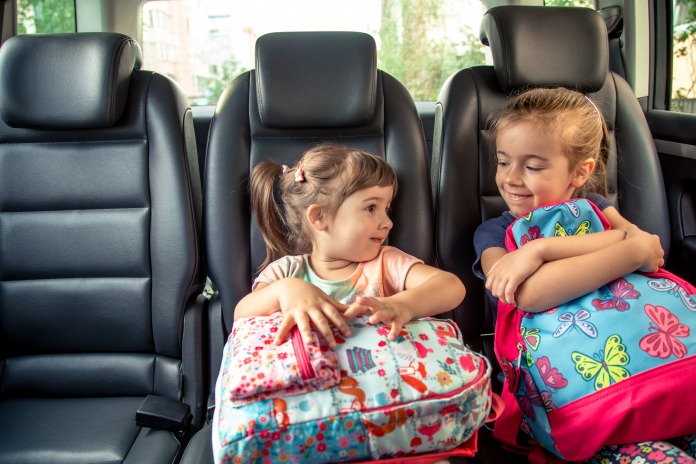 We hope you love the products we recommend! Just so you know, Men with Kids may collect a share of sales or other compensation from the links on this page.
Road trips as an adult can be exciting, and keeping yourself occupied is pretty easy (especially if you're the driver. But if you have kids or other passengers, it can be challenging to keep everyone from going stir-crazy. That's why part of your travel planning should be gathering creative questions to ask on road trips!
Games and Creative Questions to Ask on a Road Trip
Luckily, there are many different ways to keep things fun and exciting while on a road trip. And if you'll follow along below, we'll show some great ways to make sure no one gets bored on your way to your destination. But before you can even start the journey, you have to prepare!
Road Trip Preparations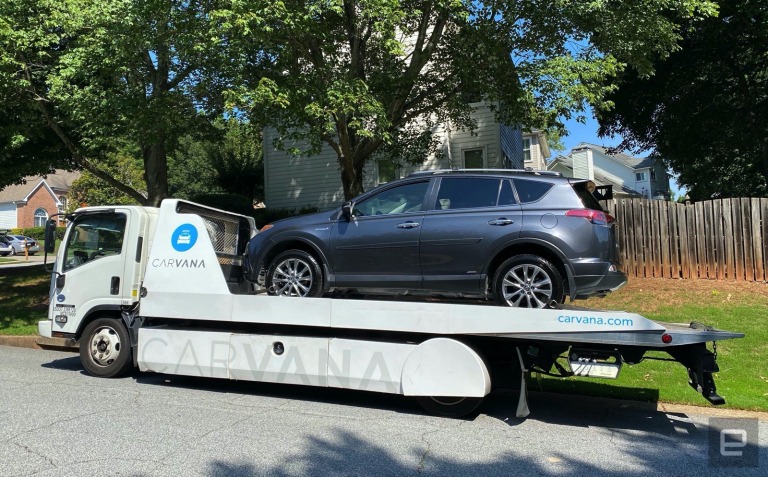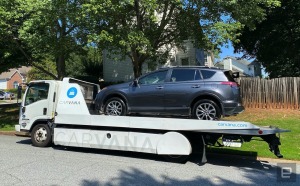 Before you worry too much about the road trip questions and games you'll be playing, you'll want to make sure your ride is smooth and comfortable. If you're planning a long road trip, or it might just be time to make an upgrade, now is the perfect time to consider upgrading your car. And there's no better place to do car shopping right now than online with Carvana.
Not only do you get the luxury of skipping the dealer when buying from Carvana, but you get access to tons of great tools to find your next dream car. This includes a plethora of search features and filters, financing options with Carvana, and even options for delivery straight to your home.
Trivia Questions for Kids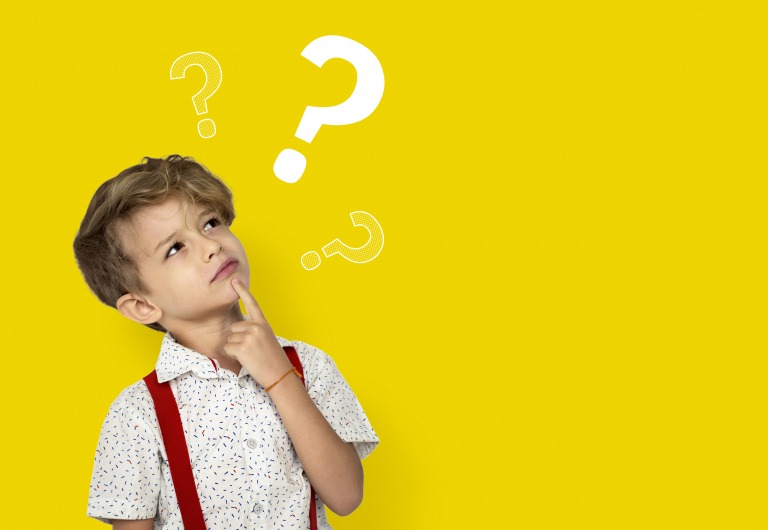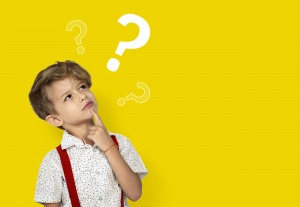 Here are the best trivia questions for kids, including the answers!
Which is the fastest animal in the world?  
The Cheetah – obviously.
Which is the largest planet in our solar system? 
The Sun is large enough to fit how many planet Earths? 
How many horns did the kosmoceratops have? 
What was the name of Harry Potter's pet owl? 
Who was the first president of the United States?
Answer – George Washington
Who walked on the moon first? 
Who was the first woman to fly solo across the Atlantic? 
There are so many trivia questions out there. You can either look them all up by yourself, or you can get The Big Trivia Quiz Book from Target with questions for everyone!
The License Plate Game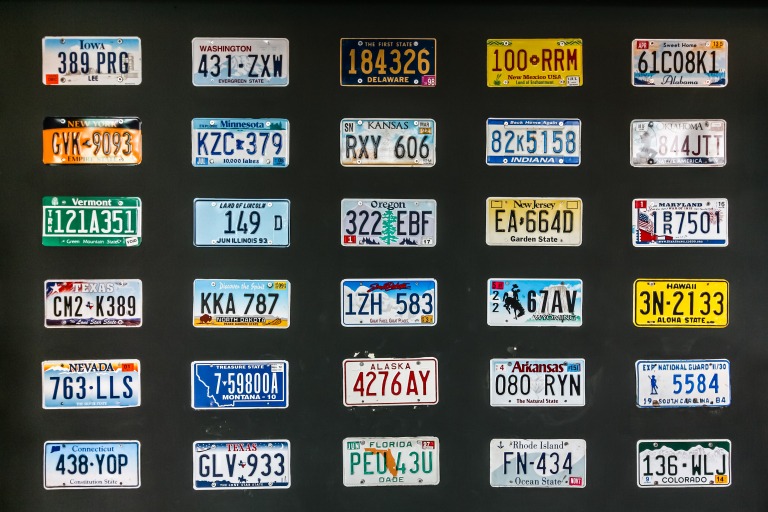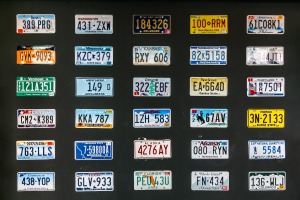 If you've never heard of the license plate game, then you missed out as a kid! The instructions are simple which means that teaching it to young players is easy peasy.
Basically, to play this game, you only have to keep a sharp eye out for state license plates in alphabetical order. If you get rare state plates (for instance, Alaska or Hawaii would be the two most rare) then you earn extra points!
This game can keep everyone alert, and it can also help kids learn more about the alphabet or even some of the states!
Hangman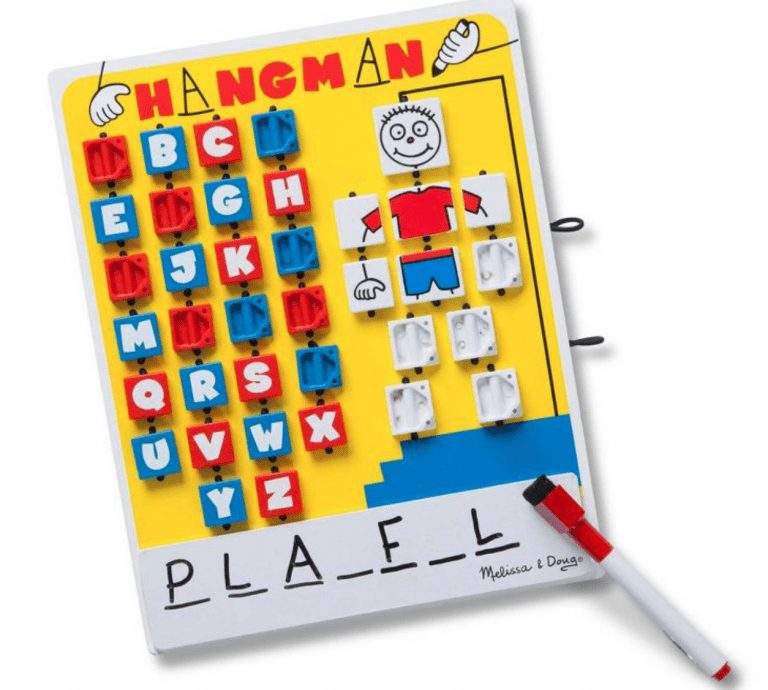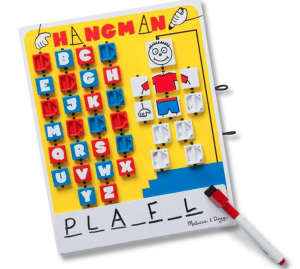 Along with road trip questions, Hangman is a classic game that's been around for quite some time. The reason it's such a good game for travel is that it's easy to pack the materials and play while on the go.
You can bring a notepad and pen to create the hangman grid and keep score on your own. Or, you can buy a Hangman dry erase board that's ready to go without effort.
Printable Road Trip Activities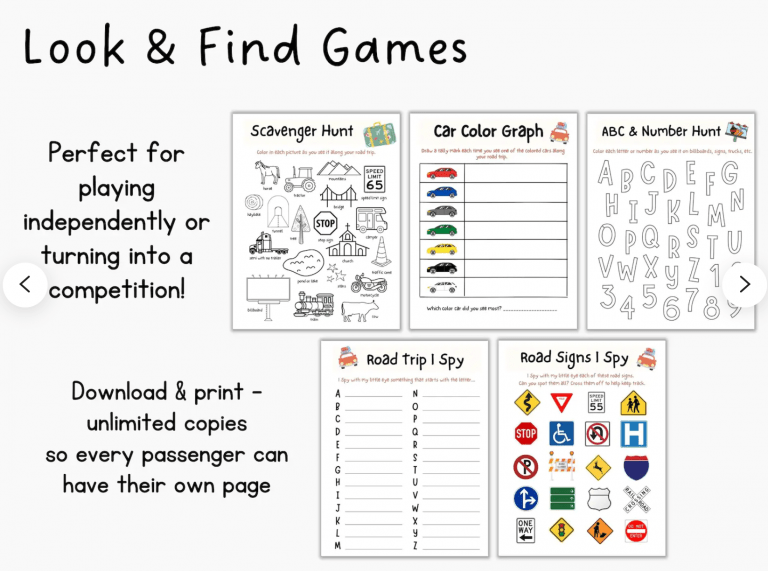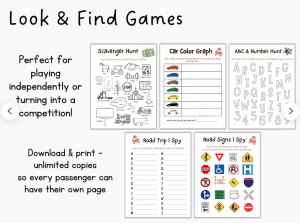 In the good ol' days, we had to pack enough paper and pens to make our own questions to ask on a road trip. But now, all you have to do is a quick Etsy search to find printable bundles of road trip activities! We like this bundle of 58 activities all in one! It includes a scavenger hunt, word scramble, and car color graph that will keep everyone occupied for the whole there and back.
Road Trip Journal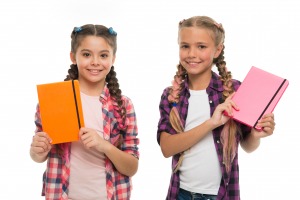 Want something a little more quiet for when you need some peace while you drive? We get it, and we have ideas!
A road trip journal is a perfect way to help settle the kids down while you travel. It's also a great way to help them learn how to process what they see around them. You can give them prompts such as road trip questions that they should reference and answer inside of their entries. Or, you can give them a journal printable with prompts already included.
More Road Trip Ideas
Traveling with kids doesn't have to be the worst experience, as you can see. Once you find enough questions to ask on a road trip, you'll find that keeping everyone from getting bored isn't so hard.
But along with road trip questions, snacks will help keep everyone from getting hangry and grumpy. Check out these snack ideas to keep everyone satisfied until the next rest stop!