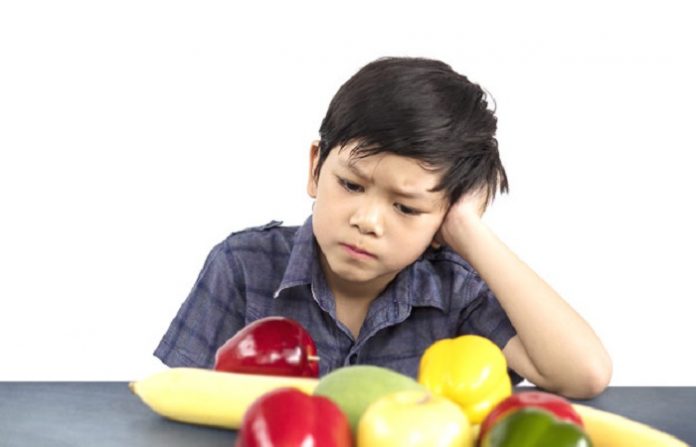 We hope you love the products we recommend! Just so you know, Men with Kids may collect a share of sales or other compensation from the links on this page.
Eating healthy is difficult, even for adults. It's even more difficult to convince a fussy toddler to eat their vegetables, drink their milk, and put down the candy. How do you improve your child's diet without becoming the "bad guy"? Fortunately, there are some tried-and-true ways that you can get your toddler to eat healthy. Therefore, here are some tips that will help you, plus healthy meal ideas for breakfast, lunch, evening meals, and even snacks.
And also you should go ahead and check out FreshDirect if you haven't already. You can find all the groceries and ingredients you need with cheap prices and good quality!
Tips for Healthy Meals for Kids
While it's good to have a solid schedule and plan in place, you can never underestimate the power of motivational persuasion. Instead of demanding that your child eat right, why not use incentives? Target has many fun dining utensils and more to help your toddler feel more excited about mealtime. Check out these child-friendly Paw Patrol dining sets from Target that will make eating healthy more motivational for your kids!
These tips will help you develop a healthy diet for your toddler:
Firstly, Make (and keep) a schedule: Small children need to eat every three to four hours. Make sure you plan meal and snack times accordingly.
Secondly, Plan every meal: Don't just wing it. This usually leads to unbalanced meals based on whatever's around. Plan out each meal.
Thirdly, Don't take special requests: Make one meal for everyone, and don't spend a lot of your time with variations and requests.
Fourthly, Introduce new foods gradually: Slowly introduce new foods that go with your toddler's favorites.
Fifthly, Experiment with condiments, dips, and dressings: Some veggies just go better with a dip. Try ranch dressing, hummus, salsa, yogurt, or even ketchup.
Sixth, Pay special attention to breakfast: Try to sneak in as much fiber as you can at the start of the day to set everyone up for success.
Seventh, Leave room for tiny amounts of sugar: Don't ban sugar and sweets entirely. Sprinkle a bit of sugar on fruits and vegetables to encourage healthy snacks.
Lastly, Send the right message: Be the role model for your toddler. Children who are around adults who eat healthy are more likely to maintain healthy eating habits as they grow older.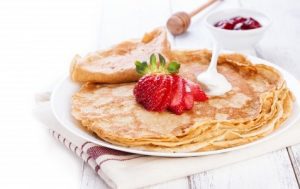 Toddler Breakfast Ideas
These toddler breakfast ideas will start your child's day right:
1. Sausage, clementines, and cereal:
Go for lower-fat turkey sausage, clementine or orange slices, and toasted oat cereal.
2. Pancakes and strawberries:
Whip up a few pancakes and serve with maple syrup and chopped strawberries on the side.
3. Toast with peanut butter and bananas:
Above all the best breakfast to get your kids eating healthy is toast with peanut butter and bananas! All you need to do is spread peanut butter on whole wheat toast and serve with a side of sliced bananas.
4. Fruit smoothies:

These are a great way to get all their nutrition in! It's a tasty and refreshing method that kids love. Try some smoothie recipes to boost their immunity!
Toddler Lunch Ideas
These simple toddler lunch ideas will help sustain your child throughout a busy day:
1. Chicken, beans, cheese, blackberries, and peas:
Serve cuts of roasted chicken alongside black beans, shredded cheddar cheese, a few blackberries, and a small helping of warm peas.
2. Grilled cheese, macaroni or soup, and blueberries:
Every child loves grilled cheese. Pair it with macaroni rings and meat sauce, plus a small helping of blueberries.
3. Turkey meatballs, steamed broccoli, and strawberries:
Serve chopped turkey meatballs with a dip (such as a sweet potato dip). Then, sprinkle sea salt on chopped steamed broccoli and serve on the side with chopped strawberries. You can finish it off with a fruity smoothie.
Toddler Meal Ideas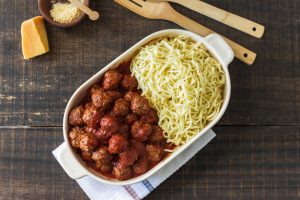 These toddler meal ideas will provide a boost at the end of the day:
1. Healthy Toddler Meatballs with Marinara Sauce:
These healthy meatballs contain hidden veggies, take about half an hour to make, and are paired perfectly with a marinara sauce.
2/3  cup chopped carrots

2/3 cup parsley leaves, lightly packed

1 small onion, peeled and cut in half

2/3 cup breadcrumbs (Italian flavored breadcrumbs work wonderfully)

1.5 pound ground beef (you can substitute ground turkey for a low-fat option)

2/3 cup grated Parmesan cheese

1 egg

2 tablespoons milk (can use 2% or whole)

1 teaspoon salt

Food processor
To make the meatballs:
Preheat oven to 375 degrees Fahrenheit.

After that, line a rimmed baking sheet with tinfoil and coat with nonstick spray.

Then, grind the carrots, parsley, and onion in a food processor. Stop scraping the sides of the bowl when needed.

Then, add the rest of the ingredients to the food processor and continue grinding. Stop when everything has combined into a smooth mixture.

Portion the mixture into small meatballs, measuring about 2 tablespoons each. Place the meatballs on the baking sheet.

Then, bake the meatballs for about 22-25 minutes.

Lastly, serve with your child's favorite marinara sauce. (We suggest a veggie filled one)
Final notes:
The meatballs can be stored in an airtight container in the fridge for up to three days or frozen for 3 months. 

Also, if you have a child who needs to eat gluten-free foods, swap out the breadcrumbs for cornmeal or gluten-free breadcrumbs.

Lastly, to make smaller meatballs, as kids usually love those! You can use 1 tablespoon for measuring each meatball instead of two. Be sure to also reduce the cooking time to about 19 minutes.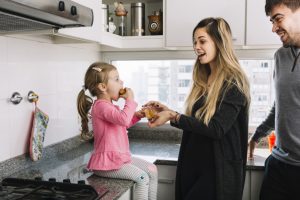 2. Broccoli Tots:
These healthy tots take about 35 minutes and are simple to make.
1 1/2 cup chopped broccoli florets

1 1/2 cup cooked short grain brown rice

3/4 cup shredded mozzarella cheese

2 tablespoon grated Parmesan cheese

2 eggs

¼ cup breadcrumbs

Food processor
Instructions for making the broccoli tots:
Preheat oven to 375 degrees Fahrenheit.

Then, line a baking sheet with parchment paper.

After that, boil a kettle of water. Then, pour over the chopped broccoli in a heat-safe bowl. Let sit for five minutes, then drain.

Then, combine all ingredients in a food processor. Grind smooth till it looks like a batter.

Then, portion the batter into ovals, measuring about 1 tablespoon each. Then, place portions on the baking sheet.

Bake for 25-27 minutes. When done, they should be firm to the touch and lightly golden brown.

Let cool before serving. Then place on a plate with some good old ketchup and enjoy!
Final notes:
Similarly, the tots can be stored in an airtight container in the fridge for 3-5 days.

Also, you can make a dairy-free version by leaving out the mozzarella and Parmesan cheeses and reducing the egg to just one.

Lastly, gluten-free breadcrumbs can be substituted for those with sensitivities.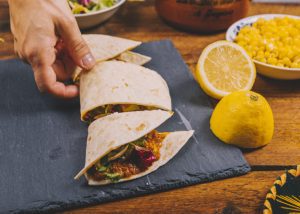 1. Sheet Pan Black Bean Quesadillas:
These easy quesadillas take about 20 minutes to make and are a great meal to continue eating healthy with.
1 pack of corn tortillas

1 can black beans (14.5 ounces), rinsed and drained

1 can pumpkin puree (14.5 ounces)

2 cups shredded cheddar cheese

Ground chili powder
Garlic powder

2 cups baby spinach
Steps for making sheet pan black bean quesadillas:
Preheat oven to 375 degrees Fahrenheit.

Then, place half of the tortillas on a baking sheet, try not to overlap them, use two baking sheets if you need to.

After that, spread 1 tablespoon of pumpkin puree on each tortilla.

Then, top each tortilla with cheese and black beans, try to spread evenly or as you prefer. Then, sprinkle garlic powder and chili powder on each one. Top with spinach (you may want to chop the spinach up a bit before you do). And lastly, top with a second tortilla or just fold your one tortilla over (whichever you prefer).

Then, bake for 10-12 minutes, making sure your cheese has melted.

Then, flatten as soon as you take them out of the oven.

Lastly, cut the quesadillas and serve with salsa or even guacamole if your kids are up for it! Enjoy!
Final notes:
Similarly, as above, leftovers can be stored in the fridge for 3-5 days, make sure to store in an airtight container or wrap in tinfoil.
Toddler Snack Ideas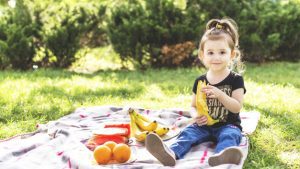 These toddler snack ideas will keep your child nourished and encourage them to eat healthy:
1. Fresh fruits:
Sliced apples

Bananas

Berries of various types

Orange slices

Grapes

Melons

Pears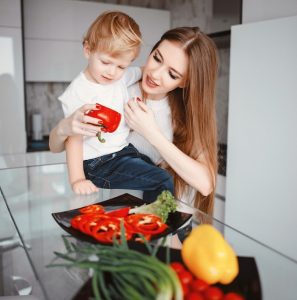 2. Fresh veggies:
Cubed avocado

Snap peas

Sliced cucumbers

Cherry tomatoes

Carrot 

Celery sticks
3. Whole grain snacks:
Low sugar cereals

Sandwich cubes

Cinnamon raisin bread

Crackers with cheese

Muffins

Granola bars

Pretzels

Graham crackers
All in all, getting your toddler to eat healthy doesn't have to feel like pulling teeth. In other words, even the most stubborn toddlers can learn healthy eating habits through a creative meal and snack ideas. By following the steps above and considering our ideas for healthy toddler breakfasts, lunches, dinners, and snacks, you'll help create habits that can last a lifetime.
Eating healthy is not only important for your kids, but also for you! Make sure you are also eating healthy as this will encourage a healthy lifestyle throughout the whole family! So, here are a few more meal suggestions that will help you and your kids eat healthy!