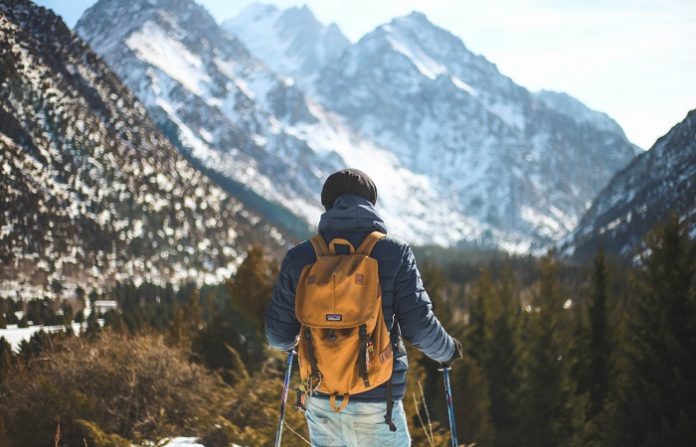 We hope you love the products we recommend! Just so you know, Men with Kids may collect a share of sales or other compensation from the links on this page.
Thinking of taking a backpacking trip but aren't sure what foods to bring? Don't waste hours at the store randomly searching for items that may or may not work. Our top ten list of Best Ultra Light Backpacking Foods is here to help you fill your backpack and your stomach, all while maximizing energy and minimizing weight. Tell those other waste-less, heavy foods to take a hike!
FreshDirect has a few great light backpacking foods you can also pack, they are even all organic! Go check them out!
Also, make sure you have the right backpack ready for your adventures. Take a look at Osprey Backpacks for the best backpacking equipment.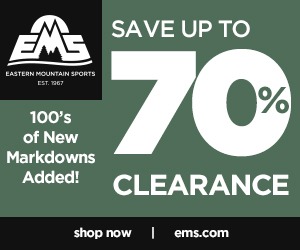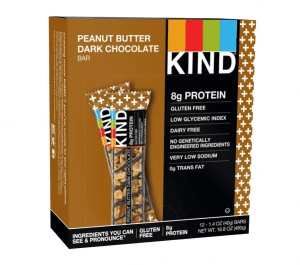 Extremely lightweight and packed with benefits that any day tripper can appreciate, Kind Bars make an excellent starting point. First, they come in tons of different flavors and options, including gluten-free, vegan, and kosher choices.
Secondly, their bars meet many, if not most, of the nutritional requirements needed for a backpacking trip. You can pick and choose Kind Bars that are tailored specifically for your trip, whether it be additional protein, fiber, sugar-free, low glycemic, whole grain, etc.
If you're planning a day trip or even backpacking overnight, Kind Bars are an excellent lightweight and space-saving choice.
Pros & Benefits
Lots of options
Meets nutritional requirements
Lightweight
Small, takes up very little room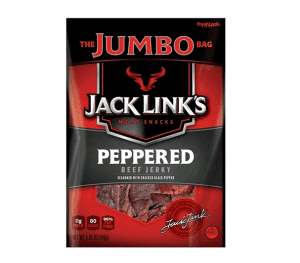 Another great lightweight option to pack is Jack Link's Beef Jerky. Let's be honest, backpacking isn't always a walk in the park (see what we did there?) and often times requires lots of energy and strain on your body.
When planning for a trip you want to make sure you include lots of protein to keep you going strong, which is where Jack Link's comes in. Their beef jerky is available in a variety of different flavors and even cuts, all of which have considerable amounts of protein in them to keep you hiking all day.
Another added bonus is the immediate satisfaction you get because beef jerky requires no cooking or preparation.
Pros & Benefits
Protein
The packaging is thin, making it easy to carry
No cooking or preparation required
Did we mention protein?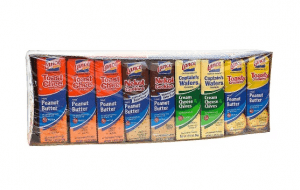 How many times in your life have crackers been a go-to snack when you're on the run or trying to find time during your busy day to eat a quick something? When backpacking, you're continuously on the move and Lance Crackers are the perfect sidekick to stop your hunger without stopping your hike.
When hiking, you're limited as to what you can carry but that doesn't mean your flavor choices should be, and this is why Lance is another great addition to this list. From peanut butter crackers to sour cream and chive, there is something for everyone.
Another benefit is the cost, as these crackers are an inexpensive way to snack from your pack.
Pros & Benefits
Different flavor options
Small
Comes in variety of packs
Inexpensive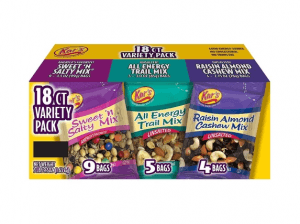 What could be better on the trail than trail mix? If it seems like it was designed for outdoor adventures, that's because it was.
Kar's Trail Mix is a great choice because of its low price point and ability to satisfy multiple cravings at once. They have mixes created specifically for energy, as well as sweet and salty, and other various options, so there is something for everyone.
The variety in each pack of trail mix is great at combating hunger and filling you up, without feeling like each bite is identical and repetitive to the previous one before it.
Pros & Benefits
Low price
Variety
Filling
Created for outdoors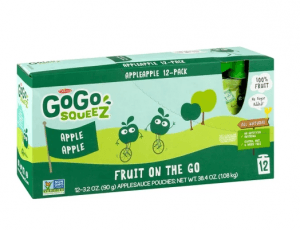 If you haven't had Gogo Squeez Applesauce Pouches you're missing out. Their applesauce on the go tastes great and comes in convenient little squeeze pouches for easy consumption.
Not only is their applesauce tasty and made from real fruit, but it is also non-GMO and gluten-free. This is a great alternative option for those backpackers who are vegan or have dairy and peanut allergies, because it is free of both.
These pouches are also free of high fructose corn syrup and the packaging is also BPA free, and when frozen can double as an ice pack. How ingenious is that?
Pros & Benefits
Tastes amazing
Squeeze Pouch!
Common allergen-free
No high fructose corn syrup
Made from 100% real fruit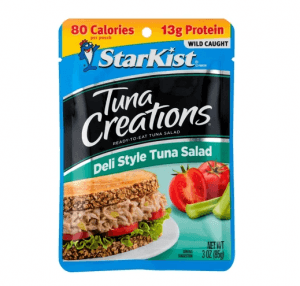 Another great portable protein choice, Starkist Tuna in a pouch is a quick meal addition that comes in multiple flavors. They have options from original to lemon pepper, herb and garlic, and even honey BBQ and sriracha.
The packaging is fairly flat in design, allowing you to pack multiple together without taking up a lot of room. Since you're already outdoors enjoying the environment and its inhabitants, you can take pride in knowing that Starkist Tuna is also dolphin friendly.
Pros & Benefits
Another great protein option
Packaging perfect for space optimization
Lots of flavors
Dolphin Friendly
7. Simply Balanced Dried Fruits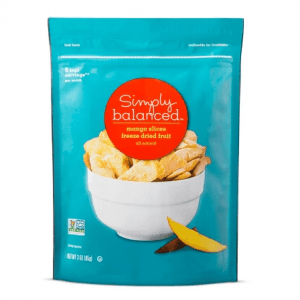 Fruit is an important part of any balanced diet, but it's not always easy or the best choice to pack a bunch of apples, mangos and bananas in your backpack. That's where Simply Balanced Dried Fruits comes in.
You get all the benefits and tastes of your favorite fruit, all while making it easy to carry and even easier to pack. Freeze drying the fruit allows them to remove all the water but still leave all the nutritional benefits.
Their fruits are also fat-free, allergen-free and contain no preservatives or additives. You can eat the dried fruit by itself, or combine it with the next food on our list, granola, to make a great cereal snack.
Pros & Benefits
Easy to carry
Have all nutritional benefits still intact
Fat-free, allergen-free
No preservatives or additives
Combines well with other foods and snacks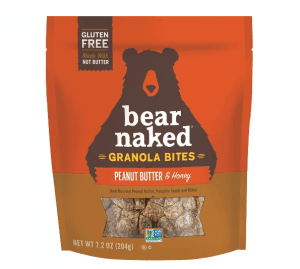 What can we say about granola other than the fact that it's tasty, nutritious, and great all by itself or when combined with fruit to make cereal? Bear Naked Granola is an excellent choice to take with you because they have so many flavor options to choose from and contains over 15g of non-GMO whole grains.
These individuals, ready-to-eat packages, are inspired by bears themselves, and let's be honest, their size and strength seem to suggest that they're eating pretty well in the wild, and so should you.
Pros & Benefits
Inspired by bears!
15g of whole grain per package
Non-GMO
Ready to eat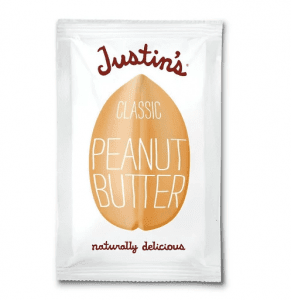 As you can tell by this list, we're a huge fan of squeeze pouches because they're easy to carry and even easier to eat. Justin's combines peanut butter with pouch style packaging, making this a backpacking no-brainer.
You can eat them individually or spread them onto bread or your favorite fruit. Another great protein choice, these pouches are sure to keep your stomach full and your energy levels high during your hike.
Justin's Peanut Butter Squeeze Pack comes in multiple flavors, as well as almond butter, all of which is vegan and gluten-free.
Pros & Benefits
Multiple flavors
Vegan
Gluten-free
Protein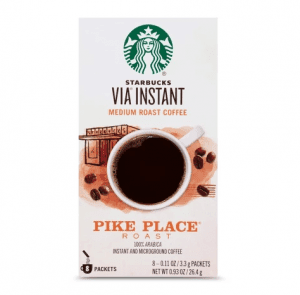 Although technically not a food, you're going to need tons of energy to keep you aware and active during your hike, and if you're worried about leaving your Starbucks addiction behind while on your backpacking trip, great news, you no longer have to. Starbucks Via Instant Packets come in many different coffee and tea blends, so there is something for even non-coffee drinkers.
These single-serve packages make coffee in as little as 10 seconds by simply adding hot water and stirring. Talk about instant gratification!
If you feel like your morning hike is starting off a little sluggish, or feel your energy waning halfway through your day, these instant packets are the pick-me-up you need!
Pros & Benefits
It's Starbucks in the woods!
Instant coffee or tea in 10 seconds
Individual packets take up very little room
Quick energy pick me up
When you're on a backpacking trip you want to leave the weight of the world behind, but you also don't want your backpack to put a bunch of extra weight on your shoulders either. This list of 10 Best Ultra Light Backpacking Foods To Pack is great for beginners and experts alike and can easily be found at most local Targets, Wal-Marts and other grocery stores.
When going on a trip who doesn't want to make the shopping as quick and painless as possible? You want to be prepared for your adventure, and your food should be too! Remember, a light pack is a life hack. Happy hiking!
Don't only want food suggestions, here are a few backpacking gears must-haves!