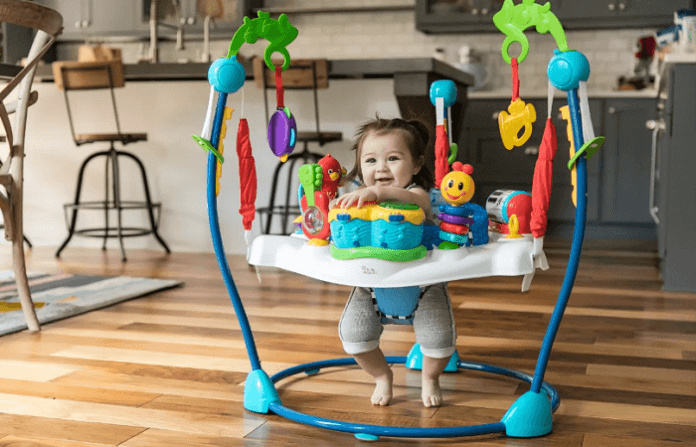 Let me just come right out and say it. Your infant needs a baby gym, and I'm not talking about a weight bench and little infant dumbells. 
I'm talking about a multi-purpose activity center for your infant to play, learn, exercise and entertain themselves. From increased coordination and motor skills to cognitive development and independence, the benefits of your baby having a gym are numerous. 
Not to mention, an activity center keeps your infant busy and occupied, giving you a much-needed break and a little time to breathe (we're looking at you dad). So without further ado, let's dive right into the world of baby gyms.
If you already have a baby gym or activity center at home, go check out Kiwi Co! They have plenty of activities that will develop your child's mind!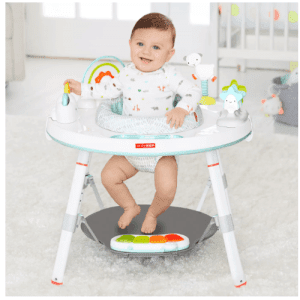 Suitable for ages: 3-18 months
Starting off our list is the Skip Hop Silver Lining Cloud Activity Center. With over 25 developmental activities and 3 different stages that grow with your baby, this activity gym is an excellent first choice for your child.
It has a 360-degree rotating seat with adjustable height so your child has easy access to all that this baby gym has to offer. The seat even stretches, allowing your future Mozart to bounce up and down while playing the light up piano. 
It even turns into a toddler table with chalkboard for when your little one hits the toddler stage. They just grow up so quick, don't they?
Pros & Benefits
A multitude of activities

3 different stages that grow with your baby

360-degree rotating seat

Light up piano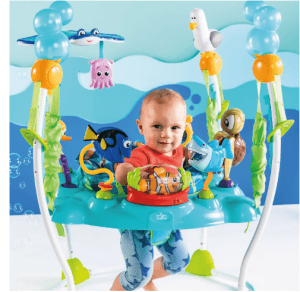 Suitable for ages: 6-12 months
Finding Nemo has never been easier with Disney's Finding Nemo Sea of Activities Jumper. All your favorite ocean characters have been brought to life for baby's amusement and learning. 
With over 13 toys/activities, baby is sure to be occupied all day with an endless ocean of options. The Sea Of Activities Jumper includes a high seat back for extra support as well as a 360-degree rotating chair.
Multiple sounds, lights, songs, and even a starfish-shaped teether will keep your infant interested for hours on end. There is also a starfish-shaped loop for you to attach your child's favorite toys to, allowing you to somewhat customize the activity center to your baby's liking. 
Pros & Benefits
13+ activities

High seat back for extra support

Starfish teether

Starfish loop to attach your child's favorite toys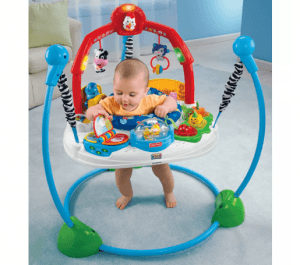 Suitable for ages: 6-12 months
If you have an active baby, you need the Laugh N Learn Jumperoo. Not only are they getting much-needed exercise and motor skills, but also educational development as well, through two different modes of use.
There's a musical fun mode which includes 6 toy stations and 2 overhead toys, complete with 5 melodies and activated lights. A second early learning mode offers sing-along songs, shapes, and animal sounds, turning your baby into the genius they were meant to be. 
To top it all off, the height is adjustable, and the jumper is made from real baby supporting steel, strong enough to keep them safe while they entertain and educate themselves. 
Pros & Benefits
Lots and lots of jumping 

Two Modes for different areas of child development

Adjustable Height

It's made from steel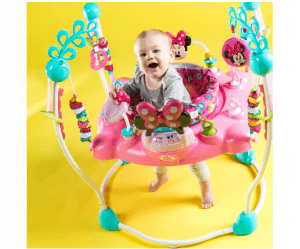 Suitable for ages: 6-12 months
If you've got a little princess in your life, this might just be the activity jumper for her. The Minnie Mouse Peekaboo Activity Jumper will help give your cute little angel the strength and coordination she needs to eventually walk all over you. 
The 360-degree rotating seat gives your child a front row seat to each of the 12 activities, all while Minnie giggles, entertaining your child through laughter and fun. The activity center includes extra toy loops so you can add some of your own customizations as well. 
This Minnie themed jumper comes with Minnie sounds, lights, and 4 adjustable heights to grow with your daughter. Not to mention it comes with a machine-washable seat pad, for easy cleanup, and the jumper is pink, a girl's favorite color. 
Pros & Benefits
It's Minnie

It's Pink

She's your daughter

She deserves it

Over 12 activities

Minnie sounds and Minnie giggles

Machine-washable seat pad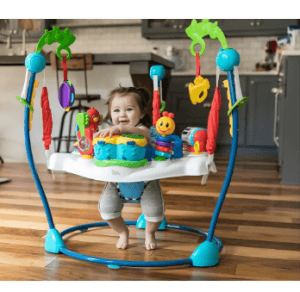 Suitable for ages: 6-12 months
The Baby Einstein Neighborhood Symphony Jumper was created specifically with your future rockstar in mind. The Neighborhood Symphony Jumper comes with light up bongo drums, a guitar that makes beads jump and move, a piano, and most importantly, a mirror so your baby can easily recognize the face of future stardom. 
Like our other activity gyms, this jumper comes with a 360-degree rotating seat, giving your child easy access to all the instruments. The jumper even speaks in different languages and has a removable toy station so your baby can play on the floor if they want to. 
Rock on!
Pros & Benefits
Multiple musical instruments

360-degree rotating seat

Different languages

Removable toy station for floor play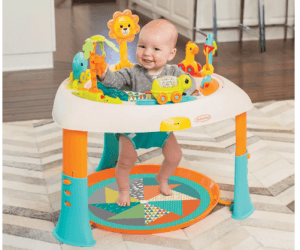 Suitable for ages: 4 months and up
The Infantino Go Gaga Activity Table allows your baby to sit, stand, and spin their way to toddlerhood. 6 toys and a palm tree with light up leaves and musical sounds are sure to keep baby entertained day in and day out. 
The Go Gaga Activity Table includes 3 height settings, a detachable seat, and easily converts to an activity table for when your infant grows up and just isn't an infant anymore. We're not crying, you're crying. 
It also comes with 3 detachable rolling toys for standing play, and easily folds for storage and travel, for all those exciting trips to your in-laws! 
Pros & Benefits
Sit, Spin, Stand

6 toys and a musical palm tree

3 height settings

Detachable seat

Activity table

Easy storage
Suitable for ages: 4 months and up
The Here I Grow Mobile Activity Center does it all. Activity center, push along, jumper, walker, you name it, it does it.
This activity center focuses on all 7 major areas of development: cognition, language, fine motor skills, senses, gross motor skills, creativity, and emotional intelligence. It also has 3 adjustable heights to grow alongside your baby, while they entertain themselves with 28 different activities.
The seat is also machine washable, and the center compresses down for easy cleanup and storage when not in use.
Pros & Benefits
4 stages to cover your growing needs

Works on all 7 major areas of development

3 adjustable heights

28 different activities

Machine washable seat

Quick storage
Every parent wants the best for their child and that all starts with an activity gym. Tap into their potential and allow them to learn, explore and grow in all areas of physical, mental and emotional development.
A baby gym is a wonderful starting foundation for your infant and the path to success for your child's future. There are many overhyped baby products your child can go without but this is not one of them. 
Help your baby become the best baby they can be and get them an activity center asap!
Learning how to be a new father? Here are a few tips you can add to your list!