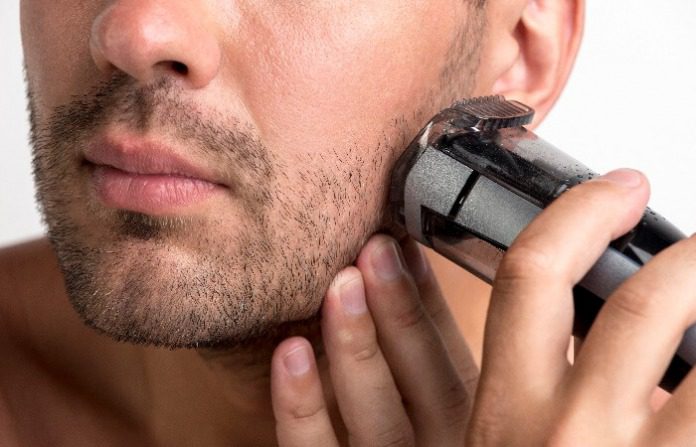 We hope you love the products we recommend! Just so you know, Men with Kids may collect a share of sales or other compensation from the links on this page.
Staying well-groomed in times like these is important because it gives you confidence. With the right tools, anything is possible. Below, we'll go over some of the best hair clippers for men so that you can start looking sharp from home.
If you're a simple guy and prefer traditional shaving razors, check out Harry's for some really great razor blades and other grooming products, including haircare, skincare, and body products! Harry's has a monthly membership program called Core. For $15/month, you can get exclusive benefits like discounts on your orders, faster shipping, and access to exclusive products!
Best Hair Clippers for Men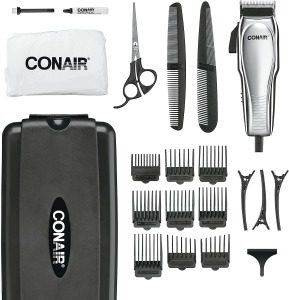 Conair has long been a trusted name in the business and with good reason. In short, this haircut kit contains sharp hair clippers for men along with comb attachments, cleaning oil, scissors, and a storage kit for ease of use.
2. Do It Yourself Hair Clipper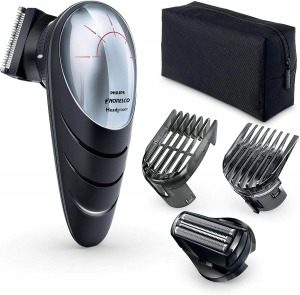 This DIY hair clipper by Phillips is specially designed to help you cut your own hair with ease. The clipper has a 180-degree rotating blade, making it easy for you to reach those difficult areas. Plus, the strong battery allows you to use the hair clippers completely cordless.
3. SKEY Professional Hair Clippers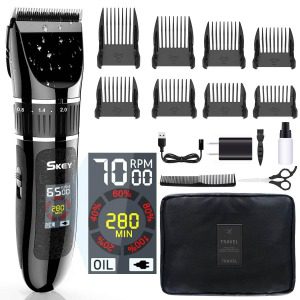 This pro haircutting kit contains one of the best hair clippers for men. With this kit, you'll get guide combs, a cleaning brush, scissors, and a comb for easy touch-ups. The clipper has two speeds and can be used cordless for ease of use.
4. Surker Professional Hair Clipper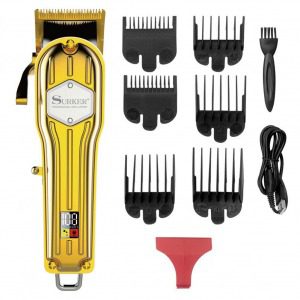 This hair clipper stands out from the crowd with its striking, red design. The clipper has a strong titanium blade and comes with 4 guide combs so that you can get the best haircut for your needs. Plus, the blade is fully waterproof so you'll be able to clean this clipper with ease.
5. Ceenwes Hair Clippers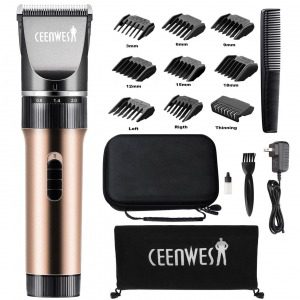 This is one of the best hair clippers for men since it includes a whopping 9 guide combs for all lengths of hair. The cordless clipper also includes 5 different blade adjustment settings so that you can get a precise cut every time.

6. Cordless Electric Hair Clippers 2
These cordless hair clippers for men have a hilarious design and have a sturdy, titanium ceramic blade. Most importantly, the clippers are super quiet for discreet use and have two different speeds for maximum versatility.
7. HATTEKER Hair Clippers
Looking for a pair of hair clippers for men that can be used in the shower? This is an excellent pick. These clippers come with 7 guide combs and can be charged via a USB outlet for ease of use. Plus, the embedded fine wheel adjustment makes it easy for you to fine-tune your haircut according to your sense of style.
8. Shortcut Pro Self-Haircut Kit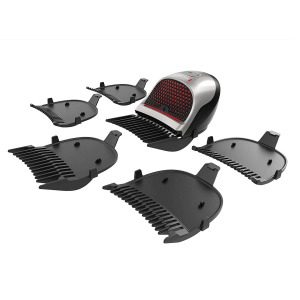 For clippers that are compact and easy to use on your own, this is an excellent choice. In addition, you can easily hold these clippers in your hand making them perfect for trimming down those hard to reach places. The rechargeable battery gives you 40 full minutes of power for a complete haircut on a single charge.
9. GOOLEEN Professional Hair Clippers
This hair clipper set comes with everything you need to have a successful haircut. Along with the high-quality clipper, you'll get 6 guards, and a clothing guard to keep yourself clean. Moreover, with a fully washable design, this is a great clipper set for anyone.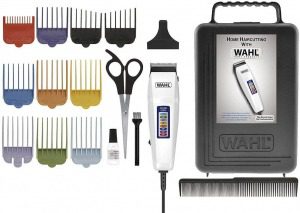 This color-coded haircutting kit is great for giving you a super precise cut. With 8 different embedded comb guards, you'll be able to customize your style with ease. Above all, the self-sharpening carbon steel blades are ideal for long term use.
Other Must-Have Grooming Essentials
Once you've picked up your hair clippers for men, it's time to pick up the rest of your at-home grooming essentials. Here are a few products that we'd recommend.
A High-Quality Shaving Cream: When it comes to keeping your face smooth and supple, picking out a high-quality shaving cream is half the battle. For a great, lightly scented small-batch option, check out this classy cream from OneBlade.
Proper Shaving Supplies: If you have an inadequate razor, as a result, you are not going to get a clean shave, plain and simple. For a dependable shave every time, check out this complete shave kit by Gentleman Jon!
Post Shave Serum: If you're prone to razor bumps or burns, you'll definitely want a high-quality aftershave serum.
Travel Shave Blade: Find yourself always coming and going? If so, pick up this compact razor from Gillette for a quick touch up on the go.
Hair Gel: Even with a good haircut, we could all use a little hair gel for that super smooth look. Try this one out for intense hold and shine.
These hair clippers for men best exemplify what you should be looking for in high-quality grooming equipment. Enjoy the convenience and ease of cutting your hair from home with any of these excellent hair clippers for men. If you're not into the naked face look, check out some beard and grooming products that'll keep you looking your best. Maybe you'd rather just impress the ladies with your sense of styles you might need these tips.