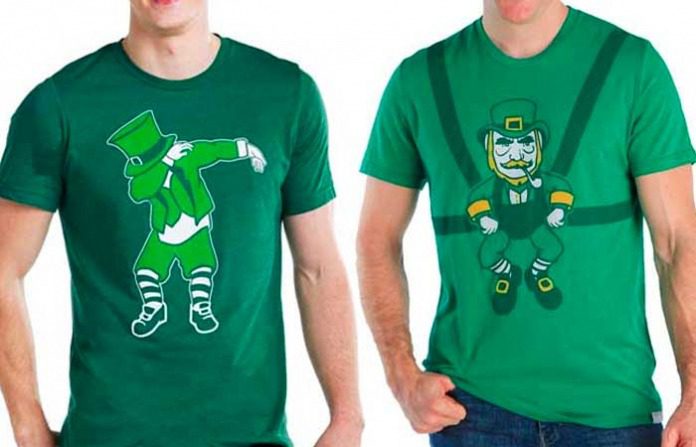 We hope you love the products we recommend! Just so you know, Men with Kids may collect a share of sales or other compensation from the links on this page.
Nobody ever wants to be the guy on St. Patrick's Day that shows up with lousy spirit and no green to show off. If you're lacking a little color for St. Patty's, it's time to up your wardrobe and bring out the luck of the Irish! A holiday-themed T-shirt is a great way to show a little spirit, get your green-covered and even grab some attention or cause a few laughs while you're having your St Patrick's Day activities
These are some of our favorite St. Patrick's Day shirts for the holiday:
When we all think of a leprechaun and Saint Patrick's Day, most of us immediately think of the little leprechaun on our favorite box of cereal, Lucky Charms. Bring a little nostalgia to your St. Patty's Day outfit with this t-shirt from Zazzle with the famous "magically delicious" catchphrase.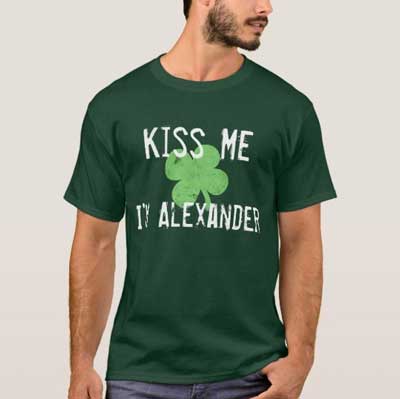 This one gives off a more traditional vibe to a Saint Patrick's Day outfit. The "kiss me I'm Irish" phrase goes back as long as anyone can remember, so why not throw it on a t-shirt for your holiday fit? Even better, this one comes personalized with your name, and the phrase "Kiss Me I'm _____". Play your cards right on St. Patty's Day and maybe you'll end up with a holiday smooch.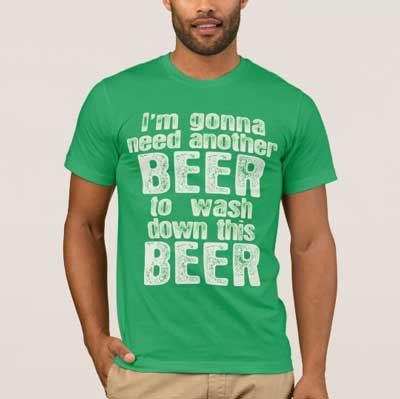 What do we all really enjoy doing on Saint Patrick's Day? Getting pinched? No, not really. Wearing green? Eh, sometimes it's just not my color. Speaking in a really terrible Irish accent that is so bad that it's almost certainly offensive to the Republic of Ireland? Yeah I mean of course that's fun, but not what makes us really enjoy this day in March every year.
We all come for the alcohol. Good ol' beer, whiskey, and any other feel-good beverage. This shirt lets all those around you know your priorities for the holiday.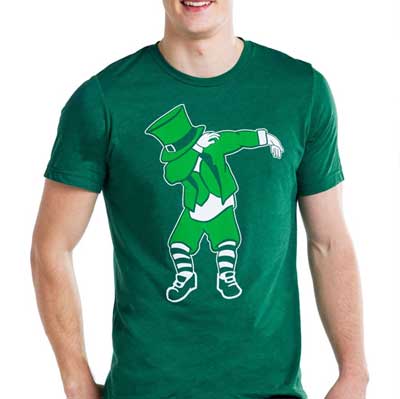 It's time to get hip and with the time's boyo. Let this Saint Patty's t-shirt do the talking for you, and have your leprechaun dab on those around you. Perfect for those who spend way too much time on social media.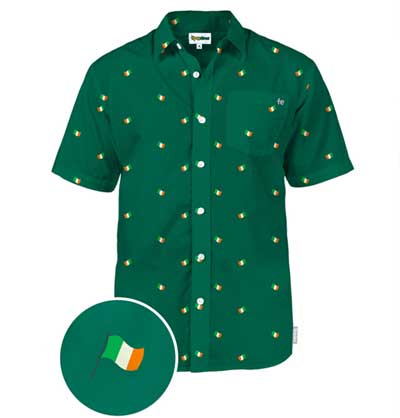 Not all Saint Patrick's day shirts need to be so informal and improper. Sometimes we need a nice button-up that says "I'm here for the dinner party, but don't let that stop you from offering me that 4th Guinness". Show off pride for Saint Patrick and the country of Ireland at the same time with this suave button-down shirt with little Irish flags.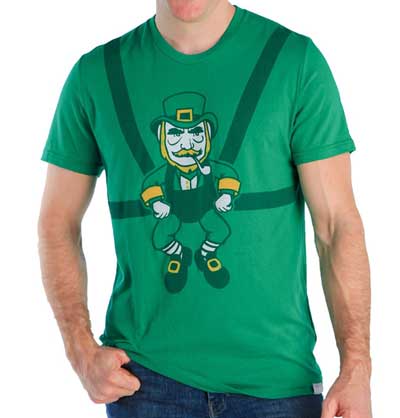 Sometimes when you're trying to reel in a lucky lady on Saint Patrick's Day, it's good to show how good of a potential father you can be. Carry around your own wee little boyo with this hilarious baby leprechaun t-shirt. The best part is you can still drink plenty when you're carrying around a fictional child.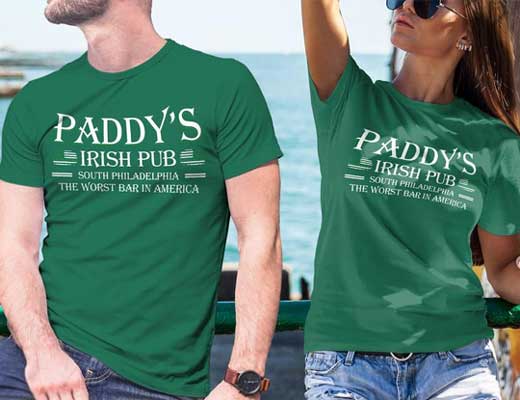 Anyone familiar with Paddy's Pub knows that Saint Patrick's Day is very important to the gang. Rep the worst bar in the world on Saint Patrick's Day with this shirt inspired by Always Sunny in Philadelphia. The gang may not save/destroy your Saint Patrick's Day directly, but maybe this shirt will help power your spirit.
Happy St. Patrick's Day
It's especially important to remind those around you that you should wear a mask to protect yourself and those around you. This Saint Patrick's shirt comes with a cool leprechaun rocking a mask to remind everyone to have a safe Saint Patty's holiday.
Saint Patrick's Day is a fun and unique holiday to share some laughs and fun with those close to you. It's carefree, it's informal and it's just about having a good time. So make sure to sport your best shirt for the holiday season, especially during a very unusual Saint Patrick's Day.