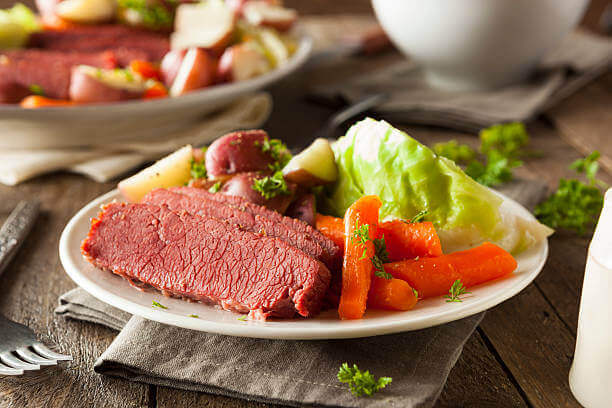 We hope you love the products we recommend! Just so you know, Men with Kids may collect a share of sales or other compensation from the links on this page.
St. Patrick's Day is right around the corner. Prepare your family a super festive meal with this delicious crock-pot corned beef and cabbage recipe. You'll love every bite of this scrumptious and tender recipe. Its magical flavor must be the luck o' the Irish!
Crock-pot Corned Beef and Cabbage Recipe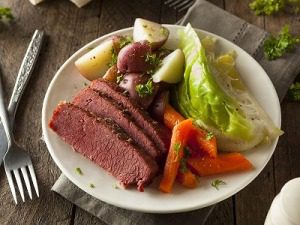 What You'll Need:
For this corned beef recipe, you'll want to ensure you're getting the best cuts of beef for the most delicious flavor possible. Finding quality brisket shoulders or pre-cooked corned beef in packaging can be a challenge at your grocery store. So we recommend checking out an online retailer to make it easy on you while giving you tons of amazing options. Our go-to is always Omaha Steaks, which has the best deals on the highest quality cuts of beef, perfect for your corned beef St. Patty's dinner.
Ingredients:
2 cloves of finely minced garlic
1 onion chopped and peeled
Sea salt to taste
Black Pepper, to taste
9 baby red potatoes, cut into quarters
4 pounds of corned beef brisket
1 packet of beef brisket spice mix (we love this seasoning mix from Etsy)
5 carrots peeled and cut into skinny strips
½ Head of cabbage chopped
3 ounces of beer (optional)
4 cups of water
Materials:
How to Make Corned Beef and Cabbage in a Crock-pot
Chop the garlic so that it is evenly minced. Peel the onion, chop evenly, and set aside with the garlic.
Peel the carrots and chop off the ends. Chop them into matchstick-like strands, so that they're easy to consume in a stew. Wash the cabbage and then chop into even pieces. Set aside with the carrots.
Take your red potatoes and wash them under running water. Cut them in half, and then in half again, so that each potato is quartered.
At the bottom of your slow cooker, place your carrots, onions, garlic, and potatoes in no particular fashion.
Pour water around your vegetables and place the brisket on top of the mix. Add in your spice mix for the brisket evenly dispersed around the meat.
Pour in beer (optional) and add in salt and pepper. Set the slow cooker on "low".
Cook the mixture for about 7 hours, leaving out the cabbage for later.
Add in the cabbage around the brisket. Set the cooker back to low and cook for another hour.
Serve immediately.
For a more family-friendly variation, you can swap out the 3 ounces of beer by using beef or chicken stock. In addition, water can be replaced with stock entirely for a heartier taste.
Side Dish Suggestions
While you have your main dish all set, what kind of side dishes go well with corned beef and cabbage? Here are a couple of things you may consider having on the side for your special St. Patty's day meal.
Brussels Sprouts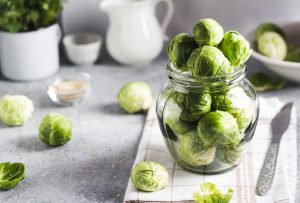 This hearty green vegetable pairs well with the meaty flavor of the dish. You can easily roast or saute these healthy sprouts to serve with your meal.
Asparagus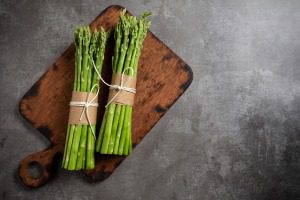 Another hearty vegetable, asparagus is great with any meaty dish like crock-pot corned beef and hash. If asparagus is in season when you make this dish, be sure to saute a couple of spears to serve alongside your meal.
Soda Bread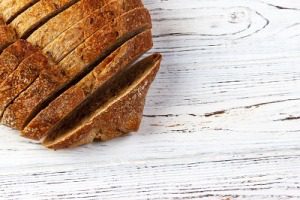 Irish soda bread is a St. Patrick's Day staple. This bread can easily help sop up some of the broth flavors of the corned beef and cabbage. Moreover, you can easily whip up a loaf from home or purchase some bread from your local bakery.
Apple Sauce
For a sweeter side, pair your corned beef and cabbage with some homemade apple sauce. This sauce is super easy to make and can be made while your corned beef is cooking away in the crock-pot. Check out Farm Fresh To You for fresh Apples!
Sauces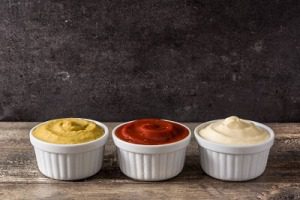 Any corned beef and cabbage recipe isn't complete with side sauces. Think of the basics like mustard, ketchup, but feel free to have horseradish available as well. Cranberry or other fruit chutneys (this Beetroot chutney is something special!) could also make a nice pairing depending on your preferences.
For dessert, you could look for Irish themed recipes: Irish spice cake, tea cake, or shamrock mint milkshakes are always a great choice. Or, if you are looking for some healthy and easy desserts, check out some of our recipes here!
St. Patrick's Day is a time for celebrating with your dearest loved ones and friends. This recipe can be assembled early in the day leaving you time to spend time with your folks instead of constantly cooking in the kitchen.
After a long day of celebrating St. Patrick's Day with your family, you'll be happy you have a warm, festive meal to come home to. Enjoy making memories over a hearty meal of corned beef and cabbage.
Looking for some fun activities to celebrate St. Patrick's day with your family? Check out this article!