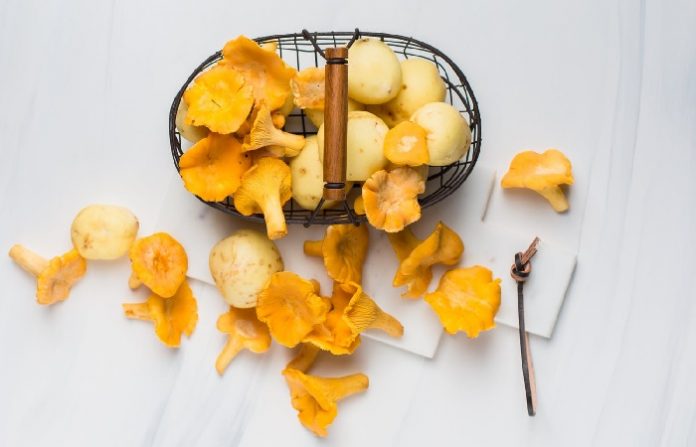 We hope you love the products we recommend! Just so you know, Men with Kids may collect a share of sales or other compensation from the links on this page.
Mushrooms definitely don't get the street cred they deserve and for everything they lack in beauty, they make up for in amazing flavor, unique texture and the taste of umami. They're a hard-working, underappreciated ingredient, but with these different and creative ideas for cooking mushrooms, we're giving them the spotlight—where they belong.
1. Chuck them in sauce!
Cut your mushrooms into strips, sauté them and add them into the sauce of your favorite spag-bol dish. This sauce normally freezes well so you can have spag-bol whenever you feel like it with minimal cooking and cleanup.
2. Make omelette bites
Again, cut up your mushrooms and add them to egg cups which are just omelette bites poured into a muffin tin and baked. This makes for a filling, healthy and tasty breakfast and these omelette bites also freeze nicely. Add some onions to them too, for extra flavor.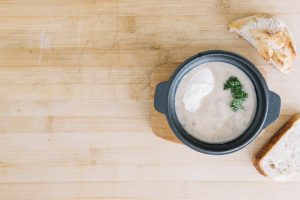 3. Feeling some soup?
Use your mushrooms to make cream of mushroom soup for a cold winter's night. This soup freezes really well – just freeze it and add the cream when you're ready to eat.
1/3 cup of butter
2 medium yellow onions
2 garlic cloves
4 cups mushrooms
2 tbsp plain flour (can add more than 2, depending on how thick you want it)
4 cups vegetable stock
1 bay leaf
3 tbsp heavy cream
A great place to get fresh ingredients is from Amazon Fresh! They can even bring it right to your door! Start your free trial today!
Directions:
Step 1 – Chop the onion, mushrooms and garlic.
Step 2 – Cook the veggies on the stove with the butter, then transfer everything into a pot. Add vegetable stock and bay leaf.
Step 3 – Boil till it thickens a bit, then add flour based on thickness you prefer.
Step 4 – Serve while hot with some heavy cream and a side of bread, or store in the refrigerator for up to 3 days. Enjoy.
Note: You can add in any herbs or spices that you'd usually eat with mushroom – nutmeg or dill are particular favorites but anything you want would work.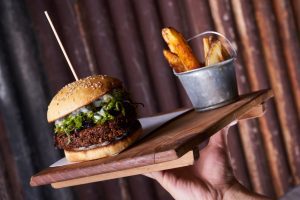 4. Cap on your burger
Have you ever noticed how the size of a portabella mushroom is almost the same size as a hamburger bun? Yeah, us too. Create your own burger with portabella mushrooms as a bun substitute. It's a healthy way to skip the carbs on a meal, plus, let's face it, you will probably have a juicer burger if you don't use the buns and use a mushroom instead. Or heck, if you love your bun that much, leave it and just add mushroom for flavoring!
5. Sauté them as an easy and delicious side dish
Adding butter to mushrooms and sautéing them until they turn a deep brown is basic, yet amazing. Sautéed mushrooms are a great side dish for your bacon and eggs in the morning, or your salmon and beans for lunch, or your steak and potatoes for dinner (smothered in gravy if I do say so myself).
Health Benefits of Mushrooms
I bet you never would have guessed that mushrooms are a superfood. Yep, they are one of the most health-promoting foods on the planet. Approximately 50% of edible mushrooms are considered functional foods, which means that they have a potentially positive effect on health, that goes beyond basic nutrition. A copious amount of scientific studies have shared a variety of ways mushrooms can be helpful in preventing and treating serious health conditions — and in improving overall health. Here are a few of their health benefits: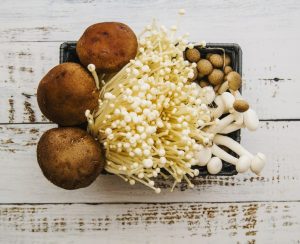 1. Nutritional value of mushrooms
Mushrooms are jam-packed with nutritional value. They're low in calories and are great sources of fiber and protein (good for people on vegetarian, plant-based diets). They also provide us with many important nutrients, including B vitamins, selenium, potassium, copper, and (specifically when exposed to sunlight) vitamin D. Even though mushrooms are typically white, they're packed with just as many antioxidants as more colorful fruits and vegetables.
2. Boosting immune system health with mushrooms
Eating mushrooms can provide you with impressive immune-boosting benefits. A study has found that eating shiitake mushrooms daily improves immunity — in a way that's not found in any pharmaceutical drugs currently on the market. Common white button mushrooms, as well as other mushroom types, may also have anti-inflammatory abilities.
3. Boosting longevity with mushrooms
You may know that antioxidants may help you live a longer and healthier life. An antioxidant-rich diet protects cells from free radicals, helping the body deal with the normal oxidative stress that destroys healthy cells.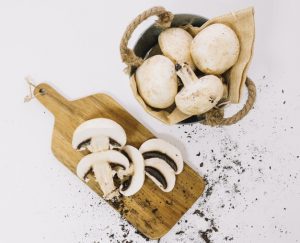 4. Improving your digestion with mushrooms
Mushrooms are a gut-friendly ingredient that you need in your diet. They are prebiotic, meaning they nourish the good bacteria in your gut. It's also been revealed that mushrooms help to balance the microbiome's beneficial bacteria.
5. Achieving weight loss with mushrooms
Mushrooms carry a lot of nutritional value with few calories and little fat. Mushrooms also have two types of dietary fibers, beta-glucans and chitin, which increase satiety and reduce appetite. In one study, researchers gave participants less meat and more mushrooms. After just one year, participants reported feeling healthier, lost a considerable amount of weight, had lower rates of diabetes, and their blood pressure and cholesterol decreased.
We hope you enjoyed reading up on our different and creative ways of cooking mushrooms and the health benefits of mushrooms. We hope you try out the recipes and cooking ideas mentioned.
If you're not just looking for mushroom recipes but want to eat healthy in general, a great way to do that is with Sun Basket! They have healthy food options that change weekly. You will definitely love them if you always run out of healthy food ideas.
Stay tuned for more interesting and fun articles!