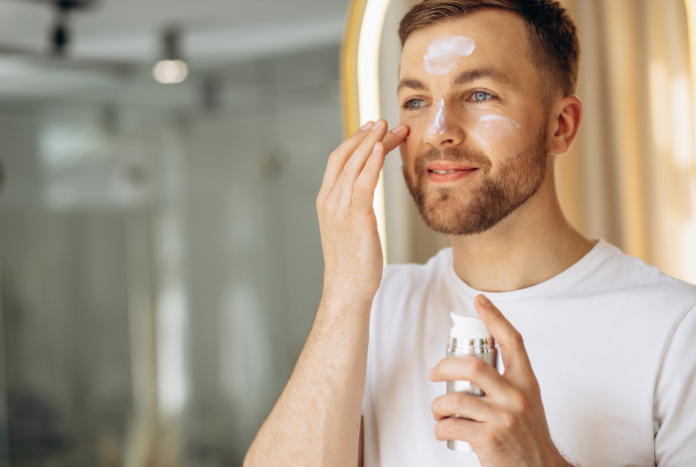 We hope you love the products we recommend! Just so you know, Men with Kids may collect a share of sales or other compensation from the links on this page.
If you hear the words men's makeup, you probably think of thick eyeliner and brightly colored eyeshadow. But the truth is, men's makeup can also be subtle and natural. Now more than ever, men are adding different makeup products to their skincare regimen to enhance their look.
5 Must-Have Men's Makeup Products for a Natural Look
When it comes to wearing makeup, most men are worried about looking too "made up ."However, none of these products are overly noticeable or cakey. They're simply used to hit zits, conceal dark under-eye bags, and even reduce deep-cut wrinkles. Therefore, you'll still look just like you – but better!
CC Cream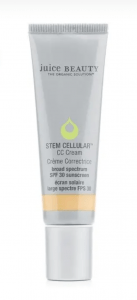 Before putting on men's makeup, you'll need to make sure your skin is primed and hydrated. As such, CC (color correcting) Cream should be part of your skincare regime. Its lightweight formula acts like a moisturizer, sunscreen, and foundation all in one. Therefore, you can reduce the number of products you use without jeopardizing your skin's health!
Some CC Creams (like Juice Beauty Stem Cellular CC Cream) can also improve your skin tone and texture over time. It contains aloe vera leaf juice which has wrinkle-reducing anti-inflammatory properties. And the vitamin-rich white grape juice helps to promote skin cell rejuvenation.
Cover-Up Concealer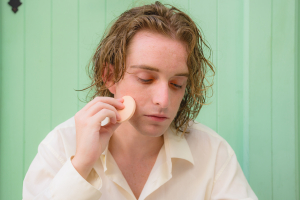 Cover-Up concealer is your secret weapon for smooth, even-colored skin. It comes in a stick or wand form and is used to correct any imperfections or blemishes. Dab it over an emerging pimple or swipe it over the bags of your eyes. You'll immediately notice that marks or discolorations simply disappear!
Tarte's Shape Tape Concealer is a cult favorite. It's crease-proof and provides up to 16 hours of coverage. Best of all, it comes in 30 color shades, so you can perfectly match your skin tone. It's a must-have for those late nights or early morning meetings where you need a bit of rejuvenation! 
Brow Gel
Do your brows sometimes look a little too unkempt? Do you struggle with stray, wiry, and unruly hairs? Well, a simple brow gel can instantly fix those problems! It's a clear formulation that gets swiped over your brows to keep those stubborn hairs in shape.
TooFaced's Fluff and Hold Laminating Brow Wax is our top choice. It's strong enough to last all day but soft enough to keep your brows looking natural. And to enhance your new beautiful brows, slap on a SiO Browlift treatment patch. They're ultra-hydrating and can reduce the appearance of forehead wrinkles. 
Blotting Sheets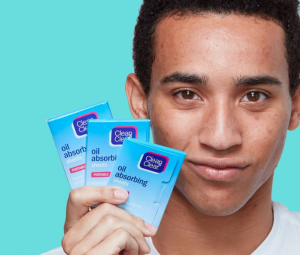 If you tend to have oily skin, then blotting sheets can be a huge lifesaver. They soak up extra oil, giving your face a shine and grease-free look. Although they are formulated for oily skin, they can be used on all skin types (especially if you're prone to breakouts).
To use your blotting sheet, simply dab it over your face while focusing on the T-zone and chin area. This is where most people tend to collect the most oil on their faces. Best of all, they come in a portable case that you can just toss in your briefcase or backpack. As soon as things get oily, take one out and blot it dry!
Lip Balm
There's nothing more painful than a pair of dry, chapped lips. Thankfully, a simple lip balm can solve that almost immediately. We recommend looking for ingredients like beeswax, shea butter, or petroleum. They'll add and lock in moisture to keep your lips looking soft and hydrated.
For an extra boost of hydration, put on this WinkyLux Sleeping Mask before bedtime. With ingredients like murumuru butter, hyaluronic acid, and vitamin E, your lips will be soft from the moment you wake up.
More Men's Care
As you can see, a few simple men's makeup products can help you look like the best version of yourself. In addition to makeup, it's also important that you have a proper skincare regimen. Healthy skin is the foundation for any basic makeup application. You can also look your best with this simple fat-burning or strength training workout.