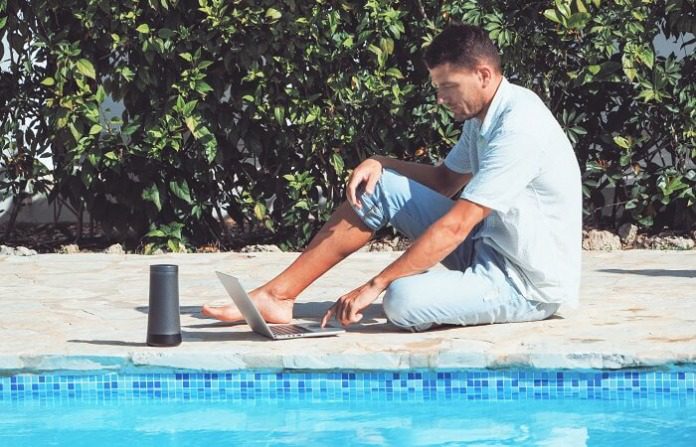 We hope you love the products we recommend! Just so you know, Men with Kids may collect a share of sales or other compensation from the links on this page.
Looking for a way to pump your jams while spending time outside? One of these outdoor speakers will fit the bill. Below, we'll dive into 10 of the best outdoor speaker Bluetooth options so that you can find the perfect wireless solution for patio or on the go listening. With 10 stellar options, you're bound to find the best outdoor Bluetooth speaker for your needs. 
Harmonious Hiking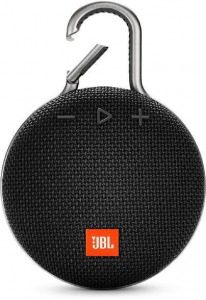 For a speaker that's truly portable, check out this carabiner clip option. This wireless JBL CLIP 3 speaker has a built-in microphone as well, making it easy for you to take calls even when you're far from home. With the included clip, you can easily attach this speaker onto your favorite backpack from Backcountry. Be sure to grab all your gear or pick from some must-have backpacking gear. And if you are looking for some all year round outdoor gear, Evo has gear for all seasons!
Waterproof design for added flexibility

Holds 10 hours of playtime on a single charge

Has a built-in carabineer clip for mobile playback
Rock and Roll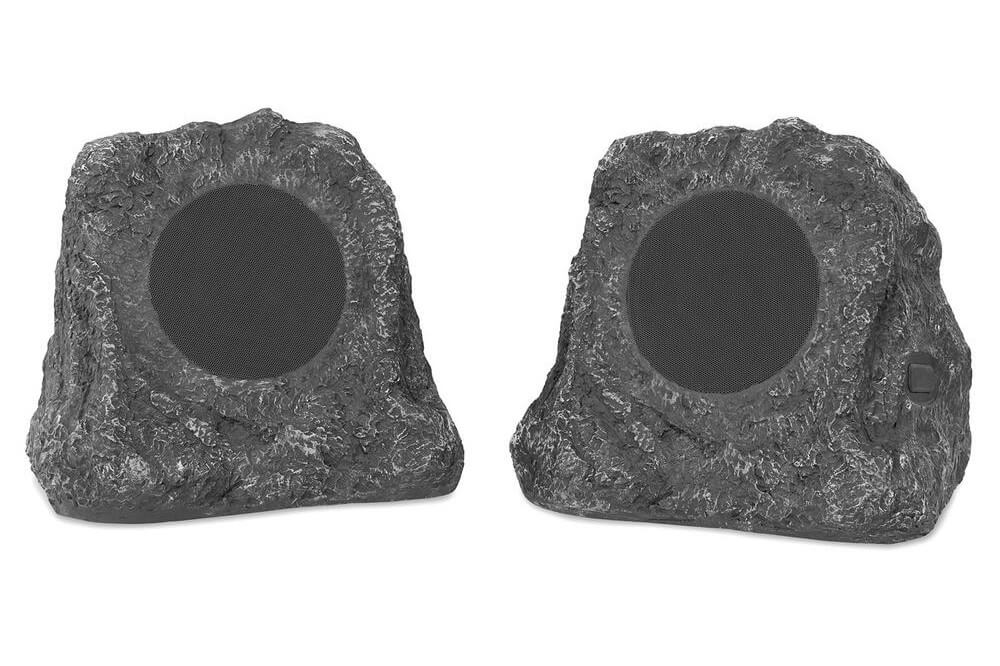 One of the best outdoor speakers wireless options are these Wireless Waterproof Rechargeable Bluetooth Outdoor Rock Speakers by Innovative Technology from Home Depot. These are perfect for setting out on your patio, deck, or otherwise. The weatherproof design makes this set one of the best outdoor Bluetooth speaker options you can find. 
Blends in with the surrounding area

30 hours of playback on a single charge

33ft range

Karaoke Party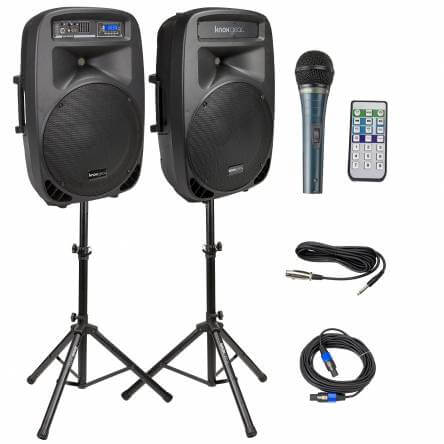 If you need one of the best outdoor Bluetooth speaker setups, this Knox Gear Active Loudspeaker Combo Set from Focus Camera is perfect. The large speaker pack gives you everything you need to jam out with ease, sing, and more. 
Complete sound system with two speakers and an outdoor microphone

Flashing LED lights 

Included cables 

Rugged Rhythms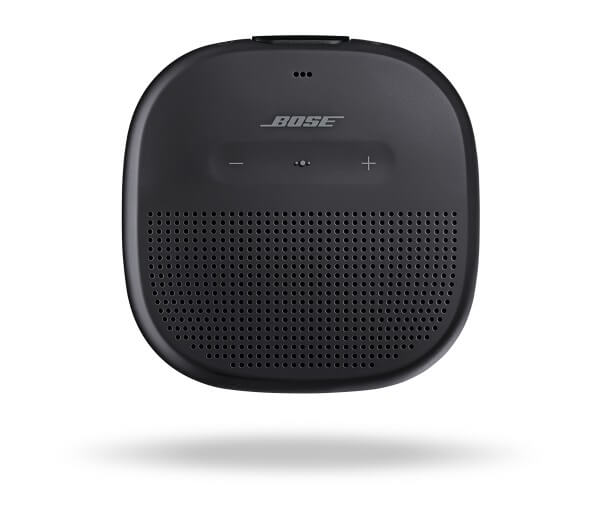 Looking for a waterproof speaker option that you can take anywhere? This Bose SoundLink Micro is one of the best outdoor Bluetooth speaker options available. This speaker from Bose may be tiny, but it is mighty. 
Compatible with Siri and Google voice commands

Waterproof speaker with Bluetooth compatibility 

Fully customizable with compatible IOs and Android app 

From Indoors to Outdoors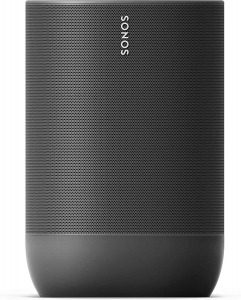 Want a speaker that makes it easy to listen to your music from inside to outside? This is one of the best Bluetooth speaker options available that also allows you to stream over wifi. The weather-resistant speaker, Move from Sonos, has a lot to offer. 
Stands up to a variety of weather conditions

11 hours of continuous playback on a single charge

Embedded handle for easy transport

Shock-resistant design
Solar Powered Jams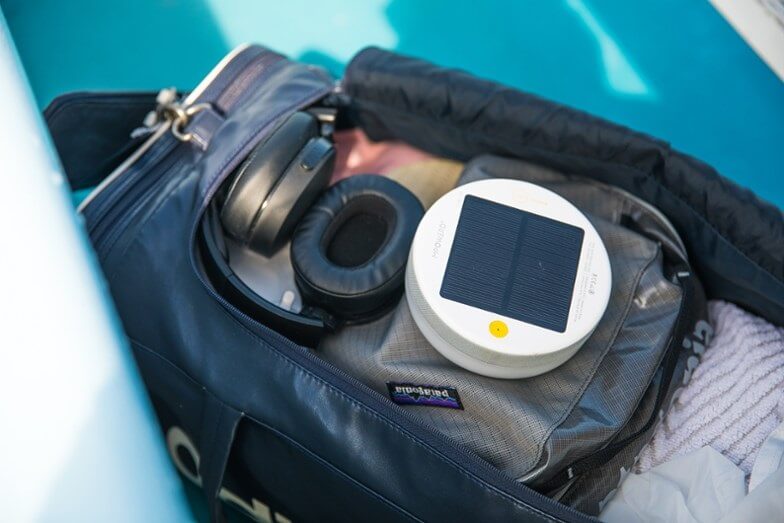 This water-resistant speaker is solar powered making it one of the best outdoor Bluetooth speakers available. With a built-in power pack, you'll be able to use this MPOWERD Luci Explore anywhere and everywhere. If you're bringing other gadgets along, make sure you have other solar powered options to keep them charged, too.
Embedded LED light

Water-resistant base

Bluetooth compatible

Can be charged using the USB cable or with solar power
Dancing on the Deck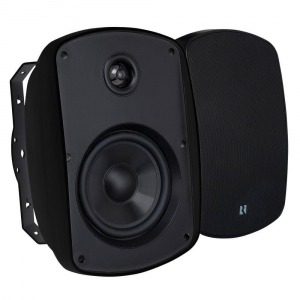 These Acclaim 5 Series OutBack 4 in. 2-Way Outdoor Speakers are perfect for installing on your deck or as a part of your outdoor patio set up. The rugged dual speaker set puts out 88 dB of sound at once making this an ultra-powerful sonic tool you're sure to get good use out of. 
Easy to install with included mounting brackets

Weather-resistant design

Sleek, black appearance
Portable Playlists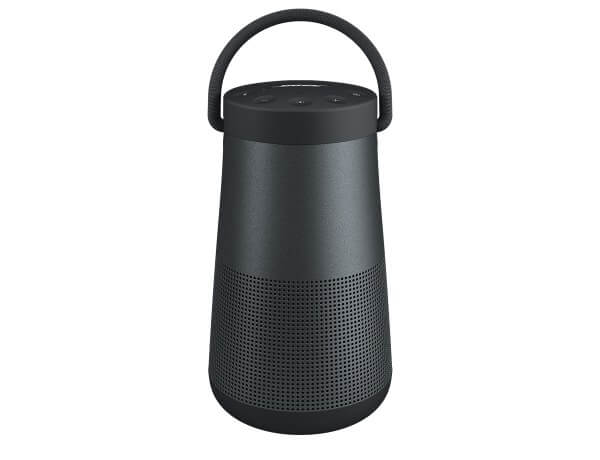 This Bluetooth speaker is fixed with a handle for easy transport from one location to another. The sleek Bose SoundLink Revolve+ speaker offers surround sound for a complete listening experience regardless of whether you're indoors or outdoors.
Water-resistant design 

Shock-proof construction perfect for versatile use

Flexible fabric handle

Complete Outdoor Set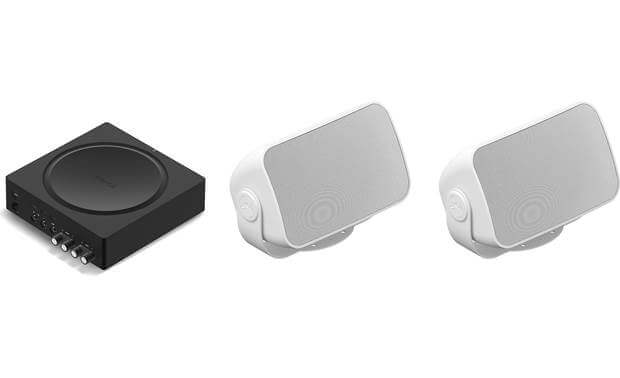 Ready to transform your outdoor space? Invest in this weatherproof 3-piece set Outdoor Set from Sonos for the ultimate outdoor upgrade. You can customize your listening experience using the compatible Sonos app or Apple airplay. With two outdoor speakers and a high-quality amplifier, you'll be able to experience your favorite songs to their fullest potential. 
Full outdoor set

Weather-resistant design

Embedded subwoofer
Sing While You Swim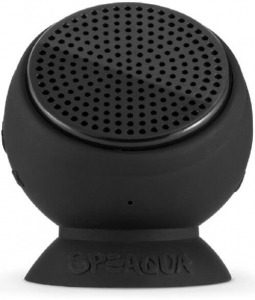 Pick up this fully waterproof speaker just in time for summer. The Vibe 2.0 by Speaqua can store up to 1000 songs at once or play songs directly from your device for added flexibility. Plus, the embedded microphone allows you to take and make calls directly from the speaker. There's also a suction cup attached to the speaker, so you can easily place the speaker in the shower, at the pool, or even on a boat!
Fully waterproof speaker

Compact design

Bluetooth compatible
You don't have to stop jamming when you go out adventuring. Enjoy the outdoors with any of these best outdoor bluetooth speaker. No matter where you go, capture the scenery with one of the best drones on the market. If you liked this article, be sure to look into some Summer Gadget You Gotta Have.