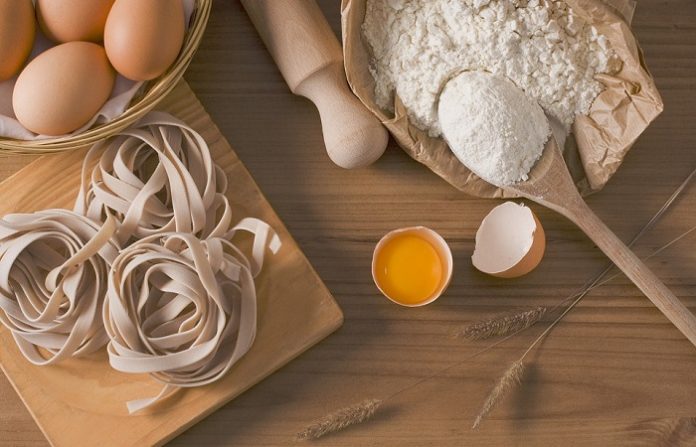 We hope you love the products we recommend! Just so you know, Men with Kids may collect a share of sales or other compensation from the links on this page.
Spaghetti, or pasta, is known for its high carb content. If you're after a great source of carbohydrates, a big bowl o' spaghetti bolognese will do just the trick. But the question is, is spaghetti healthy? Considering it's high in carbs, consuming spaghetti in large amounts would be bad for you. However, if you keep your carb intake in check, pasta/spaghetti is perfectly healthy! If you're still a little anxious to go right in with a big bowl of pasta, aka a big bowl of carbs, these low carb and low calorie pasta alternatives are perfect for you!
Low Carb Zucchini Noodle Bolognese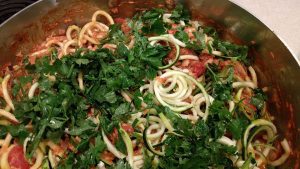 Whip up 2 servings of this delicious low carb zoodle bolognese following the recipe below, you won't be disappointed. This meal is super delicious and only 322 calories per serve! How insane!
What You'll Need:
2 medium zucchinis
1 cup lean beef mince (if you're vegetarian, you can use jackfruit)
1 tablespoon olive oil
1/2 yellow onion, finely diced
2 cloves garlic, minced
1/2 teaspoon dried oregano
1/2 cup tomato bolognese sauce
Salt and pepper
1 tablespoon shaved Parmesan
Parsley (optional)
We highly recommend getting your ingredients from Amazon Fresh! It's just convenient and stress free! Especially if you're a busy dad like me, it will make your morning that much easier! You can start your free trial here!
What To Do:
Step 1 – Using a spiralizer, slice your zucchini into noodles or peel into ribbons and then slice into long noodles. Our zucchini noodles will act as our spaghetti for this recipe.
Step 2 – Heat your pot of water on the stove until boiling.
Step 3 – Heat olive oil in a fry pan over a medium-high heat. Add onion and garlic and sauté for 1-2 minutes or until onion is translucent.
Step 4 – Add mince and brown. If your meat is clumping, use a wooden spoon to break apart.
Step 5 – Add dried herbs and tomato bolognese sauce and simmer for 3-4 minutes or until mince is cooked through. Season with salt and pepper.
Step 6 – While sauce is cooking, add your zucchini noodles to boiling water and cook for 1 minute or until just tender. Drain and place in serving bowls.
Step 7 – Top with your sauce and a sprinkle of Parmesan.
Step 8 – Dig in and enjoy your low cal and low carb tasty 'spaghetti'!
Low Carb Egg Noodles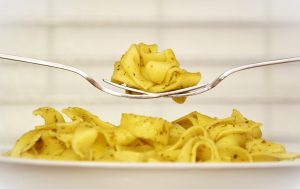 You won't believe me when I tell you this recipe contains 0 carbs. None. But trust me, it's true! This low carb egg noodle recipe is perfect for anyone on a ketogenic diet, or anyone watching their carb intake. This recipe will give you two serves of low carb egg noodles, which you can add to a carbonara sauce in place of spaghetti/pasta, and are only 111 calories per serve!
What You'll Need:
1 ounce cream cheese, room temperature
2 eggs, room temperature
1/2 teaspoon wheat gluten, optional but it creates a better texture
Pinch of salt (or to taste)
We highly recommend getting your ingredients from Amazon Fresh, start your free trial here!
What To Do:
Step 1 – Preheat your oven to 325F.
Step 2 – Add the cream cheese, eggs, and gluten to your blender.
Step 3 – Blend on high for 1 minute, or until smooth.
Step 4 – Pour out on a silicone mat that's placed on top of a heavy baking pan.
Step 5 – Smooth out into a rectangle shape, keeping the batter very thin. You don't want thick spaghetti noodles. Unless you do, each to their own.
Step 6 – Bake at 325F for 5 minutes, or until set. Be sure NOT to over-bake your noodles!
Step 7 – Remove from the oven and let set for a couple of minutes before cutting and using as desired. These are best if they are gently simmered in a sauce or broth for a few minutes before eating. Try them in a carbonara recipe, using these noodles instead of spaghetti, or avocado and chicken sauce, whatever base you wish!
Butternut Squash Pasta with Tomato Sauce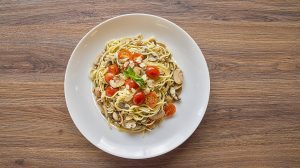 This butternut shash pasta recipe is very low carb and only 411 calories per serve, so fairly low cal also!
What You'll Need:
1/2 yellow onion, finely chopped
3 minced garlic cloves
2 tbsp extra virgin olive oil
1/2 cup crushed tomatoes
1/2 cup heavy whipping cream
1/4 cup mushrooms
1/2 lb butternut squash
1 teaspoon chopped rosemary
Salt and pepper, to taste
Pinch of parmesan cheese, for serving (optional)
Nuts, almond or peanuts (optional)
We highly recommend getting your ingredients from Amazon Fresh, start your free trial here!
What To Do:
Step 1 – In a saucepan, fry up your onion and some of the garlic in the olive oil. Add crushed tomatoes, rosemary, cream and combine well. Simmer for 15 minutes with the lid on.
Step 2 – Mix with an immersion blender until smooth. Salt and pepper to taste.
Step 3 – Fry the mushrooms in oil until golden brown. Add the rest of the garlic and fry for a few more minutes. Salt and pepper to taste.
Step 4 – Make butternut squash zoodles, using a spiralizer. You can also shred the squash very thin with a knife. Cook in salted water for a few minutes and then drain.
Step 5 – Serve the tomato sauce and garlic mushrooms with butternut squash zoodles. Top with parmesan if desired.
We hope you enjoyed reading our article and tried out some of our low carb and low cal spaghetti/pasta alternatives for a healthier meal!
If you enjoyed this food article and would like to read more, we have a few articles you may like. If your looking healthy weight loss foods, this one is for you. We also have another article on healthy breakfast sandwiches that won't break the bank. Lastly, we also have healthy desserts, yes desserts.
Oh and lastly, if you're just looking for another zucchini spaghetti recipes, check this one out, it's carb-free!
Enjoy!