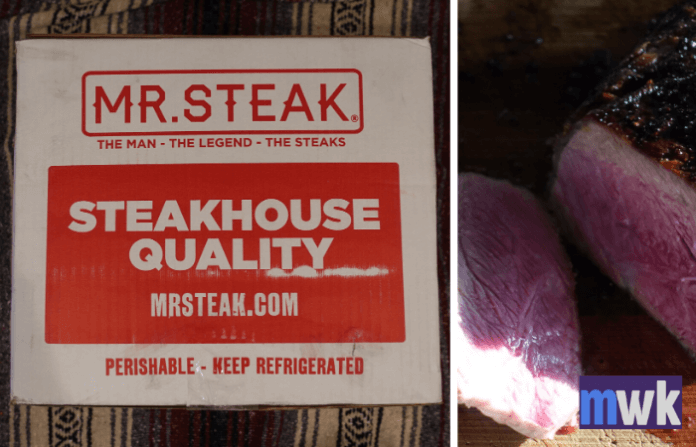 We hope you love the products we recommend! Just so you know, Men with Kids may collect a share of sales or other compensation from the links on this page.
If you've struggled with getting your usual meat cuts as of late due to the COVID-19 pandemic, then this article may just be your saving grace. We tried and tested Mr Steak, an online meat delivery service that delivers steakhouse quality meats directly to your door, so that you can cook with quality meats on high-quality grills. Those meats taste amazing and stand out from the rest. Mr Steak sources their beef from a couple of small midwest ranches (most of them with between 200-500 head of cattle) and their meat is transferred directly from the ranches to the packer. An additional benefit to purchasing your beef from smaller ranches like this is that they generally produce much better beef than you will find at your traditional grocery store or warehouse club. Keep reading for our Mr Steak review!
If you'd like to test it out yourself be sure to use PROMO CODE: HUNGRYREADER for a free NY Strip Steak! Looking for other great quality meat? Perhaps some Bison to grill up? Check out The Honest Bison for Bison burgers and Bacon wrapped Medallions!
Before we get into it, what is a grill out without some good old fashion sports. We all know whenever there is a fight on TV or sports on TV, the grill comes out! Since you are bound to be grilling after this review, you might want to also check out ESPN and pair your MR. Steak cookout with some sports live on TV with ESPN!
What We Liked?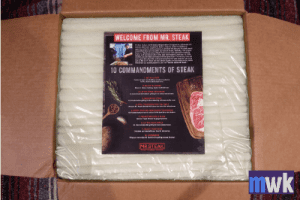 The Mr Steak box that your meat comes in includes dry ice and insulation which is 100% bio-degradable. Just run the insulation material under the sink or use it as plant soil and the rest can be recycled. Each piece of meat is individually vacuum sealed which makes storage super easy. The meat is in its own tray with easy peel off clear wrap so you can just peel it off and marinate it on the tray. The preparation guide that comes in the box with a weight label on each piece of meat as well.
The Quality?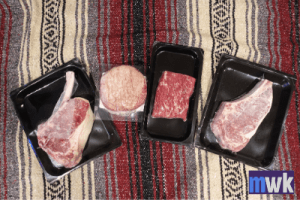 The meat arrived very fresh and not hard frozen. This is great as you can start cooking without needing to allow much time for your meat to thaw. You can start preparing for your special steak dinner right away or take it camping! Just in case you were wondering, the steaks are all USDA Prime status!
The Cost?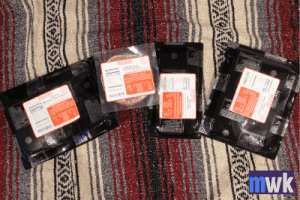 Mr Steak has a variety of different options so the costs may vary. For example, the 20 oz prime bone in ribeye runs for $46.50 ($2.33 per oz). The boneless ribeye runs $39.50 for a 16 oz steak and the cowboy steak is $89 for a 32 oz steak. Mr Steak also offers other steak cuts like t-bone, NY strip, porterhouse, filet, and flat iron.
A good way to save a bit of money with Mr Steak is to buy one of their curated boxes and sign up for a monthly subscription to save $15. Mr Steak also regularly has some deals and coupons you can use.
Here's a promo code you can use to save money on your Mr Steak box! PROMO CODE: HUNGRYREADER
How Can Mr Steak Improve?
Although the packaging is great, it would be even better if they could separate each burger petite on its own.
Our Initial Thoughts?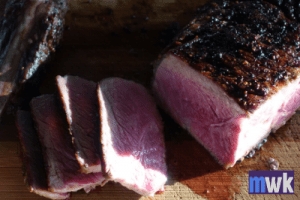 We chose to cook the cowboy steak which is usually the best and most satisfying cut. We took it out from the freezer the night before. Then, put it in the fridge to thaw as instructed on the label. It was easy to just peel off the clear packaging for preparation. Marinated with salt and pepper, we used a grill-sear method with a 15 minute rest in between, and wrapping in foil. This method uses medium heat to cook the steak to half done then seared with high heat to create the crust and flavoring. Then finally rest for another 15 minutes before cutting.
Our Final Thoughts?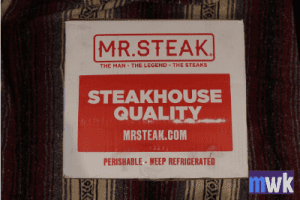 The meat cooked to perfect medium rare with a crispy crust. Since we only used salt and pepper for seasoning we could taste the great quality of the meat. It has great flavor and you can taste the freshness, with no gamy or frozen taste at all. However, the meat is more on the lean side even though it's a Prime cut. It would be nice to see more marbling and fat on this steak. Although, we have to say it was a very tasty meal. For the quality, simplicity, and cost, it is hard to beat.
All in all, based on the great beefiness and quality of the steaks, we would definitely recommend Mr Steak if you are looking for some great steaks delivered straight to your door. With summer right around the corner, these steaks are perfect for the grill. In addition, this a great way to make a special meal for Father's Day, Fourth of July, or just a great weekend dinner!
We hope you enjoyed our Mr Steak review and that our Mr Steak review could help you out whilst you're in quarantine, and give you back your dearly missed steak dinners! Don't forget the perfect beer or glass of wine to go with it.
Looking for some tips on grilling? Be sure to check out the best BBQ's and accessories you need and the best BBQ recipes as well.