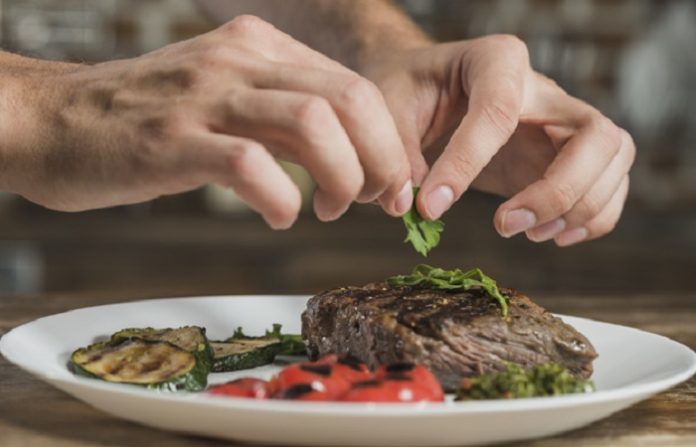 We hope you love the products we recommend! Just so you know, Men with Kids may collect a share of sales or other compensation from the links on this page.
Are you trying to lose weight? On the lookout for an all new diet that could get the job done but don't know which one? Have no fear because in this article we're going to explain all the basics of the keto diet.
What is the Keto Diet?
The keto diet is known by a few different names, such as the ketogenic diet or even the LCHP diet (low carbs, high protein). This diet is an extremely effective means of losing weight because let's be honest, carbohydrates are real good at making you pack on the pounds. This is because carbs, including refined starches or fiber, are converted into sugar once digested. So yes, this includes cutting out soda and even fruit juices.
The objective of the keto diet is to enter a new metabolic state called ketosis. After eating few carbs but high amounts of protein for three days or so, your body takes energy from ketones stored in fat instead of the sugars stored in carbs. Entering ketosis makes it super easy to lose weight and has its own benefits such as increased cognition, mood and awareness.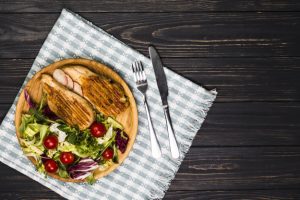 Nutritional Intake for the Ketogenic Diet
You may already be thinking, what exactly do I eat on the keto diet? Fortunately, the answer isn't overly complicated.
On the keto diet, you want every day to match the following intake of nutrients: 70% should come from fat, 25% should come from protein and 5% should come from carbohydrates.

Why so much fat? Because fat is the most important part of the keto diet. As explained earlier, this is how you'll enter ketosis and start using fat as your internal source of energy. Fats contain twice as much energy and calories as proteins or carbs. Triggering ketosis takes advantage of this process so that your metabolism has extra energy to work with.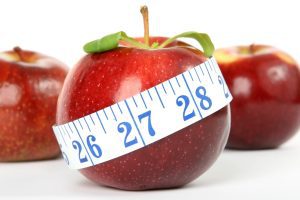 The reason why a quarter of your nutrients should be protein is because it too is an important energy source. As you already know, protein is great for building mass during exercise and for getting a more complete nutritional intake. So in order to maintain your muscle mass, you ought to focus on always getting enough protein while on the keto diet, not just a lot of fat.
The 5% carb intake is also there to increase the intake of essential nutrients. Here are a few ways you can get just the right amount of both. In fact, many important groups of fruits and vegetables have carbs and any healthy diet should consider the vitamins and minerals inside these foods.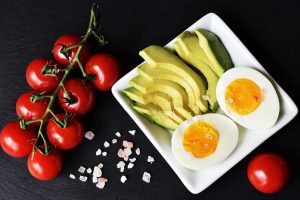 Meals for the Keto Diet
You must be wondering what exactly you can eat on this diet? Hopefully the answer will please you. While entering or within ketosis you can eat the following foods: eggs, dairy (including full-fat cheese, butter and yogurt), fatty fish such as salmon, avocados, low-carb vegetables (leafy greens, tomatoes, mushrooms, peppers), poultry and meat, nuts and seeds.

Check out Wild Alaskan Company for sustainably sourced fish that can be shipped right to your door! Use PROMO CODE: TRENDY15 at checkout for $15 off your Wild Alaskan Box!
Foods you will want to avoid include: baked goods and bread, any sweet or sugary junk food including soda beverages, legumes, any high fructose fruit, high carb vegetables (including potatoes and corn) and pasta.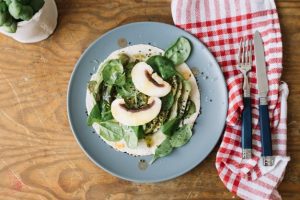 Here are some specific examples of what you might eat in a day.
For breakfast, you could have a mushroom omelet. Eggs are important because they're so nutritious and are a great source of protein, and mushrooms are a low-carb veggie.
For lunch, consider having a tuna salad with various vegetables like tomatoes or celery. Seafood will give you good amounts of protein and fatty acids, plus green vegetables can give you some of your carbs and a lot of vitamins.
And for all you snack food junkies out there, finding keto-friendly snacks shouldn't take hours wandering around, staring at the back of labels at grocery stores. Try out a keto snack box from Cratejoy! Cratejoy offers all sorts of fun subscription boxes, but a must-try are the specially curated keto snack boxes they offer. You can try new delicious snacks without worrying if it won't fit your keto plan. Every month, you can discover something new with Cratejoy!

For dinner, try something very meaty, like pork chops or steak mixed in with some veggies and a lot of butter or buttery sauce.
There you have it. The keto diet is strict, but has been proven to be effective. And if you're trying to tone up, this is one of the best ways to finally get that six-pack you used to have in college back. Your body will burn off your belly fat and stop relying on carbs for its energy all the time. It may take a while to see results though, so stick to it and if you're doing it right, it won't let you down.