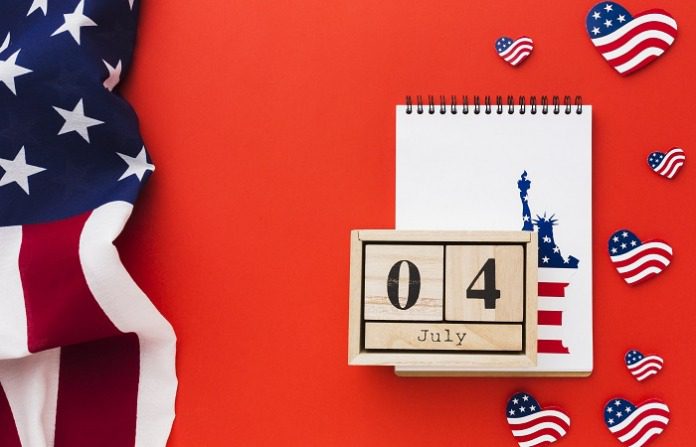 We hope you love the products we recommend! Just so you know, Men with Kids may collect a share of sales or other compensation from the links on this page.
With July fast approaching, we're getting closer to the biggest holiday of the summer time: Independence Day. When you think of the 4th of July, there's no doubt that the first things that come to mind are backyard cookouts, baseball games, pool parties, and watching stunning fireworks at night.
However, we all know sometimes the weather doesn't quite turn out how you want it to. But don't fear, just because you can't watch a baseball game or have all of your friends over for a BBQ doesn't mean that you can't have fun doing other things this 4th of July.
Things To Do For 4th of July: Indoor Edition
If you're looking for great snacks and a fun way to spice things up, check out Harry & David for food boxes for any occasion! We've compiled a list of things to do for the 4th of July – indoor style! Keep reading for our several great ways to celebrate the 4th of July inside.
1. Cookout? No, Cook-In!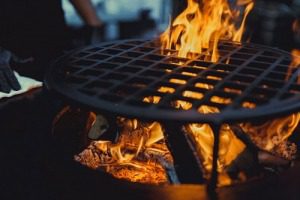 Would you like to enjoy a potluck with your friends, without getting eaten alive by mosquitos or burnt to a crisp in the sun? We have an easy fix. Message your pals, assign friends with certain dishes to bring, and have your own Southern-style cook-in! We're talking the greatest American dishes known to man: Apple pie with vanilla ice cream, macaroni and cheese, hamburgers, mashed potatoes, corn on the cob, fried chicken, and grilled cheese with tomato soup. Don't worry, just because it's not a cookout doesn't mean that you can't break out your trusty Traeger grill or check out the best grill and accessories for your BBQ. Every 4th of July get-together needs beer too. Thank us later.
2. Host A Games Night!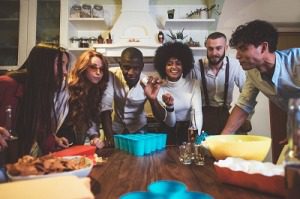 Nothing's more American than a good old-fashioned games night! Celebrate the 4th of July holiday by gathering in your living room with friends or family and getting competitive. Not feeling competitive? Work together to crack a cold case! Hunt A Killer is a fun murder mystery game that will have the whole family enthralled. So get your notepad and start piecing together the clues to solve the crime. Happy hunting!
3. Did Somebody Say Karaoke?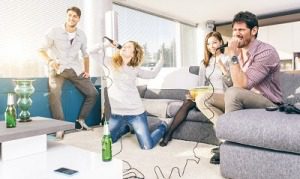 You don't need celebrity performances to celebrate the 4th of July! Break out the karaoke and you and your friends can take turns putting on performances for each other (and the cat). To really get in the spirit of the holiday, have a patriotic-themed karaoke party. Everyone needs to be dressed in red, white, and blue. Crazy glasses, hats and other accessories are not required, however, encouraged. Sit around your living room, grab a beer or a bottle of wine, and belt out some of your favorite tunes. "Party in the USA" must be on the karaoke playlist, so be sure to have your Music playlists ready to go!
4. 4th of July-Inspired Movie Night!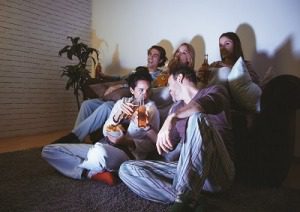 Grab your friends, partner, dog, or whoever your celebrating the 4th of July with, snuggle up on the couch with a Big Blanket, and get ready to watch some flicks that capture the spirit of your 4th of July festivities. Search through Hulu and Disney+ for some great films, new and old! Whether you choose to watch Jaws, Independence Day, Captain America, or Forrest Gump, you seriously can't go wrong with these picks. If you're looking for things to do indoors, a 4th of July-inspired movie night is a must!
We also have some great movie recommendations.
5. Make Fun 4th of July Foods!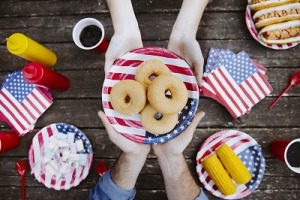 There is an endless supply of red, white, and blue DIY recipes on the web that you and your friends or family can attempt to whip up in the kitchen, and some of them are seriously amazing. Have a sweet tooth? Try and whip up some fun 4th of July-themed drinks, stars, and stripes-themed pie, or delicious flag-colored alcoholic drinks. After something a little saltier and savory? Go for a refreshing, festive-looking salad or red, white, and blue sliders. Dish up a Red, White, and Blue appetizer basket from Gourmet Gift Baskets… Yum! These DIY 4th of July foods will definitely keep you busy in the kitchen and most importantly, very full for your 4th of July festivities. Need some ideas? Be sure to try out these amazing BBQ recipes.
6. American History Trivia Time!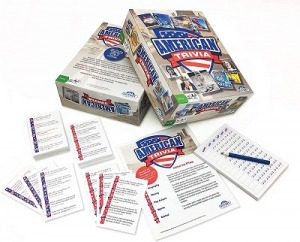 If you think American history trivia is all fun and games, you're very wrong! A trivia competition gets a lot more heated than you might think — if you and your friends are as competitive as us! Quizzing each other on American history will make the time fly by. Get one person to search up some online trivia and you be the judge of the rest. May the best (whoever paid the most attention in class) player win. Game on!
7. Watch The Macy's 4th of July Fireworks Spectacular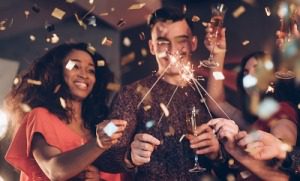 We hope you enjoyed reading our list of party ideas to do while indoors. To help commemorate the 4th of July, check out these fun games you can play with your friends.