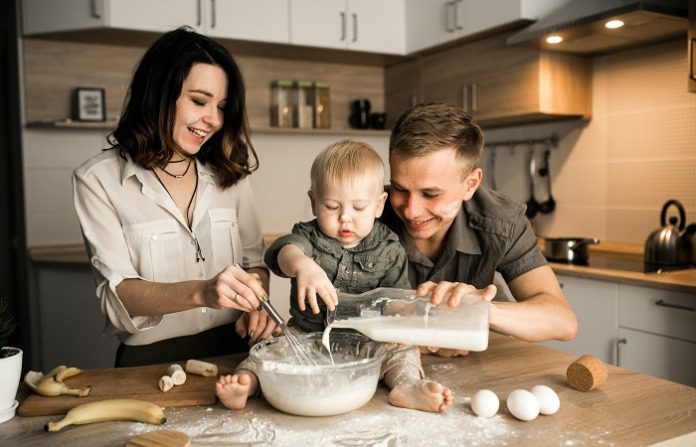 We hope you love the products we recommend! Just so you know, Men with Kids may collect a share of sales or other compensation from the links on this page.
Looking for some fun ways to spend time with your kids indoors? If so, check out these great baking with kids ideas. Not only are these desserts easy for bakers of all ages to whip up, but they'll taste great too. We also have some fun and educational games for kids if you need more activity inspirations! As we know now that all the kids are home, it can be pretty hard to keep kids entertained.
Below, we'll give you some foodie inspiration so that you and your kids can devour some handcrafted desserts.
Baking With Kids – Fun And Tasty Ideas
Cookies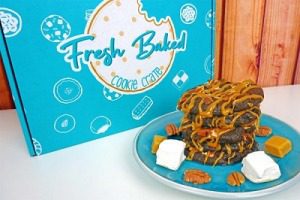 Who doesn't love cookies? Fortunately, this monthly cookie kit, Fresh Baked Cookie Crate, from Crate Joy makes it easy for you to craft delicious cookies from home. This cookie kit is one of the best baking with kids ideas since your subscription also comes with a different lesson embedded in every recipe box. Enjoy making scrumptious treats with your kids while watching them learn.

If you enjoy easy baking kits and mixes like these. Be sure to try some from Stonewall Kitchen, as they have a wide variety of cooking supplies. They require less ingredients and the instructions are easier for you and the kids to follow.
Rice Krispies Bars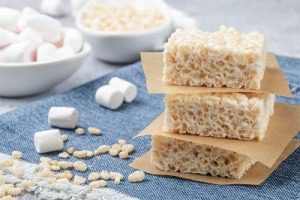 Rice Krispies Bars are a classic, and so easy to whip up from home. All you need is butter, marshmallows, and Rice Krispies. Thus, making them one of the best ideas for baking with kids. You can also swap out Rice Krispies for a different cereal like Fruit Loops for a modern take on a classic. Moreover, to make it extra fun. The kids can also cut Rice Krispies into fun shapes using cookie cutters, add extra toppings, or decorate. You can find all sorts of adorable shaped cookie cutters on Sur la Table.
Cupcakes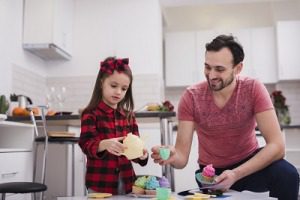 You can't go wrong with cupcakes. Even if this kid-friendly recipe is too complicated, you can always opt to use some cake mix and packaged frosting. Your kids will love decorating the cupcakes with different colors and designs. This classic dessert is certainly one of the best baking with kids ideas.
Chocolate Covered Strawberries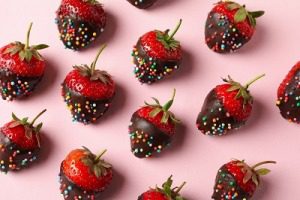 This recipe is incredibly simple and still incredibly delicious. Have your kids dip fresh strawberries into melted milk chocolate and set them to cool in the fridge or freezer. If you want to be extra festive, you can add a layer of sprinkles as well. Or, if you'd like to step it up a notch, try this marbled chocolate covered strawberry recipe!
You can also switch it up and chocolate coat marshmallows, Rice Krispies treats, pretzels, and graham crackers for added fun.
Perfect Pancakes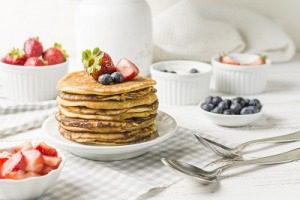 Who doesn't love pancakes? Pancakes are the perfect easy breakfast! Simple to make and easily customizable. You can even make pancakes a weekly tradition with your kids. With pancake mix nowadays, making pancakes is super quick and easy. Experiment with different flavors, toppings, and shapes for some extra excitement.
Fruit Salad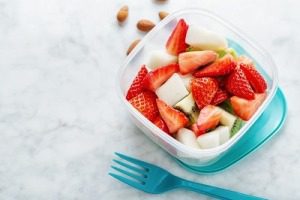 Fruit salad is great for giving kids a sweet option that's still healthy. To make things fun, you can have your kids use cookie cutters to craft fun shapes out of fleshy fruits like watermelon or cantaloupe.
You can also find awesome ways to get creative with your kids while cooking for a great price at Dollar Tree! This can be a great yet cheap activity to try with your kiddos! It is also a great way to get kids involved in making their food and enjoying it as well. As a busy parent, grocery shopping can be difficult and time consuming. Luckily, there are services like Farm Fresh to You where you can get healthy fruits and veggies delivered.
Sweet Smoothies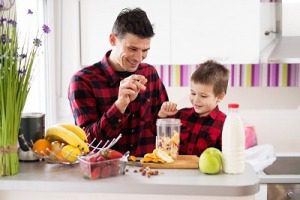 Baking with kids on a regular basis can be very time consuming, so why not make a sweet smoothie together in the meantime? Your kids can help you pick out the different fruit combinations to put in the blender and will love this naturally sweet snack. Smoothies are also a great way for picky eaters to get their nutrients and vitamins in. If you have a picky eater, try some of these protein smoothies recipes to make sure your child is getting all the nutrients they need.
Ice Cream Sundaes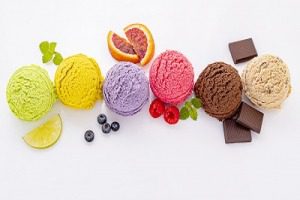 I scream for ice cream! Set up a sundae bar with your kids for a delicious, hassle-free dessert everyone can enjoy. From ice cream flavors, to toppings, the kids will have a blast making their own sundae and eating it! Or, you can even try making your own ice cream with an ice cream maker.
Polished Popcorn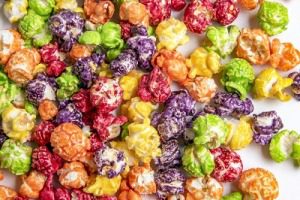 Popcorn doesn't have to be plain! Spice up your movie night by having your kids help you coat popcorn in a melted chocolate or caramel drizzle. If all else fails, you can all taste test delicious popcorn seasonings instead. As usual popcorn goes best when watching a show or movie, so be sure to have your Hulu or Disney+ ready. You can turn it into a fun family movie night!
 Other Ways To Get Your Kids Involved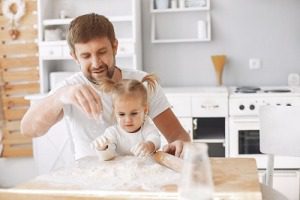 Still not feeling inspired with these baking with kids ideas? Here are a couple of other ways you can get your kids involved.
Cook Together Instead — If baking isn't drawing any interest, go ahead and search for some cooking with kids' ideas. You can even order kid-friendly recipe boxes from services like Raddish Kids.
Make It A Regular Activity — Get your kids excited about baking by ordering a monthly subscription box from Kid's Baking Club. Each month they'll get a different kid-friendly recipe to make from home.
Pick Out Bakeware Together — If your kids are too young to start baking, why not have them pick out bakeware to help create delicious desserts? You can find excellent options from Sur la Table that will get your kids excited to learn more about the baking process.
Finding great baking with kids' ideas doesn't have to be difficult. With any of these simple yet delicious recipes, you and your kids will create mouth-watering desserts. Moreover, Cooking or baking with the kids is a great way to combat picky eating. They become invested in the process and the end result, which is the action of eating the food.
If you are unable to make food from scratch on a daily basis, check out these places for kid friendly meals. Have your kids choose the meals they want to eat as it'll give them a sense of control and make them more inclined to eat foods.