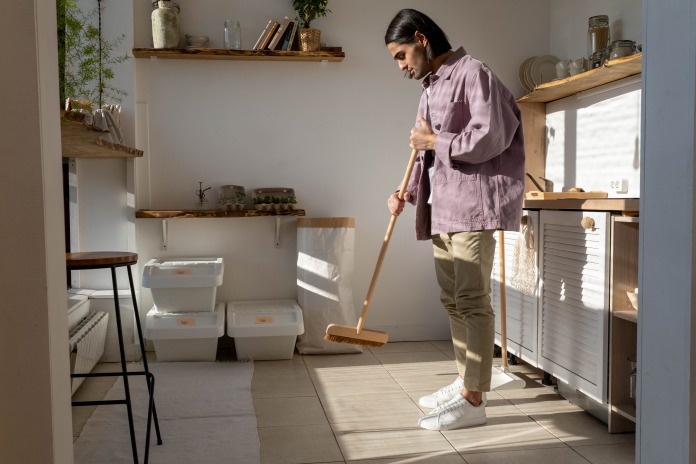 We hope you love the products we recommend! Just so you know, Men with Kids may collect a share of sales or other compensation from the links on this page.
Forget spring cleaning! Now that fall is approaching, it's time to brainstorm some ideas on how to organize your home for the new season. Maybe you're struggling to deal with the knickknacks piling up in your office. Or the body care products jamming your bathroom cabinets.
Either way, it's time to give your home a deep clean, so you'll be ready to spend more time indoors!
How to Organize Your Home – 10 Budget-Friendly Tips
1. Clean Out the Fridge
Make room for the fall harvest by giving your fridge and a good scrub down. Toss out any old condiments, rinse out your drawers, and make sure that there aren't any rotting or wilting fruits and veggies hanging out. You can also invest in plastic kitchen organizers to store containers or other small items.
2. Organize Your Cupboards
Just like your fridge, your pantry or cupboards should also get the fall cleaning treatment. Old cereal boxes, crackers, and chips could be stored in the back where you can't see them, so it's time to clean everything out to make room for more delicious goodies this season. A lazy susan turntable is a great way to store spices, oils, and condiments in your pantry so you can see everything you have!
3. Practically Store Bills and Documents
One easy step for knowing how to declutter your home starts with a simple plastic folder. An accordion folder from Target is a game-changer for loose documents, stacks of bills, and instruction manuals. Plus, they can be labeled and file accordingly (which is much nicer to look at that when they're thrown into a cabinet or drawer!)
4. Invest in Plastic Tubs
If you have many small items that you simply can't part with, then store them in these durable, plastic storage bins instead. They can easily slide under your couch or bed, making them one of the best products if you want to know how to organize your home.
5. Donate Last Season's Fashion
If you have sweaters, jeans, or dresses sitting unworn and unused in your closet, then it's time to donate them to your local charity. Not only will you be giving others the chance to rock your favorite styles, but you'll also be making more room for those chunky-knit sweaters and fur boots that you can wear this season! It's a great way to organize your home for free!
6. Sort your Bathroom Products
Did you know that sunscreens, lotions, and make-up expire just like the food in your pantry? It's also a good idea to go through your products every year to toss anything outdated and take up valuable space. If you're having trouble keeping everything organized, you can consider adding extra storage or shelving for more space.
Stock up your bathroom with cost-saving products from Boxed. Get your toilet paper in bulk without the membership fees and a trip to wholesale stores. Boxed offers the best prices for bulk items, delivered to your door. If your schedule is always full, try out the convenience of Boxed!
7. Redo Your Workspace
If you want to know how to organize your home without breaking the bank, then think about tidying up your workspace. Maybe add a new potted plant, a few cute pieces of stationary, or a small trinket dish to hold your paperclips and sticky notes. You'll be ready to start the fall season fresh and completely focused!
8. Make Your Jewelry Sparkle
Fall is the ultimate season for accessories, which means you might be wearing your statement earrings and flashy necklaces more often than you were in the summer. Take the time to polish, clean, or untangle any of your favorite pieces so that they'll be ready to wear when you go out for brunch or date night in the next few weeks.
9. Take Care of Your Wet Boots and Shoes
Unfortunately, the weather can be quite unpredictable in the fall, which means rain can happen when you least expect it! If you get stuck in a downpour, this shoe and boot dryer is guaranteed to save the day. It uses forced air to dry your shoes, gloves, sneakers, and anything else that gets too moist or damp.
10. Tackle the Garage
Although it may not be everyone's favorite room in the house, the garage is an important place to keep organized if you want to know how to declutter your home. Instead of letting your skis, toolkits, and miscellaneous boxes pile up in the corner, install an affordable garage shelving unit to make some space.
Home Cleaning Tips
You don't have to wait until next season to give your home a deep clean! We have tips to help you keep things clean all year. You might also be interested in reading how to maintain a clean house apple vinegar! What are you waiting for? Time to get scrubbing!