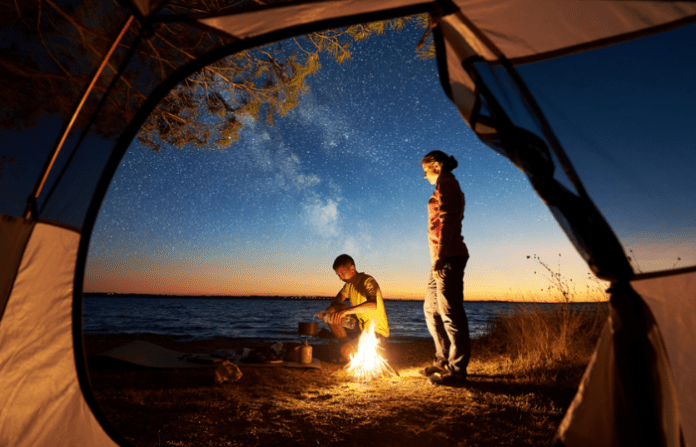 We hope you love the products we recommend! Just so you know, Men with Kids may collect a share of sales or other compensation from the links on this page.
High-quality camping cooking gear can elevate your camping experience. Why eat dehydrated foods and dry packaged snacks when you can whip up gourmet meals like a professional chef? Just because you're camping doesn't mean you can't enjoy grilled steak, cheesy pasta bakes, or fresh fruit crepes or pancakes!
Before moving forward if you are looking for a wide selection of steaks and steak gift baskets then Kansas City Steaks is the best place. Kansas uses Midwestern corn-fed beef to create and sell Filet Mignon, Kansas City strips, top sirloin, T-bones, Porterhouse and ribeye steaks, beef roasts and Steak burgers.
5 Pieces of Camping Cooking Gear for Making Meals Outdoors
In this article, we'll share a few must-have pieces of camping equipment from Cabela's to use in your outdoor kitchen. With the right camping cooking equipment, you can say goodbye to boring food and hello to mouthwatering meals!
Gas Stove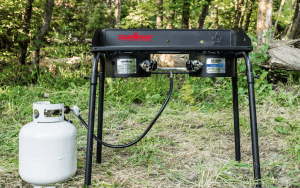 Sure – cooking over a fire pit is a fun camping experience. But it simply doesn't compare to having a 2-burner gas stove. With this piece of camping cooking gear, you can cook just like you would on your stovetop at home. Boil water for pasta, fry eggs and bacon for breakfast, or make melted paninis and sandwiches as snacks! Having a stove is a gamechanger when it comes to cooking meals while you're camping.
Cookware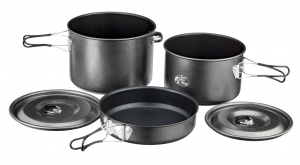 A set of pots and pans is a must for any outdoor chef. This 5-piece set is made from heavy-duty aluminum, so it's built to last for many camping trips to come. It comes with two pots (sauces and pasta), a frying pan (meat, sandwiches), and lids for keeping things warm. And if you have a 2-burner gas stove, you can cook multiple things at one time!
Cast Iron Skillet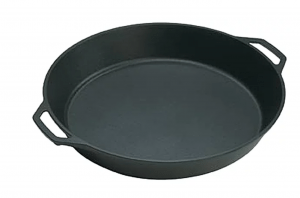 A cast-iron skillet is a perfect tool to take with you camping. It's built to last and can withstand high heat from the stovetop or open fire. Plus, your options for dishes are endless. Pasta bakes, deep-dish pizzas, pancakes, burgers – you name it, a cast-iron skillet can cook it! We love cast iron products from Lodge, especially this 17" skillet with handles. It's large enough to feed multiple hungry mouths at once.
Grill/Griddle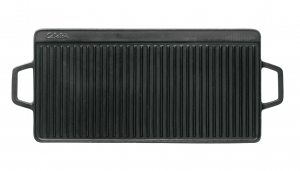 There's nothing like waking up to the sound of sizzling bacon first thing in the morning. And guess what? Having an outdoor griddle makes that possible! This double-sided grill/ griddle is a versatile piece of equipment that you should take with you on your trip. The flat side is perfect for pancakes and fish, while the ridged side is great for bacon, hamburgers, and other meats.
Cooler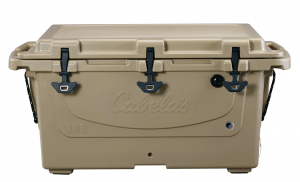 One of the biggest disadvantages of camping is the lack of refrigeration. However, you can still keep things cold and fresh for days with an insulated cooler. This 100-quart cooler has an airtight seal that can keep ice frozen for up to 12 days! It's also made from a rugged resin shell that can withstand even the toughest of outdoor conditions (yes – it's even bear-resistant!). Now you can bring milk, cheese, meats, beers, or any other perishable item with you camping!
Silverware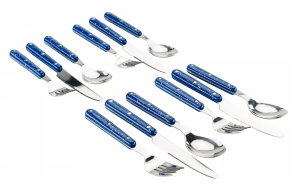 Unless you plan on eating like an animal the whole trip, it's important to bring along a silverware set. Make sure you have enough forks, spoons, and knives for everyone on your trip. And don't forget this campfire roasting fork for s'mores (you can't go on a camping trip without roasting s'mores over an open fire!
Collapsible Dinner Set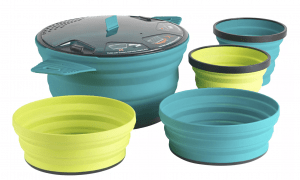 Dishes and plates can take up a lot of room in your outdoor kitchen. But this collapsible dinner set won't! Each piece can fold down and nest so it's easy to store in your tent, backpack, or car. Plus, they're made with food-grade silicone, so they're easy to clean with just a little soap and water.
More Outdoor Cooking
We're excited to see what kind of meals you create using this camping cooking gear! Going on a camping trip in summer is one of the best activities to do with friends in family. While it can be challenging at times (here are a few hacks for family SUV camping trips), a homecooked meal will always bring people together. Not sure what else you can make outdoors? Try checking out this list of the best protein sources to keep you energized while outdoors!