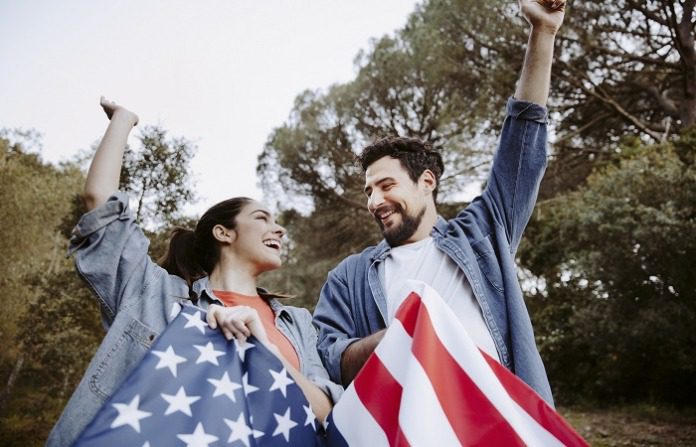 We hope you love the products we recommend! Just so you know, Men with Kids may collect a share of sales or other compensation from the links on this page.
Ready to celebrate the fourth with your friends and family? Check out these super fun 4th of July games. We've compiled a list of some of the best 4th of July party games for adults and kids, so there's truly something for everyone. Try out one of these 12 great options and get the party started.
Of course, if its 4th of July, it's time to pull out the grills! If you don't have a BBQ grill yet and you're looking for the perfect one, check out Traeger grills for a high quality grill and read our guide to the must have grill accessories and amazing BBQ recipes too!
Looking to cool off during this summer's holiday weekend? YETI has got you covered with insulated water bottles and tumblers to keep your drinks nice and cool while you're doing your outdoor activities!
1. Play a Game of Kan Jam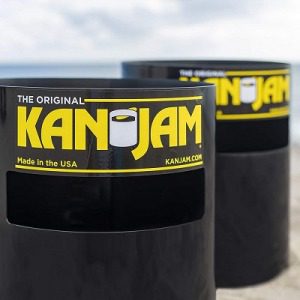 Kan Jam is a classic frisbee based game where players must work together to throw and then deflect opposing frisbees into opposing weatherproof goals. Best of all, Kan Jam comes in three different USA-themed varieties, so this game is sure to look and feel super festive on any lawn. Kan Jam is one of the best Fourth of July games since it gets everyone in the family can have a blast.
2. Try Your Hand at Yard Pong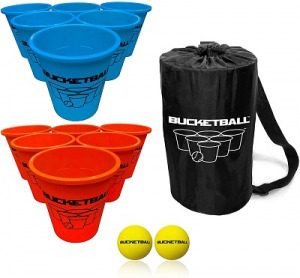 You may think regular pong is one of the best 4th of July games, but just wait until you check out this giant yard pong set. This giant-sized game is perfect for use in a yard or even at the beach. The set also comes in a handy carrying case which makes it easy to take from place to place. Of course, when playing this don't forget the beer or the wine! If you want to skip a trip to the liquor store and have your booze delivered try out Winc for wine and Craft Beer Club for beer, they offer impeccable service and have a very large selection to satisfy everybody's taste.
3. Light Up the Night With Glow Sticks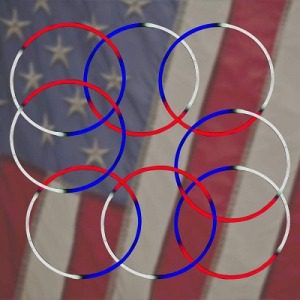 While you're waiting for the fireworks, why not light up the night with these festive patriotic glowsticks? While these glowsticks might not be an activity on their own, they're perfect for playing glow and the dark tag or capture the flag at night. Find more fun outfits and 4th of July themed gadgets on Fun.com!
4. Better with Bubbles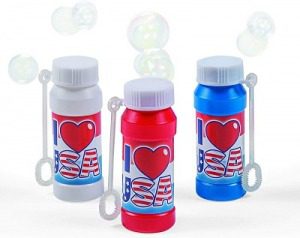 Ask any kid, and they'll tell you that any 4th of July party game is better with bubbles. Make sure you stock up on these red and blue bubbles for tons of fun. These can also be a part of goodie bags for Fourth of July cookouts or get-togethers.
5. July Jenga
One of the best Fourth of July games will always be giant Jenga. This set grows up to 5 feet tall and comes with a convenient carrying case so that you can easily take the game from your backyard to the beach. The jumbo set is made out of sturdy pine wood, so you can count on making this lawn game a yearly tradition. Or, you can DIY your own giant Jenga with a few items from Home Depot.
6. Classic Cornhole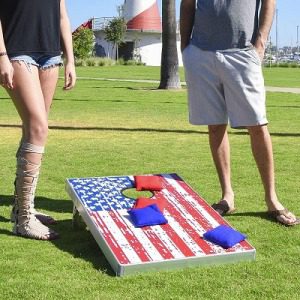 There's perhaps nothing more festive than a 4th of July celebration that's complete with cornhole. This cornhole set doesn't just have red and blue weatherproof bean bags, but also two American-flag decorated boards that are sure to look festive wherever you play. Enjoy round after round of one of the most classic 4th of July games.
7. Send Silly Photos With Uncle Sam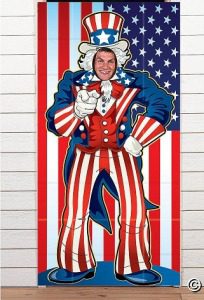 If you can't be with friends and family this 4th of July, why not send a festive picture greeting with this hilarious Uncle Sam photo banner? This photo prompt hangs well over any door frame and will instantly transform you into the patriotic man himself with the quick click of a camera. Fujifilm cameras are great for this as you get the polaroid photo right away and cute.
8. Start the Sack Race!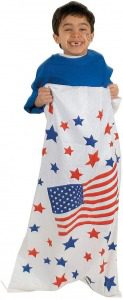 You can't go wrong with a potato sack race and these patriotic-themed potato sacks make the experience so much better. You'll get 6 sacks with your purchase so the whole family can partake. Enjoy jumping for joy this 4th of July.
9. Bring Out the Bingo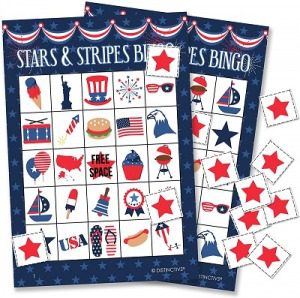 Who doesn't love bingo? Pick up a set of these classic Patriotic bingo boards and start the fun. This is a great, easy game that the whole family can enjoy. Plus, the boards are fully reusable so you'll be able to make bingo a part of your yearly tradition.
10. Drinking Game Cards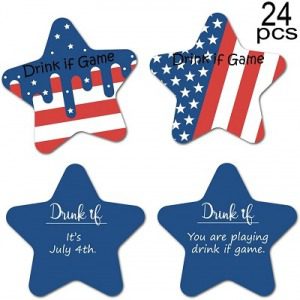 It wouldn't be the 4th without some celebratory drinks! Get the party started with these patriotic-themed drinking cards that will get the laughs flowing in no time at all.
11. Lawn Dice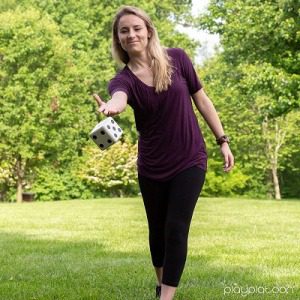 There's nothing like playing lawn dice with your family on a warm summer's day. If this seems like something you and your family can get behind, check out this huge set of lawn dice with an included scoreboard to keep even the most competitive spirits thoroughly entertained.
12. Celebrate Remotely With American Trivia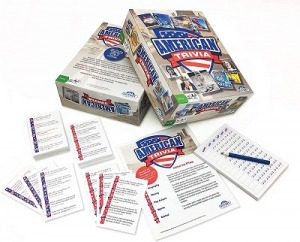 For many of us, celebrating the 4th of July in-person simply isn't an option this year. Luckily, you can still have fun with 4th of July games online. Set up a virtual call with your favorite people and play a game of American trivia with these festive trivia cards.
Why not bring out a childhood classic and build some LEGOs? Check out LEGO for some really awesome themed sets like the awesome Star Wars Collection or Harry Potter series. Make going back to school a fun time by gifting them a LEGO set to start off the new year.
Whatever you end up doing, you're sure to have a blast with those you love. Even if you're limited to virtual interaction, you can still celebrate 4th of July with any of these excellent party games. Happy Birthday America!
If you still need more ideas, check out these fun adult games to spice up the party or have a DIY movie night with these movie recommendations.