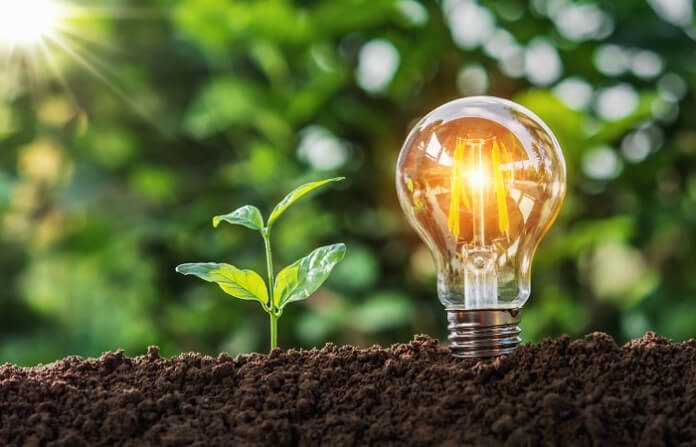 We hope you love the products we recommend! Just so you know, Men with Kids may collect a share of sales or other compensation from the links on this page.
Solar powered tools are a fantastic way to take advantage of renewable energy. If you've been thinking about taking advantage of the sun and its renewable resources. Whether, for home use or while on the go. Then, you're going to need the right tools. Solar power reduces your electric bill, but it also comes with many other benefits. You can even use it to generate heat and electricity far away from a power grid.
These tools are perfect for backyard hangouts, road trips, camping, or van life! Don't forget to check out Columbia, Kuhl or Sportsman's Warehouse for some great deals on all things outdoors! Or, if you're looking for some food to take with you or grill up in your backyard, Omaha Steaks, Snake River Farms, Crowd Cow, and Mr. Steak are all great options.
Be sure to check out our camping tips and advice. Or these indoor hobbies you can do.
Solar Power Kits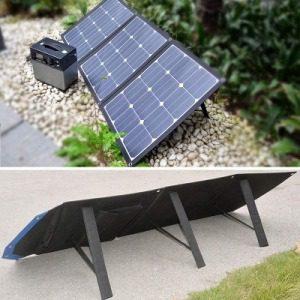 If you're thinking about getting a set of solar panels for your house then we recommend the AcoPower 100W Portable Solar Panel Kit. It's a great option since as it has many different applications and can be used in a variety of environments.
This solar power kit comes with a ton of accessories to get you started. The package includes a pair of crocodile connectors for a 12V battery and it has MC4 connectors in case you ever wanted to hook this up to a solar generator. It can even be used to charge both a battery and a generator simultaneously.

The two panels are rated at 50W each for a total of 100W. Using this kit on a daily basis will certainly add up over time and you'll start seeing the savings on your electric bill immediately. The AcoPower kit is also expandable as you can double your output by combining a second pair of identical panels.
The charge controller located on the backside of the panels is waterproof, just like the panels themselves. You won't ever have to worry about rainfall ruining this tough solar power kit.
The panel is foldable as well which makes it easy to take on camping trips or other outdoors activities. Speaking of the outdoors, let's take a look at how you can bring renewable energy with you on the go…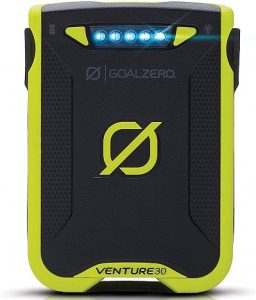 What's one of the most annoying things about camping these days? Unless you stay at an RV site, you never have a way to charge your electronics. That problem can become a thing of the past if you have a solar power pack like the Goal Zero Venture 30 Portable Power Station. This mini charging station produces 30 watts per hour and has two USB ports. It's a nice way to keep your tablets, smartphones and cameras on a full charge no matter where you are.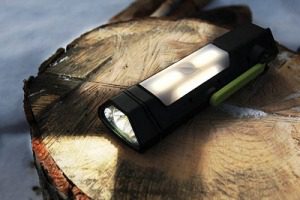 Flashlights are perhaps the ultimate tool to bring on a camping trip so why not go for a solar powered one? The Goal Zero Torch 250 Solar is an amazing piece of technology that can be charged in three ways: USB, the manual hand crank and, you guessed it, solar energy. Not only does this flashlight have a built-in solar panel but the battery is very powerful and can last for 48 hours on the lowest setting or 24 hours on the brightest.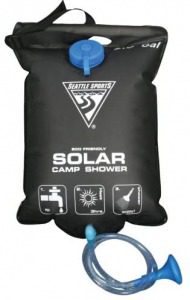 What's another thing that you might miss when going into the great outdoors? If your answer was a hot shower then get a load of this: the Seattle Sports PVC-Free Solar Shower is a five gallon pack that will heat up your water to provide a warm and refreshing bathing experience. It is extremely easy to use and ought to be considered a must-have on your next camping trip.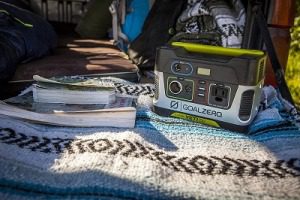 While more people are beginning to bring portable solar panels with them on their trips they may still have an issue getting that renewable energy inside of specific devices. Don't worry because the Goal Zero Yeti 150 Portable Power Station is a, well, a portable power station as the name implies. This device can be charged by solar power and has several outlets where you can plug in your phones, a radio or a variety of useful tools that require electricity. Isn't it awesome knowing that the sun itself is what's giving your electronics their battery life?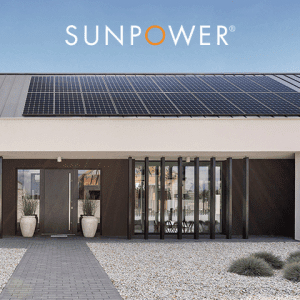 Renewable energy is efficient, better for the environment, and just plain awesome, so be sure to start incorporating more green sources of power into your daily life if you can. Solar panels or solar-powered electrics are a great place to start. So whether you're planning a camping trip or making improvements on your home, solar power is totally the way to go.
If you are looking to get some new tech gadgets in your home, be sure to check out the smart devices you need.