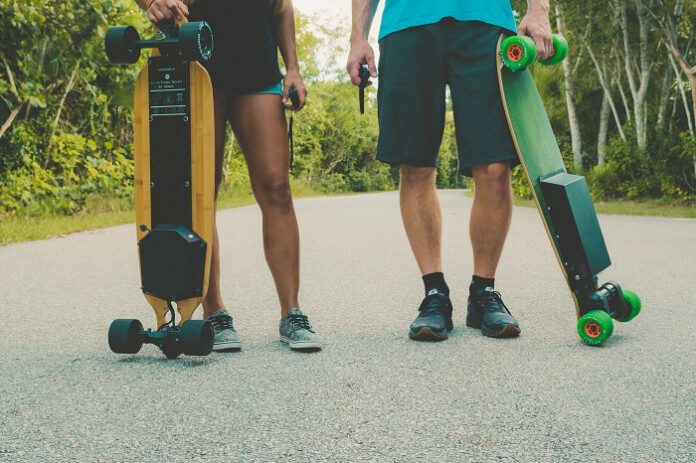 We hope you love the products we recommend! Just so you know, Men with Kids may collect a share of sales or other compensation from the links on this page.
One of the coolest gifts you can bring home for the whole family is an electric skateboard. E-skateboards are very much like their regular counterparts but come with the benefit of having a motor that allows you to cruise down the street with speed and style. No manual pushing is necessary – just press a button on the remote control and you'll be cruising right along.
Figuring out which electric skateboard will be the best choice for you will take a little time to decide, but luckily we're here to help you out. Below are some of the best electric skateboards you can get on the market today. Take a gander at our list and decide for yourself which one you prefer the most!
Before moving further, if you are looking for some cool streetwear outfits, check out Culture Kings.
Just before we get into it, if you are not only into e-skateboards but also e-bikes you might want to head on over to Competative Cyclist or Trek Bicycle and check out their e-bikes!
Top 6 Best Electric Skateboards:
First, the AS01 is an excellent choice for anyone looking for their first electric skateboard. It's very reasonably priced and comes with enough features to satisfy beginner and intermediate riders.
Short charge time of 3 hours
Great for adults and kids
10 mile max range
Very solid construction with titanium battery pack, steel alloy trucks, etc.
Lightweight, only weighs 8 pounds
Canadian maple board is tough and resistant
Comes with T-tool


If you want an electric board just for the kids than you can't go wrong with the Swagskate NG3. It's stylish, flashy and very responsive.
Excellent motion balancing sensors provides a very smooth ride
Colorful LED sensors
Lightweight and durable
Manually lock-in speed by push-kicking to your own speed
Max speed of 9mph, great for ages 8 and up
Incredibly fast charge time of only 90 minutes

For something that is great for the whole family, consider getting the NPET Pro. Moreover, it has incredible build quality and multiple speed settings that you can set depending on who's riding it.
High quality Canadian maple wood deck is flexible and comfortable
Max weight capacity of 288 pounds
Does well going uphill
3 speed settings in total which makes it great for various ages or skill levels
Fairly light despite being of average size and length
Carrying handle embedded directly into the deck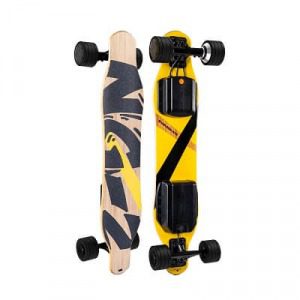 If you want your electronic skateboard to have a little more oomph to it, then the 900w dual motors of the SwagSkate NG2 will definitely have you covered.
No remote control required; balance sensors will detect your desired cruising speed
2 automatic speed modes: 10mph for beginners and 18mph for pros
Lengthy but lightweight design makes it excellent for turning and doing tricks at high speeds
6 layers of premium maple wood make it very durable and guaranteed to last many years
Charge time is only 2 hours despite so much power
Teamgee deserves credit for making a board that is so thin yet so tough and comfortable. This longboard has power to it but also has some nifty features.
Regenerative battery will recharge while going downhill
10 layers of maple make the deck very resilient
Can achieve a whopping top speed of 22mph
Remote control is equipped with LCD screen displaying speed and other info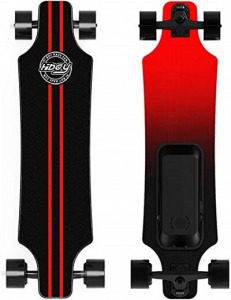 Lastly, the S22 is yet another fantastic electric skateboard with great build quality and impressive settings that make it a must-have for people of all ages.
4 riding and braking modes
19mph top speed
20% grade hill climbing ability
Wireless charging
13 miles per charge
Very ergonomic wireless remote
In conclusion, all of these electric skateboards are fantastic at one thing or another. Whether you want comfort and stability for your children, something with speed and range or a longboard with great features, all six of these choices are top-notch options. Now, all you need to do is choose the one that is best for you or your family!
Can't afford them yet? Credit Karma is a great way to get your finances in check, so that you can afford all the things you want.
If skateboarding isn't your thing, but still want to get around, check out our article on the best alternative transportation methods. In addition, roller skates are also a great option to get around as well. Moreover, we also have a great article on the best drones. Drones are a great way to catch yourself or your family in action while cruising together!