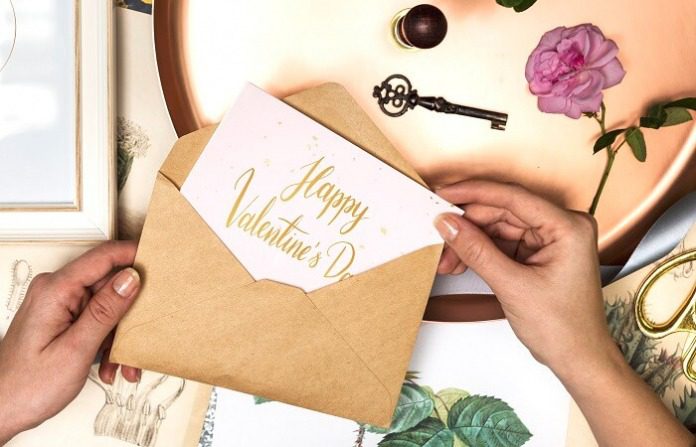 We hope you love the products we recommend! Just so you know, Men with Kids may collect a share of sales or other compensation from the links on this page.
Your choice of Valentine's Day card ideas can say an awful about how you feel. Especially, in terms of how you feel about your significant other. Whether your Valentine's Day cards are funny, precious or heartfelt, selecting the right card takes a little time and effort. After all, if you want your special day with them to be one to remember, the right card is a key component. 
Also, be sure to personalize your card with a short handwritten note. That'll make it all the more impactful when you want to make your lover feel good. The following guide for Valentine's Day card ideas will steer you in the right direction. Most importantly, it will make sure that your Valentine's Day is a big hit with your significant other.
It's all in the timing
There's no story better than the one of your love, and the 'Our Timeline Relationship' card allows you to document the story of your romance with photographs for the perfect Valentine's Card this year – just make sure that you get the dates right! If this one doesn't speak to you, check out all the awesome card designs at Mixbook. 
You snooze, you lose if you don't checkout these Valentine's Day card ideas
The perfect relationship means loving your partner, warts and all. So why not celebrate with a quirky card like this 'I Love You Even When You Snore' offering from Zazzle? When looking for the perfect Valentine's Day card, funny is a great way to show that you care – and show how well you know your partner.
A gem of a card
For the ultimate in personalized Valentine's Day greetings, why not make your own card? The Diamond Dotz greeting card kit allows you to create the perfect card, complete with a bit of sparkle.
These Valentine's Day card ideas are a cut above the rest
Making a custom card for your beloved really shows that you care. Better yet, it doesn't have to stop with Valentine's Day. Invest in a Cricut machine this February and explore your creative side as you make a Valentine's Day card that is as unique as your partner is. 
The greatest love of all
Kids love to get in on the action when it comes to Valentine's Day – and the hard working Mom will be delighted to receive this super cute Mommy Valentine's Day card from the little ones. 
Special delivery
If you're looking for something a bit different this Valentine's Day, the 'Truckloads Of Love' pop up card from Lovepop is cool and quirky and features a slide out gift card to be personalized with your own message. 
Love in the frame
A snazzy photo frame with a treasured picture makes a fantastic alternative to a traditional Valentine's Day Card. This 'Together Forever' frame not only looks great but will be a lasting token of your love. 
Divine designs
For an easy but unique option for Valentine's Day, PsPrint allows you to choose a card template and personalize it with images and messaging for the perfect custom card. 
Getting crafty with these Valentine's Day cards ideas
When looking for Valentine's Day card ideas, Etsy is a great place to start. As well as offering tons of fantastic cards, Etsy is driven by independent sellers and small businesses. That is to say, you'll get a warm, fuzzy feeling knowing that you're supporting these traders.
In our busy lives, it's tempting to run into the store and pick up the first card that you see. However, taking the time to choose the perfect one for your partner will show that you value your relationship – and that you know what will make him or her happy on February 14th. 
Be sure to choose something that makes them feel extra special after such a long year since last Valentine's Day. Your loved one with certainly appreciate the extra effort when they open and read the perfect card that says something that really resonates. You can even make Valentine's Day cards funny, so you can little the mood while spreading love. Happy Valentine's Day!
If you enjoyed this article, head over to Unique Valentine's Day Ideas for You and Your Date! Should you need ideas for gifts to give your special someone, check out The Perfect Valentine's Day Gift Guide for Her, and Fellas, Here's a Valentine's Day Shopping "Cheat Sheet" to Inspire You.