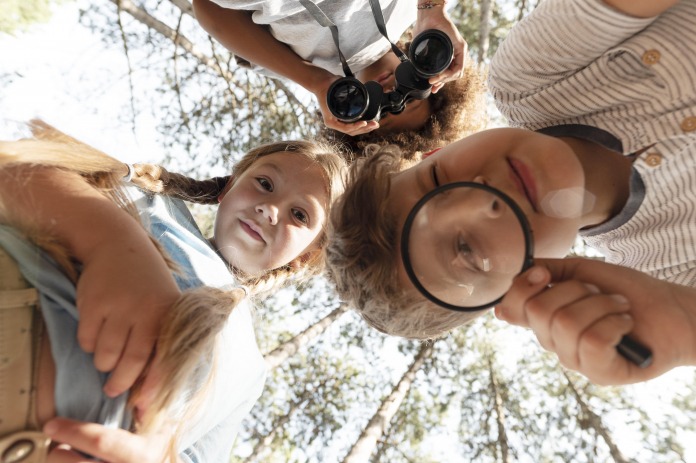 We hope you love the products we recommend! Just so you know, Men with Kids may collect a share of sales or other compensation from the links on this page.
Do you want to make your camping adventure the best possible experience for everyone involved, no matter their age? If so, you need to invest in some high-quality kids camping toys.
When you have the right kids' toys, you'll be able to keep your children occupied and create a more enjoyable experience for them. These toys should be tailored to the age of the child and be easy to carry to a campsite.
What Are the Best Kids Camping Toys?
Whether you're traveling with one child or many, there are numerous options for toys available. Let's look at a few of them in the article below. Taking a road trip to the campsite? Take a look at these snacks and drinks!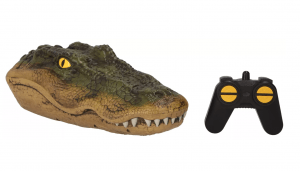 If your child enjoys pulling a fun (but harmless) prank, think about getting them a Remote Control Trick Gator from Bass Pro Shop.
This realistic-looking alligator is actually a tiny boat controlled by a remote. When your child places it in the water, it will look like an alligator swimming through the water! If your kid wants a boat without the prank factor, get the Nitro Remote Control Fishing Boat.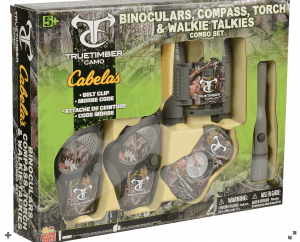 Walkie-talkies are some of the best kids camping toys. They serve a dual purpose. They can go on adventures (read about these 11 hiking essentials) with their friends and stay in contact with one another. So, walkie-talkies can keep your kids safe and in communication with others throughout your trip.
The TrueTimber Walkie-Talkie Combo Set for Kids is also just fun! It comes with two walkie-talkies, a compass, binoculars, and a flashlight. So, your kids can have fun exploring. If your kids like combo sets, get this 20-piece combination!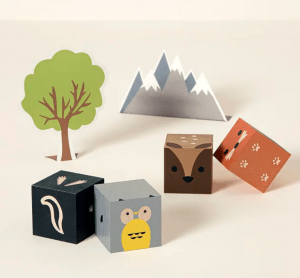 The Camp Friends Forest Blocks from Uncommon Goods helps younger children connect with nature while they're on camping trips.
These blocks depict owls, deer, foxes, and skunks. They also come with paper-made environments so that your child can play. Each block is made from basswood and is non-toxic.
You can also get blocks that help your kids learn a foreign language.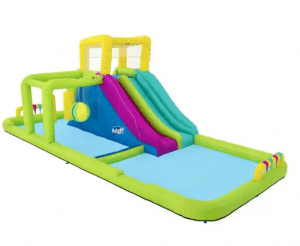 If you have more than 1 kid hanging around your campsite, you might want to make your summer camping trip more fun by getting the H2OGO Splash Course from Home Depot.
This inflatable course comes with its own blower and features 2-lane slides so your kids can compete with each other. It even comes with a sprinkler hose so that your kids can cool down as they slide. If you don't want to add water to the fun, consider getting the Create and Play Life Size Structures.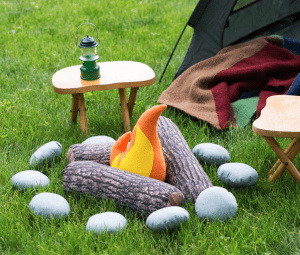 Do your kids always want to do whatever you're doing? If so, you should consider getting the Deluxe Campfire Toy Set from Etsy.
In the set, there's a miniature tent, blanket, campfire, logs, stones, stools, and even a lantern.  It's the perfect kids camping toys option for families that want to get their children excited about an upcoming camping trip. Look at other Kids Play Camp sets!
This play set from Target allows your children to pretend they're making s'mores without needing to start a fire. Each of the toys looks realistic and lets your kids pretend they're camping no matter where they are.
Want other kids camping toys? Get the Melissa & Doug Let's Explore Hiking Play Set. That way, your kids can make believe that they're on a grand hiking trip without having to leave your crew behind.
Get the Most Out of Your Trip with Kids Camping Toys!
These kids camping toys will help the children in your group have more fun during your camping trip. When buying toys, make sure you keep the number of kids in your party in mind. Some toys, such as the play sets or splash course, have been designed to be played with by more than one child.
Still, getting something for every child to do ensures that everyone has fun and no one feels left out!
There's more than one way to have a good camping trip. In fact, the best camping trips feature a wide array of foods. If you want to improve your cooking, check out these grills!